**Click on the links below to see current dates.**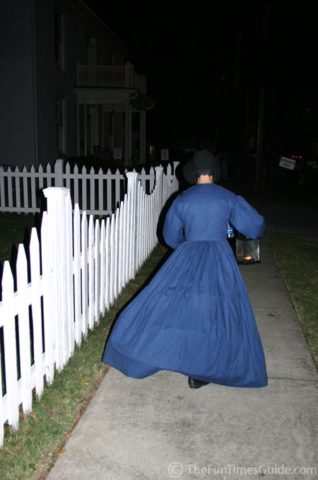 Whether you're into it for the "haunted" factor, or you just think you might enjoy learning more about the area and the history of the buildings which surround you, a walking tour might be right up your alley!
Following are a handful of walking tours in the Nashville/Franklin, Tennessee area.
Each has added special "haunted" aspects to the tour in honor of Halloween.
Check out "Haunted Tennessee" — a paperback book filled with all of the places in Nashville and beyond which are thought to be haunted!…
Nashville Area Haunted Walking Tours
The best nighttime walking tours that combine "well-documented accounts" about the ghosts & haunted places in Franklin and Nashville, Tennessee:
#1 –  Haunted Franklin Ghost Tours
"Lynchings, public whippings and hangings, street corner shootings and assorted "activities of the night" are all part of the city's past. Many buildings served as hospitals following the Battle of Franklin, and some of them reportedly have strange visitors from time to time."
Dates: April thru November
Cost: $18 for adults; $10 ages 6 to 13
Length: 90 minutes
Reviews:
 I've done this tour a couple of times with different people. It's always been an enjoyable time.
#2 – Ghost Tours of Carnton Plantation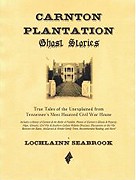 "Carnton, often called the most haunted building in Tennessee, was used as a field hospital after the Battle of Franklin. Hundreds of wounded men were brought into the house and many died while there. Confederate cemetery tours may also be included."
Dates: October 12, October 19, October 22 (…these sell out early!)
Cost: $20 per person
Length: 1 hour
 This one is hit or miss. They are constantly changing their website — so it's difficult to stay on top of the dates for their tours each year.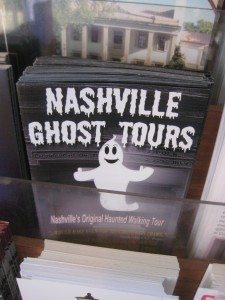 "Learn about the historical, haunted heritage of Music City on this walking tour of haunted buildings in downtown Nashville — all have been thoroughly researched in books, magazines, newspapers, personal interviews, and even police reports."
Dates: Nightly, March thru November
Cost: $13 adults; $8 children ages 7 to 11
Length: 90 minutes
Reviews: here
 I've also done their Haunted Nashville Taverns Tour. It's a fun walking tour in the evening — in the form of a pub crawl. Still on my list to do is their Haunted Nashville Hearse Tour.
Want more?… Check out all of the haunted places in Tennessee!