This post may contain affiliate links. If you buy thru these links, we may earn a commission at no additional cost to you.
---
One of my favorite places to ride my bike is through Franklin and Leipers Fork in Williamson County.
It's a route that takes me right past Tim and Faith's house.
I'm always in awe of just how much property they've got there — over 750 acres.
Now that Tim and Faith are selling this house (there are actually several houses on all of that property), it seems like a good time to share some photos I've taken through the years of Tim and Faith's house on Carter's Creek Road.
Earlier, I shared my photos of Alan Jackson's home and then of Alan Jackson's house for sale in Franklin, followed by George Jones' house for sale in Franklin.
I've noticed that a unique perspective is often appreciated by those who don't live around here. So I hope you enjoy my pics of Tim and Faith's home as well…
Fun Facts About Tim & Faith's Franklin Home
4009 Carters Creek Pike, Franklin TN 37064 (view map)
$20,000,000 asking price
Over 750 acres
At least 6 houses on the property (4 of which are livable)
Beechwood Hall is also known as the H.G.W. Mayberry House after its original owners Sophronia Hunter Mayberry and Henry George Washington Mayberry.
Built in 1856, the 6,856 square foot home is listed on the National Register of Historic Places and is also the former home of Hank Williams Sr.
It faces Bear Creek Road (which connects Carters Creek Pike and Bailey Road), and is best viewed from the side on Bailey Road. This classic home with a bright red door is currently in need of interior restoration.
For the record, this is very close to Leipers Fork, but it's technically Franklin, Tennessee. There is actually a new housing development/equestrian community called Beechwood Plantation that bumps right next to Tim and Faith's farm. Those homes are officially in Leipers Fork, Tennessee.
There is also a 3,330 square foot log home that was built in 1850 on the property in Franklin, Tennessee.
It faces Carters Creek Pike and is the official address of the real estate listing.
This log home has been completely restored and is where Tim & Faith spend most of their time when they're here.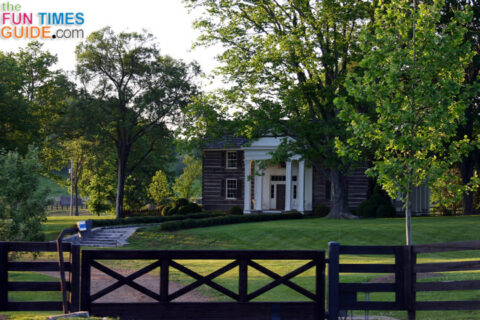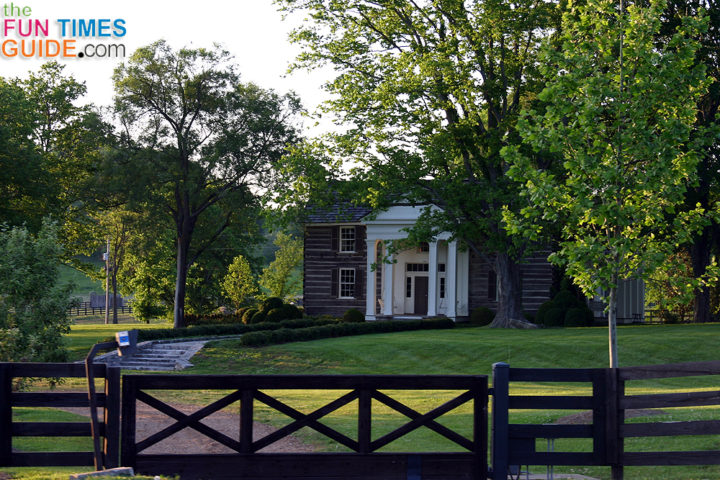 They purchased the adjoining farms in separate but simultaneous transactions in November 2001. The smaller parcel (353.12 acres) cost the country royals $5,009,560 and the larger parcel (400.7 acres) — an Antebellum plantation that was previously owned by country music legend Hank Williams — cost them another $8,750,000 … We tabulate that the McGraw-Hills total outlay for the Franklin farm was $13,759,560.

— Variety
As much as I've biked past the McGraw-Hill Franklin property in the past 12+ years (and driven in my car past there even more), I've never once spotted the couple entering or exiting this home… or the property.
One time I thought I saw Tim leaving in a truck, but I have no way to confirm that it was him. Another time I saw a few guys hanging out at the small lodge at the corner of Bailey and Bear Creek Road – I thought it might be a music session going on, but again I have no way to confirm this.
Nor have I seen them riding around the farm in their red Jeep Wrangler, as they said they do every year on their anniversary and when they're hunting.
As amazing as this property is, it's obvious that they don't spend the majority of their time here.
Videos Of Tim & Faith On The Property
In this first video, ABC's Robin Roberts interviews Faith Hill from their Franklin Tennessee home that is now for sale.
This next video shows Tim and Faith cooking in the kitchen of their Franklin, TN house on the Oprah show:
---
Jimmy Kimmel celebrated after the Country Music Awards by inviting himself and sidekick Guillermo to a sleepover at Tim and Faith's Nashville home. "You said if I was ever in Nashville, I should look you up, so I did," Kimmel said before ruining their evening:
---
Tim & Faith's Other Nashville Houses
It's clear that Tim and Faith treat this Franklin, TN property as more of a getaway — or a vacation home — than a primary residence.
Not to mention the fact that their daughters go to school quite far from this house in Franklin. And while Tim always talks about driving his daughters to school every morning in Nashville, they're clearly not leaving from here.
It's no surprise that Tim and Faith have other homes in the Nashville area, including this Nashville home that they currently have for sale.
Mister McGraw and Miz Hill's primary residence remains the super-sized mansion they had custom-built at the tail end of a long, gated driveway on 17 acres in the Forest Hills area that they picked up in August 2004 for $3,000,000.

— RealEstalker
Life is good at McGraw-Hill Industries. The couple is building a new home on its own island in the Bahamas and a new primary residence outside Nashville that has taken five years to complete. ("You drive up to the house and it looks like Europe," marvels Betty Trimble, McGraw's mother.) McGraw's best friend Hooter brings him a different car to drive every week. ("I like a little variety," he explains.)

— Mens Journal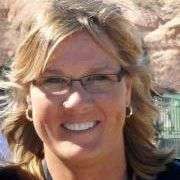 We moved from Florida to Tennessee in 2001. All signs point to the fact that we will probably retire here — by choice. We L O V E Nashville! Our favorite places to live are just south of the City — we've had houses in Brentwood, Franklin, and Spring Hill. And we have properties in Leipers Fork, Cookeville, and Lewisburg. This site is where I share my best tips for moving your family to Nashville and/or visiting Nashville for the first time — with the ultimate goal of helping you find fun things to do in Williamson County and Davidson County. When I'm not out & about enjoying the Nashville area, you'll find me at the corner of Good News & Fun Times as publisher of The Fun Times Guide (32 fun & helpful websites). To date, I've written over 500 articles on this site! Many of them have upwards of 100K shares.