This post may contain affiliate links. If you buy thru these links, we may earn a commission at no additional cost to you.
---
I have never eaten from a food truck before. Sometimes I felt like I was the only person in Middle Tennessee who hadn't.
Despite its title as the "Country Music Capital" of America, Nashville's country singers aren't its only big stars. In recent years, food trucks have come on to the scene and become the real celebrities of this town. Source
It's not because I've never wanted to… it's just that I never seem to be in the right place at the right time as the Nashville food trucks.
Recently, I was visiting Centennial Park — specifically The Parthenon with my very dear friends from Florida.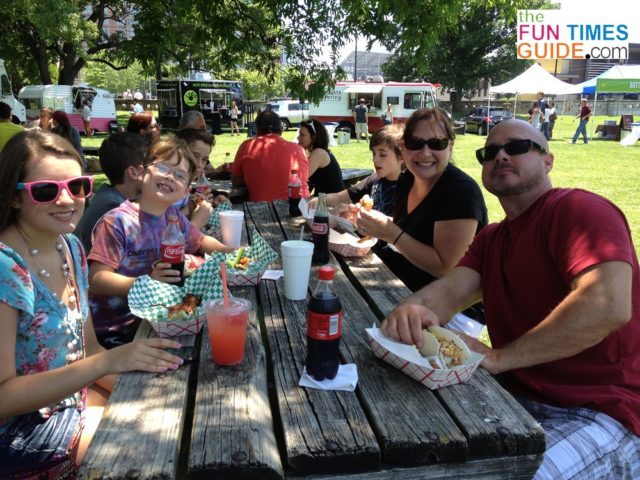 We immediately noticed all these trucks on the outskirts of the lawn and realized it was a food truck weekend – yay! This worked out perfectly for my Floridian friends because they had never eaten from a food truck either.
Here's what my first time eating from a Nashville food truck was like, plus tips before you order food from a food truck.
If you've seen The Great Food Truck Race you probably learned a good deal about what it takes to run this type of business. It isn't necessarily easy. There are permits, turf wars, parking nightmares and weather issues. But the worst problem — especially now — is the rising price of gas. Source
3 Nashville Food Trucks We Visited
There were so many trucks to choose from, it was hard to narrow it down.
Did I want smoked wings? Gourmet grilled cheese? Wraps? BBQ? Or maybe just skip to dessert?
Food trucks emit wonderful, delicious, fragrant smells — like little subliminal messages begging to have you choose them. It was almost more than I could bear. Almost.
I decided on Two Guys In a Lunchbox as my food truck of choice. They specialize in original sandwiches like the "Spicy Mama" and the "Hang 10".
I was a little less adventurous in the sandwich department and ordered the "Veggie Delight" wrap (cucumber, onion, lettuce, peppers, tomato, avocado with cream cheese & balsamic vinaigrette)
I also ordered the "Hog Heaven" french fries. These fries were loaded with bacon, garlic and Parmesan cheese. Yum! (Now you know why I really ordered the veggie wrap.)
My kids ordered wings from the Smokin Thighs food truck which specializes in smoked wings, thighs, and legs.
My Floridian friends ate from The Grilled Cheeserie, which is a gourmet grilled cheese lovers paradise.
We decided we were all going to indulge in dessert afterwards — but we were too full.
We did, however, enjoy some free live music playing from the stage that was set up in the food truck area. Food truck events in Nashville really are a lot of fun!
Before Visiting A Nashville Food Truck…
Would I food truck again?
In a heartbeat!
The food was great, the venue terrific, and we were so blessed that the weather was gorgeous. It couldn't have been more perfect — even if I had planned it.
Things to know before you visit a Nashville food truck:
Fun Stuff About Nashville Food Trucks
I'm a happily married mom to 3 wonderful children: Taylor (13), Gavin (10) and Garrett (8). We recently relocated to the Nashville area from Florida and we're enjoying exploring Middle Tennessee and all it has to offer. My hobbies are: writing, photography, digital scrapbooking, cooking, and all things parenting.