This post may contain affiliate links. If you buy thru these links, we may earn a commission at no additional cost to you.
---
It's true. Whenever friends are visiting us — and they have kids — the first place I recommend going is Sky High Sports.
Why?
Because not only is it one of our Top 10 Fun Things To Do With Kids In Nashville, but it's also fun for all ages — from toddlers to teens to even adults!
I knew it was the right choice, when I gave the kids a list of choices and 'trampoline park' was, hands down, the one thing they were most excited about each time.
I'm not sure if that's because most kids have been to an indoor trampoline park at least once and had a great time, or if they've heard from their friends about how much fun trampoline parks are.
Regardless, Sky High Sports Nashville has always been a huge hit with the kiddos (…and the adults too).
Following are some photos I've taken during my visits at Sky High Nashville, along with some insider tips.
Good to know before you go!…
Fees For Jumpers vs. Non-Jumpers
One thing that I, personally, was glad to learn my first time at Sky High Sports Nashville:  if you're not jumping, you don't pay a thing. Yay! I was free to take pictures, use their wifi Internet, or just lounge around.
Jumpers are charged an hourly fee ($14; much less for additional hours).
Here's how it works: After paying, you get a colored arm band that signifies which hour you've been scheduled to jump. When your hour is up, staff members at the jump stations will notice that your color has "expired" and ask you to leave.
And as a non-jumper, you definitely won't feel out of place if you choose to just watch.
There's plenty of seating for parents and non-jumpers at each different station, so as your child goes from station to station, you'll always have a place to sit or stand right in the immediate vicinity. Beyond that, there is a wide open snack bar area with tables and booths, as well as comfy couches in the open areas.
Best Day To Go: NOT On A Weekend
For starters, weekends at Sky High Nashville are super busy, so plan accordingly.
Activities like the rope swing, bungee jump, and mini-trampoline jumps are limited to one person at a time. So yes, you (or the kids) will be waiting in line a good part of the time — especially on a Saturday.
TIP: Since you're paying by the hour, in order to get the most for your money, you'll want to go any day but Saturday. However, that's not to say that you can't get a good deal of private swings and jumps in on a Saturday. In fact, 2 of the kids I went with on a Saturday had plenty of time to do everything they wanted in 1 hour, despite having to stand in line repeatedly.
BONUS TIP: Before you go, check out their weekly specials online first. There's something for everyone on different days of the week!
Signing Waivers & Getting Ready To Jump
On weekends, your patience with standing in line begins as soon as you get in the front door. There are theater ropes which funnel everyone — like a maze — toward the registration desk.
While I'm sure the people working the registration process have a lot of responsibility making sure that everyone…
signs waivers
understands basic safety rules
gets an arm band
gets optional booties (if desired)
and pays
…every time I've been there, they seem super friendly but somewhat aloof. Honestly, it's as if they have no real desire to get people through that line quickly. In my opinion, either they need to increase the number of people working the registration area — especially on weekends — or come up with a better system where the registration people are working in pairs to assist one another and get people through the line more quickly!
Without a doubt, your best bet is to print out the waiver at home, sign it, and bring it with you. But even then it's confusing as to whether you can skip to the front of the line or not.
Take it from me and the groups of friends I've gone with each time… we didn't complete the waivers at home ahead of time, and we wish we did!
TIP: I've witnessed a number of (younger) kids becoming bored and restless while waiting in line at Sky High Nashville. Since you don't have to have an arm band just to VIEW people jumping on the trampolines, if the line is really long, it might  be helpful to have someone from your group walk the kids past the registration line into the viewing area — so they can watch people jumping and get a better idea of what they'll be doing themselves, once they get their arm bands. The only catch: they must be present at the moment you're actually paying, in order to get their arm band.
Sky High Nashville Parking
Not only is the building itself a little tricky to find (it's at a weird intersection at Harding and Ezell Pike where you have to do a slight U-turn to get into the parking lot), but parking spaces are also hard to find.
They just don't have very many parking spaces. Period.
I've always had to park in back behind the building and walk to the front entrance. It's awkward, and it even seems like you shouldn't be trespassing — let alone parking — back there. But it's okay. You'll see, everyone does it.
TIP: Your best bet (as long as there are at least 2 adults in your group) is to drop everyone off at the front door, then go find parking. (And pray it doesn't rain for your long trek to and from the back of the building.)
Most Popular Activities At Sky High Nashville
In my experience, the rope swing has always been the most desired activity at Sky High Sports Nashville. So yes, the line there is the longest.
Second is the bungee jump — which requires an additional fee. To clarify: the bungee jump is the only thing that is not included in your hour of unlimited jumping. (I think it's well worth the additional fee though.)
For what it's worth, the dodgeball trampoline court isn't always used for playing dodgeball. The kids in our group enjoyed bouncing from trampoline to trampoline, rather than playing dodgeball there!
Food & Beverages
While you cannot bring in your own food or drinks, there is a snack bar and a few drink vending machines. (There's one filled with Gatorade products and another one filled with bottled water.)
In my experience, the snack bar register is under-staffed and slow, but the food is quite good and the prices aren't horrible.
There's only one person taking the orders, placing the orders, handling the cash, making change, and calling out orders when they're ready. With all of the special orders (pizza!) and various food questions, getting through that line can take quite awhile.
One time we ordered a pizza and it was tasty!
Staff Awareness And Your Child's Safety
Without a doubt, I've always felt that children are really safe at Sky High Sports Nashville. That's mostly based on the staff-to-jumper ratio that I've consistently noticed.
For example, they don't open up all of the trampoline areas unless they're needed for overflow and they have additional staff members — like on weekends.
The staffers (most of them are teenagers who appear to take their job very seriously) rotate from area to area, so as to not get bored (and lazy).
I noticed that one task in the rotation includes re-filling the foam pits with all of those soft, squishy, spongy squares that you land on. Well, they don't actually refill 'em, but rather they jump into the foam pit and break 'em all up, so they don't get clumped up in some areas. The more space between them, the better they break your fall after a jump. (By the way, I asked. They said each of the foam pits consists of a a trampoline that's layered with 5 feet of foam squares.)
Best of all, each staff member seems to be truly focused on the jumpers — from a safety perspective. In the single-person stations, the staffer's eyes are always glued on the current jumper — ensuring that they land safely and exit safely before the next jumper in line begins preparing for their turn. I would equate it to a well-trained lifeguard who accepts responsibility for a specific portion of the swimming pool.
Each staffer seems to be happy to work there, and it's clear they take your child's safety seriously.
Another good example of this is on the bungee jump. There have been 2 different staff members in charge of this station on the days I went. Both of them were awesome! They interacted with the kids professionally while helping them get their safety gear on. And they were cheerful and friendly while allaying any fears the kids had for their first time bungee jumping. Kudos to the staffers.
Now I Know…
I still plan to take visitors who have kids to Sky High Sports Nashville when they're in town.
Three things I will do differently the next time I go to are:
Get a locker for all of the kids' stuff. There's no need for you to lug around their shoes, socks, jacket, glasses, hat, etc. when they have 50-cent lockers for you to use. Especially since you'll need your hands and arms free for taking photos and videos of your child jumping!
Make sure all jumpers are wearing: pants that stay up and shirts that stay down. I've usually gone to Sky High Sports Nashville spontaneously, without any thought to what everyone was wearing. My niece wished she would have worn a longer shirt and more comfortable pants — like sweats instead of jeans. And another time, a friend of ours wished he'd worn a belt.
Print and sign the waiver ahead of time, and make reservations ahead of time (if you know exactly what time you plan to arrive). Both of these things will get you to the fun stuff much quicker than everyone else in the registration line!
Other's Reviews of Sky High Nashville TN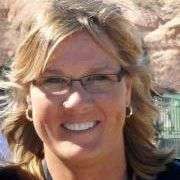 We moved from Florida to Tennessee in 2001. All signs point to the fact that we will probably retire here — by choice. We L O V E Nashville! Our favorite places to live are just south of the City — we've had houses in Brentwood, Franklin, and Spring Hill. And we have properties in Leipers Fork, Cookeville, and Lewisburg. This site is where I share my best tips for moving your family to Nashville and/or visiting Nashville for the first time — with the ultimate goal of helping you find fun things to do in Williamson County and Davidson County. When I'm not out & about enjoying the Nashville area, you'll find me at the corner of Good News & Fun Times as publisher of The Fun Times Guide (32 fun & helpful websites). To date, I've written over 500 articles on this site! Many of them have upwards of 100K shares.