This post may contain affiliate links. If you buy thru these links, we may earn a commission at no additional cost to you.
---
To date, we've been to the Bluebird more times than we can count.
We started visiting the Bluebird semi-regularly right after we moved to Nashville in 2001.
Back in the day, they used to have a "frequent visitor club" — and I remember we were so excited to use our "special privileges" at the time to score front row seats for Vince Gill, Amy Grant, Ashley Cleveland, Lari White, and Leslie Satcher on 11/13/2004:
---
Since then, we've been a zillion times. I think our all-time favorite songwriters to see at the Bluebird are: Jeffrey Steele, Craig Wiseman, Tony Mullins, Bob DiPiero, Shawn Mullins, Chuck Cannon, and Chris Wallin. (Most of these guys still play occasionally at the Bluebird — so if you ever get the chance, go see them!)
Open since June of 1982, The Bluebird Cafe features songwriters and acoustic music 7 nights a week, providing a stage for both the newest songwriters in town to play as well as for Nashville's most established writers. The Bluebird is known for helping start the careers of many country artists including Garth Brooks, Kenny Chesney, Keith Urban, Trisha Yearwood and Kathy Mattea.
Good To Know Before You Go…
If you're planning a visit to the Bluebird Cafe, here are some things you might appreciate knowing before you go:
#1 – While a table up in front, right next to the musicians is ideal, it's also hard to come by. Don't fret if you can only manage to score a "bleacher seat" or a seat at the bar — there really isn't a bad seat in the house. Since the place is so small, virtually everyone is within direct view of the musicians. (FYI… some of our friends actually prefer the bleacher seats!)
#2 – Most shows have a nominal cover charge — and it's SO worth it due to the caliber of songwriters they get these days! The early show (6PM) is usually the up-and-comers — some of these shows are FREE, others have a low cover charge ($5 to $10). The late show (9PM) often features the bigger-named artists who've been around for awhile, and the cover charge is a bit higher ($10 to $20). Monday shows are always FREE shows — but the seating is first come, first serve.
#3 – While clapping, and laughing, and singing along, and talking with the songwriters is encouraged… there's a fairly strict policy against random loud talking and cellphones. Their motto is, "Shhhhhhh. Shut up and listen."
#4 – You'll want to sign up for the Bluebird Cafe mailing list. It's the best way to get advanced notice of scheduled performances via email. You can also see who's scheduled to appear at the Bluebird each month on their calendar of events.
#5 – The food is so-so… typical bar food. We usually try to eat before we go. (Here's the Bluebird Cafe menu.)
#6 – Parking is limited at the Bluebird Cafe, and if you park in another company's parking space, you might be towed. (Yes, they do enforce towing!) The Bluebird Cafe has a small parking lot in front of the building and a larger gravel lot behind the building. To access the rear parking lot, use the alley entrance on Hillsboro Pike next to Village Bridal and follow the signs.
How To Reserve A Seat At The Bluebird Cafe
To reserve a seat for any show, first check out the show calendar, then follow the steps online to reserve your spot. Easy-peasy!
Tickets typically go on sale one week in advance. To see when reservations for any show will first become available, check out this Bluebird Cafe ticket FAQ.
Here's what the seating chart looks like inside the Bluebird Cafe:
The good news is… when you make reservations online, you get to pick the exact table where you'd like to sit!
TIP: Don't delay in making your reservations. The performers' own friends, co-workers, label-mates, and family usually take up a good number of the best available seats as soon as reservations become available.
When you arrive at the Bluebird Cafe, as long as you have a reservation (and you're on time), then you won't have to worry about getting a seat.
Everyone has to line up outside of the front door:
Those with reservations line up on the left side of the entrance door.
Those without reservations who are hoping to score a last-minute seat (yes, there are usually some), line up on the right side of the door.
If you arrive after the show has already started… then you have to wait until the musicians are in-between songs before you can go inside. That way, there's no big disturbance of people entering the room. (Remember, their motto is "Shhhhhh!")
You Never Know Who You'll See At The Bluebird!
One of the best things about the Bluebird Cafe is the fact that you never really know who's going to be there.
Of course, there are always "the headliners" on the bill for the night (sometimes they're popular songwriters who've penned a lot of hits for well-known singers. Often they're unknown songwriters hoping for their big break), but it's more than that.
---
There are almost always surprise guests — either in the audience (like big wigs from the major record labels) or on stage (more times than not, songwriters bring other songwriters with 'em).
It's not unusual to spot music producers, managers, and record label execs in the crowd. Over time, you begin to realize who the muckity-mucks in the biz are.
Plus, you never know who might just show up to support their "buddy." The music business itself is pretty tight-knit — where everyone helps out and looks out for each other and does whatever they can to show support for one another. Sometimes, a "bigger" star will introduce a "rising star" to the audience and invite them to play a song or two — off the cuff. Those are often really special times.
And to top it all off, some songwriters who are on the bill for the night will bring in some "really big" surprise guests with them! Usually they're not announced beforehand because their names are so big, they'd attract too much media, crowds, etc. — which would completely take away from the true ambiance of the Bluebird Cafe.
So, don't think that just because you don't know the names of the performers on any given night means that you won't know the songs they're associated with or appreciate the caliber of their music. You never know who might be showing up on stage with 'em!
Bottom Line: If they're at the Bluebird today, they'll most likely be on the Billboard charts in the very near future (… if they're not already). Even the FREE shows are loaded with high caliber performers each and every day at the Bluebird Cafe.
The sign above the door at the Bluebird Cafe in Nashville says: "The best songwriters in the world pass through these doors."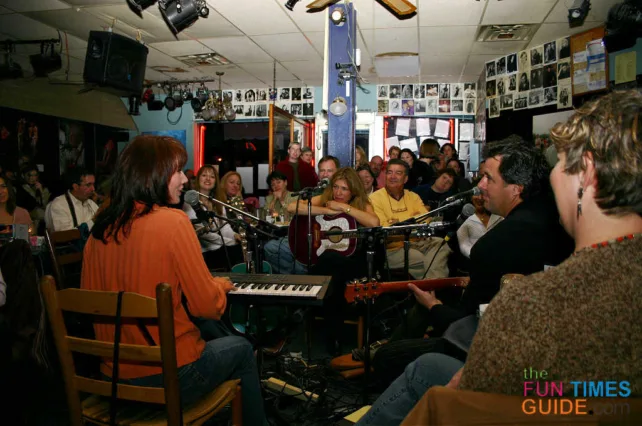 ---
Did You Know?…
The movie The Thing Called Love (1993) is about the Bluebird Cafe. It stars River Phoenix, Sandra Bullock, Dermot Mulroney, and others.
According to Amy Kurland, founder of the Bluebird Cafe:
The Thing Called Love is about a real place in Nashville (The Bluebird Cafe) and is very true to life about the experiences of the young songwriters who come here to try to make it. Nashville doesn't have quite this many cowboy hats or this much line dancing, but the heartbreak and the excitement that is the daily life of the up and coming artists is right on… I highly recommend this movie for people thinking of moving to Nashville to try to make it. Source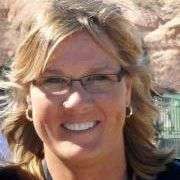 We moved from Florida to Tennessee in 2001. All signs point to the fact that we will probably retire here — by choice. We L O V E Nashville! Our favorite places to live are just south of the City — we've had houses in Brentwood, Franklin, and Spring Hill. And we have properties in Leipers Fork, Cookeville, and Lewisburg. This site is where I share my best tips for moving your family to Nashville and/or visiting Nashville for the first time — with the ultimate goal of helping you find fun things to do in Williamson County and Davidson County. When I'm not out & about enjoying the Nashville area, you'll find me at the corner of Good News & Fun Times as publisher of The Fun Times Guide (32 fun & helpful websites). To date, I've written over 500 articles on this site! Many of them have upwards of 100K shares.