Looking for colorful leaves? Hoping to catch the fiery fall colors before they fade?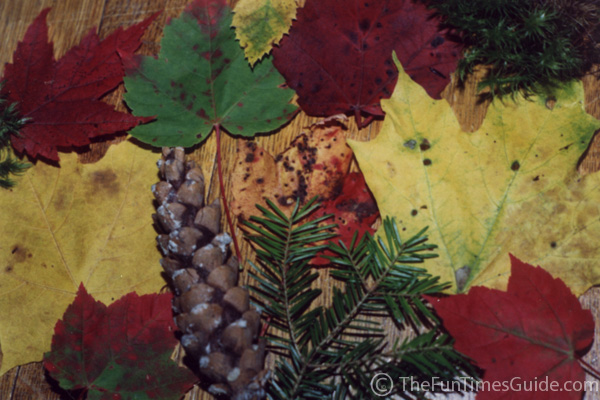 We are too. This weekend, we plan to capture some of nature's most colorful beauty in photographs. So we'll arm ourselves with our Canon digital camera, tripod, zoom lens, macro lens, adjustable flash, freshly charged battery, and a spare memory card, then we'll be hitting the backcountry roads of Tennessee!
More leaf-peeping tips for ALL states!
The good news for Tennesseans like us is this state is filled with places that display spectacular Autumn scenery. The bad news is that you'll have plenty of company out there. People tend to head to the mountains in search of the best Fall color. In fact, the Great Smoky Mountains National Park in Gatlinburg gets 1 million visitors each and every October alone!
Some of the less popular places that are highly recommended for their colorful fall foliage (and much smaller crowds) include:
Asheville, North Carolina area (2,000 foot elevation), including Hendersonville and Brevard. The unique thing about this area: the abundance of waterfalls! Many of the waterfalls are located right along the main roads, and others can be accessed within state parks like the Dupont State Forest.
Balsam Mountain — just outside of Cherokee, North Carolina.
Cherokee National Forest (from Chattanooga to Bristol along the TN/NC border).
Closer to home, around Nashville Tennessee, you can take a drive on the Natchez Trace Parkway, motor along the winding roads within Edwin Warner and Percy Warner parks, or take a stroll through Radnor Lake State Natural Area for the most peaceful and quiet experience you can find.
Around Nashville, the third week in October is typically the "best" time for viewing Fall colors at their peak.
Whether you make a concentrated effort to get out and explore nature's beauty, or you just decide on a spontaneous drive to a nearby park to check out the awesome color… I encourage you to at least take a brief moment to appreciate life's colorful rewards!

A little about how, why, and when leaves change colors:
The abnormally cool evenings in mid-August probably caused some trees to initiate the leaf color process earlier.
Other factors influencing leaf color include cooler temperatures, less moisture, the amount of sunlight and changing levels of leaf pigments.
In Tennessee, autumn color begins first at the higher elevations. Each year you can look for peak colors to occur during the third or fourth week of October, unless there is an early frost or too much rain.
Overall, leaf color in this area will be average to below average this year.
Since this area received adequate amounts of rainfall during the primary growth period for trees (late spring through early summer) that means most of the tree's energy has switch to the production of wood instead of producing leaf pigments that yield bright fall colors.
More About The Leaves Changing Colors In Tennessee

Great Smoky Mountains Fall Color Guide & Driving Tours
Southeast Tennessee Fall Colors
Where To Enjoy Some Outdoor Adventure AND Colorful Leaves In Tennessee
Tennessee's Top 10 Places To See Fall Colors
What A Difference A Day Makes
...