This post may contain affiliate links. If you buy thru these links, we may earn a commission at no additional cost to you.
---
I went to the Franklin Rodeo for the first time — here's my review.
My son and I, along with several friends, loaded up the car and headed on over to the Williamson County Ag Expo Park last Friday night.
I'm no cowgirl, but I did put my hair up in 2 ponytails and wore jeans… it was the best I knew how to do.
We followed the crowd into the stadium and found our way to our seats.  Amazing seats, I must say!
Of course, before we got settled in, we partook in some of the concessions available…. a couple hotdogs, fries and cokes were the dinner special for the two of us.  There was popcorn and cotton candy for later, so we took our seats and prepared ourselves for a great show.
My First Time At A Rodeo
I have watched rodeos on TV and have always been amazed at how those cowboys are able to stay on their crazy horses for so long.
To see it in person is even more astounding.  There were some of the best riders in the country there that night to show their talents. And they certainly did just that!
From bucking broncos to fighting bulls, barrel racing to roping calves, there was excitement to wow us all night long.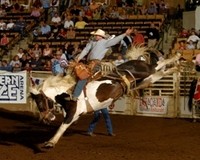 My son and his friend were all into it — oohing and aahing and shouting up a storm.  It was as much fun for me to watch them as it was to see what the pros were doing.
The show started at 7PM and lasted until right at 10PM.
It was definitely a kid-friendly evening. There wasn't even any alcohol served (which was great).
There was also an event in which children rode sheep (after they signed waivers and put on helmets and other protective gear).  It was so cute watching them holding on for dear life. A couple kids actually got trampled by the sheep, but no injuries were reported that I know of.
Oh, and if you felt the need for a lasso rope or cowboy hat of your own — or even a whip for that matter — they were there for sale. And I'm sure they'll be there again next year, too!
Speaking of next year… if you decide to go, let me give you a tip:
Buy your tickets online ahead of time and get the reserved seating.  It's the same cost (although we did pay a $2 service charge per ticket), but you're guaranteed seats and you pick them yourself.
Also, the Cowboy Store is indeed located right here in Franklin. It's in the same shopping strip off Highway 96/Murfreesboro Road where you'll also find Trees-n-Trends and The Home Store.
The Cowboy Store
258 Watson Glen Shopping Center
Franklin, TN 37064
Phone: (615) 591-7959
So, before hitting the rodeo, why don't we all run right on over to The Cowboy Store and get suited up! We can't show up at a rodeo all gussied up like a bunch of city folk, now can we?
I look forward to seeing ya'll there, partner!