This post may contain affiliate links. If you buy thru these links, we may earn a commission at no additional cost to you.
---
We live in Nashville.
Last night, we attended the CMT Awards show.
No, not the CMA awards. And not the ACM Awards either. (If you ask me, it's easy to get them all confused.)
This is the one that precedes the CMT Music Festival each June.
We scored some press passes this year!
We Saw The CMT Music Awards… Live
Here's how things went at the 2010 CMT Music Awards show and some of the unique things that I saw this year…
#1 – I've learned that CMT's "press passes" and "official credentials" are simply free tickets. Which is good. I'm forever grateful. But you don't get any backstage access or special privileges. To get that, you would have to apply for a "red carpet pass". (Next year!)
#2 – We sat at the middle balcony level. It was just high enough that you could see all 3 stages, but not so far away that you needed binoculars. We were directly across from where all the Country music celebrities were seated — exactly at their same level. This was great for me — because I love to watch their every move (usually while I'm taking photos — more on that in a minute). But it was kind of a bummer that the lefthand stage — the one closest to the stars — is the one where everyone was presented their awards and did their acceptance speeches. The stage that was closest to us (the righthand stage) was only used for the up & coming performers who sang briefly while going into commercial breaks.
#3 – Unfortunately, we don't have as many of those amazing photos as we had hoped to get… because we were boneheads and didn't realize we'd left the memory card on the kitchen counter until we had already arrived at the event! So the few photos I did take were shot with my iPhone. How stupidly ridiculous I felt! That said, the CameraPlus iPhone app rocks. It has zoom, flash, and more. Unfortunately, the photos were saved way too small, so the closeups of the artists really aren't worth sharing. (Fortunately, CMT gave us access to their professional photographers' photos.)
#4 – If there's one thing we've learned from going to these "live" tapings of TV shows, the sound is always much better on TV than in person — in terms of actually being able to hear every word that people say during acceptance speeches, interviews & host monologues. We caught the end of CMT's re-airing of the show when we got home, which verified that it was true for this event as well. Fortunately, the live musical performances that we saw there all sounded great! It was just individuals talking that was hard to hear.
#5 – The roped off section of seats where the stars sat seemed a bit too fishbowl-ish, if you ask me On the one hand, this was good for me — because I sat directly across from there, so I could see them all clearly. At a glance, I could tell if someone was doing anything particularly noteworthy. However, it looked like they were some sort of piranha that needed to be cordoned off or something.
At events where they don't make it so obvious where all the stars are sitting (and the celebs are a bit more mixed in with the crowd like they were when we went to the CMT Awards show in 2008), it just seems more natural. Plus, whether you're in the audience or watching on TV, it's always fun to try to spot them in the crowd (and see who they're sitting by). But this way, the stars were pretty much on display the whole night. Again, good for me and others wanting some great photos, but just a little odd for them in my opinion. And to be honest, it highlighted just how few celebs were actually there. There must've only been seats for the nominees and presenters themselves — all others were probably roaming the halls and dressing rooms backstage.
#6 – Wondering what I thought of Kid Rock?…
I like Kid Rock. I've been dying to see Kid Rock in concert. (We almost had a chance the last time we were in Vegas.) And I'm kicking myself that we didn't know ahead of time about Kid Rock playing at the Franklin Factory a couple of years ago. It was a smaller, more intimate setting, but he still rocked the house. (I saw it when it re-aired on VHI Storytellers.) That said, Kid Rock was kind of a downer for me. I probably need to re-watch the entire show on CMT again — where I can actually hear what he's saying all of the time. But the vibe was that he thought the only thing interesting about the night was the drinking & partying. Perhaps that's what CMT hired him for, but it wasn't lighthearted & fun… It was snarky & drunk-speak.
#7 – Biggest disappointment: I thought Sugarland was going to perform! (They were up for a couple of awards.) I don't particularly like Sugarland. Don't own any of their CDs. However, I don't immediately turn off a Sugarland song when I hear it on the radio either. Since I've heard time and time again that Sugarland is so much fun to watch in person (heck they're even fun to watch perform on TV!)… I was counting on seeing them at this year's CMT Awards. And Kenny Chesney would have been fun to see. (He was only up for one award — Collaborative Video Of The Year — for "I'm Alive" with Dave Matthews.
#8 – Biggest surprise: I kinda dig Miranda Lambert. As a rule, i don't like chic singers. I'm not exactly sure why, but I've just never followed any female singers or purchased any of their CDs before. Which is why I'm surprised that I like Miranda Lambert. I like her down-to-earth style and personality. Plus she and Blake Shelton seem really sweet together… I'm happy for them.
Yes, Miranda and Blake's engagement and future wedding came up a few times throughout the night. Both of them made comments about it at separate times on stage. I only wish I'd had my camera at the moment that Faith Hill motioned to Miranda to come sit by her while Tim was preparing for his performance. Faith immediately grabbed Miranda's hand and ooohed & aaahed over the ring for quite awhile.
#9 – Best acceptance speech: Kix Brooks said: "We were not expecting this — so much that Mr. Dunn has gone to the restroom … in Santa Fe, New Mexico! This is just the thing that will make them think we're breaking up the duo." (It was one of the funniest moments of the night.)
#10 – Other funny moments:
The "2 Rebas" was slightly comical — when Keenan Thompson from Saturday Night Live came out dressed as Reba McEntire in a long green sparkly dress and started singing/chatting with the crowd. Moments later, the real Reba McEntire walked on stage next to him and played along with the jig. It helped lighten things up a bit. (Here's a video clip.)
The Terrell Owens/Kellie Pickler bit was slightly humorous as well. (He sang a karaoke version of "Mamas, Don't Let Your Babies Grow Up To Be Cowboys".)
The fact that Luke Bryan spontaneously whipped off his jacket and tossed it into the crowd (and then said he might have left his cellphone in the pocket… if so, please send a Tweet) was pretty funny. Oh, and then security guards searched the jacket that a lucky fan had claimed to maje sure there was no cell phone in it! Most of the other humor of the night was scripted, but this was simply prompted by Luke's excitement about winning the award for Breakthrough Video Of The Year.
#11 – Who we got the closest to: Taylor Swift. We were walking on the "celebrity side" of the barrier as Taylor Swift was signing autographs in front of the Country Music Hall of Fame before the CMT Awards show began. Other than that, our press passes came with no special privileges. (Oh, and by the way, Taylor Swift straightened her hair for the CMT Awards. It was a big change that made her look very mature and sophisticated.)
#12 – Biggest "What the ___?!" moment: Sheryl Crowe… and Kid Rock… and what they were saying that was supposed to be funny, but just sounded odd and didn't get many laughs. Then, to top it all off, the nude/skin-colored pants that Sheryl was wearing made her look like… well, like she wasn't wearing any pants! It was just a very awkward segment. UPDATE: Sheryl Crowe's pants looked much pinker on TV, and she didn't look as nude as she did in person.
#13 – Second most awkward moment: When Paula Deen was standing sandwiched between Snooki and The Situation to present an award. Paula actually did quite well feeling his abs and discussing his "situation." (That woman can feel at home no matter where she's at!) But all of the talk about The Situation and his parts got to be a bit much; it was way too drawn out. In fact, he personally got booed toward the end of the bit!

#14 – Our favorite part of the show: The opening performance. (Here's a video clip.) Lots of different artists appeared on stage together, playing their own instruments and singing a couple of Kid Rock songs together as a group. Jim and I especially liked seeing Randy Houser, Trace Adkins, Zac Brown, Jamey Johnson, and Mr. Bocephus himself, Hank Williams Jr. (We also enjoyed the Zac Brown Band's performance of "Free" later on in the show. Here's that video.) By the way, the Lady Antebellum performance that closed the show was also pretty good. The ending light show, booms, and super-mega confetti drop made for a nice finale. (Speaking of special effects… the big red balloons that were tossed into the audience during Brad Paisley's performance were kinda cool too. It looked fun when he popped one on stage with his guitar and sent red confetti everywhere.)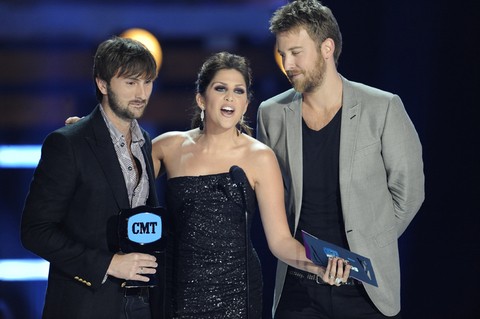 Who Was There & What Crazy Things Did They Do?
Since I wasn't taking pictures the entire night (as I usually am), and I couldn't hear half of what people were saying on stage (because that's just the way things go with TV events), I spent most of my time at the CMT Awards show with my eyes glued on the "fishbowl of celebrities."
This is actually what I enjoy most about events like this anyway — seeing how famous people act (and react) when the camera's not on them. I try to get a feel for how down-to-earth they seem behind-the-scenes.
And, I'll admit, I'm halfheartedly trying to "scoop" anything that people like you & me might not already know about these folks. For example, had I captured Erin Andrews and Maksim Chmerkovskiy sneaking a kiss similar to this one by Carrie Underwood and her fiance Mike Fisher at the CMT Awards, then I could confirm that the rumors are true about Erin and Maksim (from Dancing With The Stars) being a couple. However, no smooch was spotted. I also thought I spotted a surprise baby bump. But I won't mention that person by name because… who am I to say? Besides, some of these pencil-thin artists look pregnant if they've eaten a whole hamburger instead of a half of one!
So, for those who, like me, enjoy this kind of thing — despite how trivial this stuff really is — I can report the following:
Here are all of the winners (and losers) at the 2010 CMT Awards and photos from the CMT After Party.
Kid Rock ended his part of the show with this memorable quote:
As a music lover, if it looks good, you'll see it. If it sounds good, you'll hear it. If it's marketed right, you'll buy it. But if it's real, you'll feel it.
—Kid Rock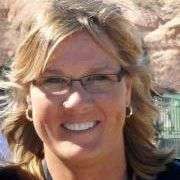 We moved from Florida to Tennessee in 2001. All signs point to the fact that we will probably retire here — by choice. We L O V E Nashville! Our favorite places to live are just south of the City — we've had houses in Brentwood, Franklin, and Spring Hill. And we have properties in Leipers Fork, Cookeville, and Lewisburg. This site is where I share my best tips for moving your family to Nashville and/or visiting Nashville for the first time — with the ultimate goal of helping you find fun things to do in Williamson County and Davidson County. When I'm not out & about enjoying the Nashville area, you'll find me at the corner of Good News & Fun Times as publisher of The Fun Times Guide (32 fun & helpful websites). To date, I've written over 500 articles on this site! Many of them have upwards of 100K shares.