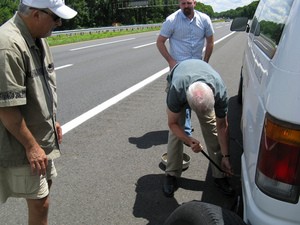 I just heard an ad for this today on the radio…
When you're traveling on Tennessee roadways and notice a stranded driver, or become stranded yourself, you're encouraged to dial *THP on your cell phone and a highway patrol officer will be dispatched to help you.
The Tennessee Department of Safety wants to remind motorists to dial *THP if they encounter trouble on the road. The Tennessee Highway Patrol responds to more than half a million calls for service each year.  State Troopers are there if a driver needs them, whether it's for a flat tire or a serious crash.  Motorists can dial *THP (*847) from their cell phone and they will be automatically connected to the closest THP dispatch office. "We are working 24 hours a day, seven days a week, 365 days a year.  Source
This is one of those things that you just don't think about… until you find yourself stranded on the side of the road wondering what your options are.
You can bet now I'll remember *THP no matter where I'm traveling in Tennessee!
In the ad, they also encourage you to dial *THP to report road rage, a driver under the influence, etc.
This is definitely worth noting and much better than dialing 911, as many people probably do. Until now, I always thought TDOT's Highway Incident Responders were the only way to get help fast. (You know, those bright yellow emergency vehicles usually seen during rush hour traffic.)
From the Tennessee Highway Patrol website:
Contact us statewide via mobile phone: *THP (*847) for Highway Emergencies to connect to the THP District Headquarters nearest you at the time of your call.
Or contact your district THP headquarters:
District 1, Knoxville: (865) 594-5793
District 2, Chattanooga: (423) 634-6898
District 3, Nashville: (615) 741-3181
District 4, Memphis: (901) 543-6256
District 5, Fall Branch: (423) 348-6144
District 6, Cookeville: (931) 528-8496
District 7, Lawrenceburg: (931) 766-1425
District 8, Jackson: (731) 423-6635