This post may contain affiliate links. If you buy thru these links, we may earn a commission at no additional cost to you.
---
What happens when you move from one address in Williamson County, TN to another address in the same county?
Do you have to change the address on your drivers license?
That's what I was asking a few months ago when we moved from Franklin to Spring Hill.
I wanted to do the right thing, but I didn't want to pay for a new drivers license if I didn't have to!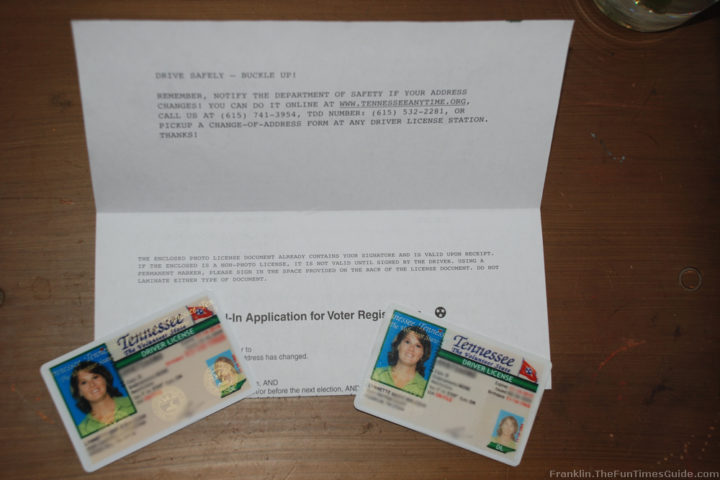 Here's what I found (and did) recently. In the end, it was a big win for me!

How To Change Your Address
The fact is, if you live in Williamson County and move to a new home within Williamson County, you do indeed have to change your address with the Tennessee Department of Safety.
From the Tennessee Dept. of Safety website:
The law does not require the address to be changed on your actual license, just on our files. There is no fee to change your address in our system. The easiest way to change your address is online.
There are 2 options for updating the address on your Tennessee drivers license:
#1  Change your address online.
NOTE: You will NOT receive a new license or a sticker for the back of your license. Your correct address will only appear in the state's official files for your personal driving record. After they receive your information, your driving record will be updated within approximately 15 business days.
#2  Order and pay $8 for a duplicate license online.
NOTE: This way, your new address will appear correctly on a new drivers license that they will send you in the mail.
What It Was Like Updating My Drivers License Online
I chose option #1.
It was really quick and easy to do.
The best part was at the same time that I was updating my address online, the system was checking to see if I was eligible to renew my drivers license at this time.
I was! Even though my drivers license was still good for another 13 months, I was able to renew early — which meant that I would indeed get a whole new drivers license (with my new address) mailed to me. I just had to provide a credit card number online for the $8 fee.
The win-win for me was the fact that I hadn't wanted to pay $8 just for my new address to appear on my drivers license, but since you have to pay $8 whenever you renew your license anyway, I was happy to renew early and change my address and get a whole new license — all in one step!
Plus, I now have 2 drivers licenses (one with the correct address and one with my former address), which is a good thing if I ever misplace one! Or if I wanted to keep one in one purse, and another in another purse.
What If You Aren't Eligible For A Renewal Yet?
We went through the exact same steps to update the address on my husband's drivers license (and renew his license too, if he was eligible). However, he wasn't eligible for a renewal at this time. He had renewed his drivers license in person 9 months earlier, so his license didn't expire until 5 years from now. That was too far out to renew at this time.
Therefore, he was only able to update the address in the records — which he did. He chose not to pay $8 for an updated license just to reflect the new address.
The only downside to this is if you ever need to use your drivers license to verify your current address, you won't be able to (unless you later visit a driver service center and pay $8 to get a duplicate drivers license).
Worth Noting…
With option #2 (and option #1, if you let the system check to see if you're eligible for a renewal at the same time), they say that "you should receive your new drivers license by mail in 5-7 days. In unusual instances, it can take up to 20 days." It took a good 30+ days for me to get mine. However, it was over the Christmas holiday that I processed mine online.
If you don't want to update your drivers license online, here are other ways to update the address on your drivers license.
If your change also involves a name change, then you will need to visit a driver service center.
Changing the address on your drivers license does not change your address for vehicle registration records.
You do need to have your actual drivers license in front of you when you're completing the form online — because you have to enter your drivers license number. If you've lost yours, then you'll need to visit a driver service center.
Here's my experience of what it's like to get a Tennessee driver license (…don't miss the recent updates at the very end!)
Here's the quickest way to renew a drivers license in Brentwood, Tennessee.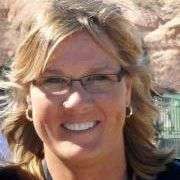 We moved from Florida to Tennessee in 2001. All signs point to the fact that we will probably retire here — by choice. We L O V E Nashville! Our favorite places to live are just south of the City — we've had houses in Brentwood, Franklin, and Spring Hill. And we have properties in Leipers Fork, Cookeville, and Lewisburg. This site is where I share my best tips for moving your family to Nashville and/or visiting Nashville for the first time — with the ultimate goal of helping you find fun things to do in Williamson County and Davidson County. When I'm not out & about enjoying the Nashville area, you'll find me at the corner of Good News & Fun Times as publisher of The Fun Times Guide (32 fun & helpful websites). To date, I've written over 500 articles on this site! Many of them have upwards of 100K shares.