This post may contain affiliate links. If you buy thru these links, we may earn a commission at no additional cost to you.
---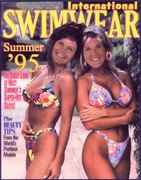 I've been tagged by jvanover at Our Life Together.
I've never actually done one of these "tagging" meme things before. But I like this one. It's a good way to put a face with the person who writes a particular blog.
So for starters, that's me on the right (…the far right). On the left is my mom.
Okay, so it was 1995, and we were high on Florida sunshine and ocean air at the time.
I can't think of a better explanation for why we might have felt compelled to actually let them "photograph" us like this. It was at Universal Studios in Orlando, and obviously all that is real are the faces.
Here's the real me in photographs…
Why I'm Doing This
David Airey started this picture meme to help bloggers (and visitors to their sites) get to know one another a little better.
I agree… pictures can tell a lot about the who, what, where & why a blog exists.
You know, the story-behind-the-story.
So I appreciate those who have taken the time to participate and share their photos as part of the "Face Behind The Blog" meme.
Okay, here we go…
My Life In Photographs
#1 This is pretty much how I look today… all the way down to the very t-shirt I'm wearing.
No really. I wrote about this being my all-time favorite t-shirt that I purchased at Cocoa Beach, Florida circa 1991. (Do they even still make Ocean Pacific OP clothing? If so, I want another shirt just like this one!)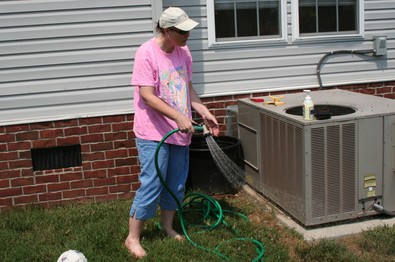 This photo was taken the Summer of 2006 and I still wear this t-shirt whenever I'm lounging around the house. (I'm wearing it now as a matter of fact.) The only thing is… I can no longer wear this shirt beyond the confines of our house. Because… notice the small hole that was starting to appear in a not-so-desirable place? Well, that hole now makes this shirt nearly R-rated. As soon as it reaches X-rated, it's off to the garbage — I promise. I don't know why I refuse to let this shirt go.
See, you're learning a lot about me already, right? (No, please don't remove this site from your bookmarks yet… it gets better!)
#2 This is how I spend most of my time.
I keep asking Jim to take more pictures of me. But he only seems to photograph me when I'm taking pictures. Hmmmm. I guess that means I spend a lot of time taking pictures!
Yep, this is how you'll usually find me anytime I'm out in public. I'll be the one with a camera in my hands. (Sometimes a camera in one hand, and the dog leash in the other. Or a camera in one hand and a Jeep steering wheel in the other. You know, "action shots".)
Here's a funny sidenote…
When I went into the camera store to buy a new digital SLR camera, they asked what type of photography I was mostly going to do. I said action photos. "Oh, like sports, pets, and wildlife?" they asked. "No, like from a moving car… while I'm driving" I said.
It's true, I never leave home without my Nikon D80 SLR or my handy dandy little Canon PowerShot Elph 330HS in hand. And many of my photos are shot while I'm driving. Call me crazy (or lazy, or a danger to society), but how else could I capture pictures like these?
Another reason drive-by-shooting is currently a necessity for me is the fact that I have this other website called The Fun Times Guide to the Natchez Trace Parkway. Unfortunately, there is no single spot that you can go to capture all of the photos you need for a site like this. (I've taken 2,614 photos and counting!) So you just drive and photograph what you see as you see it! (Jim won't go with me and do the driving anymore because the trip became "boring" to him after the first 2 or 3 dozen times we drove on the Natchez Trace Parkway together.)
So, how many digital photographs do you take each year? When I wrote this, I was averaging 5,000 plus. But in the 5 months since then… I've taken 5,866. So I guess I'm averaging between 13,000 to 15,000 digital photos …a year!  (Must be the new camera and the fact that I've added a few more websites since then.)
#3 This is one of the few pictures I have with both me and hubby in it.
Meet my husband, Jim. He's the better half in charge of all things behind-the-scenes with The Fun Times Guide websites.
We enjoy traveling… a lot. In this picture, we're enjoying the Canadian Rockies. We've been there twice now. Once on a motorcycle and once in an RV.
RVing, Jeeping, and Motorcycling are our favorite ways to see — and experience — the world.
#4 This is my all-time favorite picture of the two of us.
It's a self-portrait while I'm holding one of those "blind spot" mirrors and we're riding around in our Jeep — with the top down. Just havin' FUN! We like Jeeps so much, we usually rent a Jeep wherever we go… even in Aruba.
More About Jim & Lynnette…
A unique perspective on the 2 people behind this web site (and the entire network of sites at TheFunTimesGuide.com): Jim and Lynnette.
For those who told us "No" or said we'd never be able to do it… Proof that whatever you set your mind to, you can do!
From Indiana to Florida… Texas to Tennessee… New York to North Carolina… Ohio… and back to Tennessee again… Here's a little about the places we have called home.
How We Met & Our Unique Wedding
It all happened so fast!… Here are the details of our whirlwind courtship and barefoot-on-the-beach wedding in the Bahamas. Let the good times roll!

There's so much to say about our dogs that we created an entire website called The Fun Times Guide To Dogs. It includes all the fun(ny) stories and pictures of our pets: Destin, a Black Lab/Golden Retriever mix; Tenor, a Black Lab/Great Pyrenees mix; and Jersey, an American Eskimo dog. Plus, the site is loaded with great tips for dog owners!
Almost as long as we've been together (15+ years), we've owned at least one Jeep. At one point, we owned 3 Jeeps! These days, our 4-wheeled vehicles include a 2004 Jeep Wrangler Unlimited and a 2014 Jeep Grand Cherokee Overland. By the way, I'm so glad we got the longer wheelbase 2-door Wrangler, rather than the 4-door version. We absolutely love ours. And it's the perfect dogmobile!
Our Motorcycles & Fun Times Motorcycling
Our newest passion is long-distance motorcycling. We started with a 2005 Harley-Davidson Road King Classic. We had it for a year, rode it all over Tennessee and beyond (like Nashville to California on a self-guided tour of Route 66), and then traded it in for a 2013 Harley-Davidson Road Glide Ultra just 3 weeks after we got back from that trip. Most recently, we put 11,700 miles on our motorcycle in 5 weeks on a trip from Nashville to Alaska and back.
Our Motorhome & Fun Times RVing
While many people have driven one or maybe 2 RVs in their lifetime… we have been renting, borrowing, and transporting RVs for years. These days, most of our RV roadtrips take place aboard a 2002 Monaco Signature Series motorhome.
Want to know more about us? Then start reading! You're bound to learn a lot about us and the things that motivate us on a daily basis after browsing through some of the articles we've written here at The Fun Times Guide.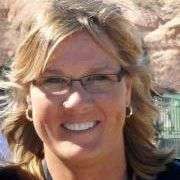 We moved from Florida to Tennessee in 2001. All signs point to the fact that we will probably retire here — by choice. We L O V E Nashville! Our favorite places to live are just south of the City — we've had houses in Brentwood, Franklin, and Spring Hill. And we have properties in Leipers Fork, Cookeville, and Lewisburg. This site is where I share my best tips for moving your family to Nashville and/or visiting Nashville for the first time — with the ultimate goal of helping you find fun things to do in Williamson County and Davidson County. When I'm not out & about enjoying the Nashville area, you'll find me at the corner of Good News & Fun Times as publisher of The Fun Times Guide (32 fun & helpful websites). To date, I've written over 500 articles on this site! Many of them have upwards of 100K shares.