This post may contain affiliate links. If you buy thru these links, we may earn a commission at no additional cost to you.
---
Both of these dog parks are worth visiting, despite any of the "negative" things that I might allude to below.
My aim here is simply to give dog owners an honest review and some idea of what they can expect to find upon their first visit to either of these dog parks.
All in all, they're both great dog parks, and both are very popular with the locals.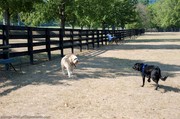 Getting To The Dog Parks
I live near the Franklin downtown square, and I've measured it out… Maggie's Bark Park (aka the Franklin Dog Park) and the Warner Dog Park are exactly 11 miles apart.
Of course, the Franklin Dog Park (located behind Franklin High School, near Williamson Animal Control) is actually closer and easier for most people living in Franklin to get to, but it's a fairly enjoyable drive down Hillsboro Road to Old Hickory Blvd. and then down to Vaughn Road to get to the Warner Dog Park as well.
The Warner Dog Park is kind of sandwiched between Brentwood and Bellevue near Percy Warner Park, so it attracts dog owners from all parts of Nashville.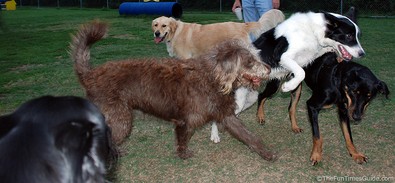 Peak Hours & Slow Times
Both of these dog parks are open from dawn to dusk each day.
They are both busiest during after-work hours and on weekends.
If you'd like to get your dog accustomed to the dog park slowly, a weekday morning or afternoon might be a smart choice.
On the other hand, if you want your dog to mix & mingle with lots of different dogs at once, then you'll want to visit in the evening or on weekends.
One guy told me that the Warner Dog Park is like an aquarium on weekends… it's a sea of dogs in any direction you look! (We haven't been on a weekend yet.)
Pro's & Con's About The Franklin Dog Park
There are
lots
of dog toys (in good condition) that are kept on-site at all times. Those that are torn up or shredded are routinely discarded. And new ones are frequently added.
There is a bunch of dog agility equipment that has a permanent home at this dog park. So it's a great place to train your dog to climb up and down ramps & such, jump over obstacles of various shapes & sizes, and crawl through tunnels, tires & things. This type of play tends to boost a dog's self-confidence while providing a great deal of variety — play equipment that most dogs don't see on a regular basis.
There are several large stainless steel dog water bowls — which park patrons refill regularly each day. (They're located right next to a well with a hand-pump.)
There are a few thick plastic kiddie-pools for the dogs to run through and cool off in. (These are also located next to the water pump, making for easy cleaning and refilling.)
The "poop station" is very convenient in this dog park. It's located in the dead-center of the play yard. And there is a trash can right there to dispose of the bag right away.
There's a double-gate system at the entrance to the play yard. This prevents a dog from accidentally escaping. It also gives dogs a chance to become familiar with one another from a distance — rather than just tossing a bunch of strange dogs together right away.
There is a lot of grass at this dog park… and it's actually green! Over by the doggie pools and watering station, it's a little less grass and a little more dirt (…sometimes mud!).
There's even an entirely separate dog park area just for small dogs. And an identical one — with more open running space & benches — for the bigger dogs.
The dog owners themselves seem to go above-and-beyond to try and keep this dog park clean and respectable. They keep the water bowls and swimming pools replenished throughout the day, and best of all… they pick up their dogs' poop! There are few if any "land mines" at this dog park.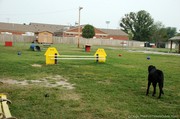 The Franklin Dog Park may have an edge on other dog parks because of its close proximity to the Williamson County Animal Control. (Inside, there's a dog shelter, and it's a very popular place for those looking to adopt a dog to visit.) When I phoned their office, they said they do play a role in the dog park's upkeep. In fact, they try to maintain the dog park on a daily basis. As a result, this dog park is always clean and tidy… despite the fact that it's visited by dozens of dogs daily!
Pro's & Con's About The Warner Dog Park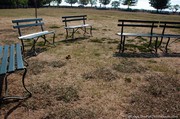 The biggest "plus" about this dog park is its
huge
open field — contained on all sides within a fence. For dogs who love to run, it could be compared to a dog's "field of dreams".
Unfortunately, it's so open, there is hardly any shade to be found — either for the dogs or their owners.
There are a dozen or so benches, which people tend to move together to facilitate conversation among dog owners. Or, if you wish, it's also possible to drag a bench to another area of the field — say a shadier area!
This is one water bowl on site for the dogs visiting this park. It's attached to the bottom of the water fountain inside the play yard. It's pretty cool… just push a button and it fills up the dog bowl. All together, there are two water fountains — one inside the fence, and one in the parking lot.
By the looks of things, dog owners aren't too concerned about picking up after their pet at this dog park. There are land mines everywhere you look, so even on a casual stroll around the fence line, be sure to watch your step! Each time I visited, I watched dogs poop, while their owners looked on and chose not to clean it up. My guess: the field is so big, it can be quite a walk to get to the spot where your dog pooped — and few want to go through the effort. That, and half the time, it's hard to tell exactly where your dog pooped if you happen to be a good distance away from your dog at the time. I can sympathize with that.
Interestingly enough, there are plenty of biodegradable dog poop bags on site — at least one on every corner of the fence, and a few more in between — but only 2 trash cans at the entrance and at the far end of the field.
However, there are no garbage cans inside the fenced play yard itself. While this might be smart — to keep the dogs out of the trash — it also makes it somewhat of a chore to trek halfway across the field just to toss your dog's feces away.
There is a lot of dirt (rather than grass) at this dog park. And this summer in particular, it happens to be very dry since we've had so little rain. As a result, the ground inside the fenced yard is filled with crunchy brown blades of grass and dusty light-colored dirt. Most dogs leave this park needing a bath!
The double-gated entry is top-notch at this dog park. The locks are easy for people to maneuver (using only one hand!), and the middle "holding area" between the two gate doors is quite large with plenty of room for you and your dog to move around.
Usually the only dog toys found lying around the play yard are old tennis balls and shredded rope toys. Of course, that means that the dogs enjoy playing with them. But unless you bring your own, don't count on being able to find a throw toy or chew toy for you and your dog to play with.
This dog park might not appeal to small dogs and their owners as much as some dog parks. The reason for this is twofold: 1) There are huge gaps underneath the fence in several different places. Smaller dogs could certainly get out. 2) With such a big field being visited by so many big dogs, it could be somewhat intimidating for littler dogs. And there's really no place to go to escape the larger dogs at this park — other than underneath the fence.

In fairness, I think part of the reason this park seems to be lacking in some areas is simply due to the fact that it's a public park (maintained by Metro Parks)… located in a very busy area… on a very busy road. Therefore, if certain dog-friendly items were left in the play yard, they would likely disappear or become damaged by "other" park patrons. Whereas, the Franklin Dog Park (aka Maggie's Bark Park) is a more of a private park … that is "hidden" from public view… and it is maintained and cleaned by Williamson County Animal Control which happens to be located on the premises.
More pictures of fun times at the Franklin Dog Park and the Warner Dog Park.
The pros & cons of dog parks in general.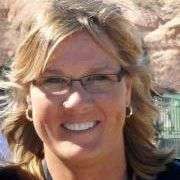 We moved from Florida to Tennessee in 2001. All signs point to the fact that we will probably retire here — by choice. We L O V E Nashville! Our favorite places to live are just south of the City — we've had houses in Brentwood, Franklin, and Spring Hill. And we have properties in Leipers Fork, Cookeville, and Lewisburg. This site is where I share my best tips for moving your family to Nashville and/or visiting Nashville for the first time — with the ultimate goal of helping you find fun things to do in Williamson County and Davidson County. When I'm not out & about enjoying the Nashville area, you'll find me at the corner of Good News & Fun Times as publisher of The Fun Times Guide (32 fun & helpful websites). To date, I've written over 500 articles on this site! Many of them have upwards of 100K shares.