This post may contain affiliate links. If you buy thru these links, we may earn a commission at no additional cost to you.
---
Last month, we rented a cabin at Brothers Cove in Sevierville, Tennessee.
There were 8 of us (including 2 children).
If you're looking for some really nice — and affordable — Pigeon Forge cabin rentals, then Brothers Cove is definitely worth considering!
A few years ago, we rented a different cabin in nearby Cosby, Tennessee. Cosby Creek Cabins are really nice as well. I'll try to point out some of the differences…
About Brothers Cove Cabins
For starters, the Brothers Cove cabin rentals are located in a log cabin "subdivision" of sorts.
It's a private, gated community that's off the beaten path (as many of the Pigeon Forge cabin rentals are), but the cabins are numerous and fairly close together.
Even so, there is plenty of privacy, and there are so many trees around you that you don't feel too close to the other cabins.
A Review Of Our Cabin
We stayed at Moose's Adventure (#30 on the Brothers Cove map). It's a 3-bedroom, 2-story log cabin that is really quaint and cute. It's rustic inside and out!
One of the most eye-catching things that you cannot miss is the spiral staircase inside that's made of logs (for the steps) and sticks (for the railing). The only downside is the fact that little kids (or older adults) could easily lose their footing, and the sticks that make up the delicate railing aren't very rigid. Since there's a bit of give to them, you don't want anyone (kids or adults) to be holding on too tightly as they're going up or down the stairs.
Aside from that, the entire cabin felt safe & secure and had all of the amenities of home (…and more!).
The floorplan was really nice with the kitchen (with a huge dinner table), living room (with big screen TV), den (with pool table), and powder room taking up the entire first floor. It's completely wide open and easy to keep an eye on everyone at all times.
The 3 bedrooms are the only rooms upstairs. They're fairly small, but they have everything you could possibly want. Each has a separate bathroom, shower, TV, and jacuzzi tub. Two of the 3 bedrooms have private balconies. There's very limited space for unpacking clothes — in terms of closets or drawers — so you may be living out of your suitcase.
On the outside, there's a wraparound covered porch on 2 sides of the cabin, with a nice porch swing, table and chairs, grill, and a hot tub for all to enjoy.
Other Amenities On Site
The kids loved the swimming pool — which was just around the corner on the Brothers Cove property (not within walking distance of our cabin). It's not heated, but it's a good size pool and there are plenty of grills and pavilions for cookouts and family get-togethers.
Brothers Cove also gets high marks for its on-site customer service. We used the hot tub a lot, and it stopped working on the second day of our 5-night stay. After a quick phone call to the front desk, they sent a couple of repair guys right over to have a look at it. They managed to do a temporary fix right away, and they permanently fixed it the next day.
Since it wasn't our equipment and we didn't want to mess anything up, we also called them when the Dish satellite went out and the DVD player stopped working at the same time. That proved to be a trickier fix, but they got both working in no time.
Here are some of the other amenities at Brothers Cove.
The Downsides…
The one and only thing that is not so good about this Pigeon Forge cabin rental is the fact that you make your reservations (and exchange your sheets & towels, if necessary) at a completely separate location that's miles away from the Brothers Cove cabins themselves.
#1 It seemed odd (and rather archaic) that you had to physically go to their rental office in downtown Pigeon Forge just to sign the credit card receipt. Therefore, you cannot make your reservation 100% online. They require an on-site signature that took all of 2 minutes. (Talk about a waste of time! And who wants to fight all of that constant Pigeon Forge traffic?!)

#2 When we needed extra towels on the 3rd morning of our 5-night stay, we had to drive all the way back into downtown Pigeon Forge just to exchange our dirty towels for clean ones. It was a huge inconvenience. It seems that the main office on the Brothers Cove property should make some arrangement with the rental office to exchange towels, but they wanted no part of it. Awkward!… and another waste of time.
Lots Of Options
Overall, we really enjoyed our stay at Brothers Cove in Sevierville. The Moose's Adventure cabin itself was a fun place to stay, and we'd probably stay there again — though it would be fun to try out some of their other cabins.
We took a drive through the entire property to have a look at all of the other cabin rentals in Brothers Cove. There are definitely some that are nicer (and more expensive) than Moose's Adventure. Their view was much better too, but ours was nice for the price.
The cabins are all tucked into the mountainside itself and you drive up long, twisty roads to get to them. Larger vehicles (such as trailers and motorhomes) would not be able to maneuver these roads.
Compared to the Cosby Creek cabins we stayed in a few years ago, the Brothers Cove cabins are much more homey and rustic looking. These are real log cabins — inside and out — with lots of real logs and tree-like features throughout.
Our Cosby Creek cabin was sort of boring compared to this. It had everything we could want, but it lacked the "wow" factor that you find at Brothers Cove. On the other hand, the Cosby Creek cabins were more spread out and private. You were truly out in the country with hardly anyone else around. We felt just as safe, even though it was a bit more remote.
Both of these Pigeon Forge cabin rentals are good choices, in my opinion. We would recommend (and stay again!) at both locations.
Brothers Cove also has a number of pet-friendly cabins.
A Few Things We Did For Fun…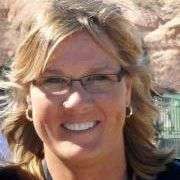 We moved from Florida to Tennessee in 2001. All signs point to the fact that we will probably retire here — by choice. We L O V E Nashville! Our favorite places to live are just south of the City — we've had houses in Brentwood, Franklin, and Spring Hill. And we have properties in Leipers Fork, Cookeville, and Lewisburg. This site is where I share my best tips for moving your family to Nashville and/or visiting Nashville for the first time — with the ultimate goal of helping you find fun things to do in Williamson County and Davidson County. When I'm not out & about enjoying the Nashville area, you'll find me at the corner of Good News & Fun Times as publisher of The Fun Times Guide (32 fun & helpful websites). To date, I've written over 500 articles on this site! Many of them have upwards of 100K shares.