This post may contain affiliate links. If you buy thru these links, we may earn a commission at no additional cost to you.
---
Have you been to The Well Coffeehouse?
I hadn't even heard of it until my best friend from Florida told me about it. Melissa was coming for a visit and the only place she wanted to go (really insisted on going) was The Well.
Once she explained what it was — a coffeehouse with a cause — I was so there.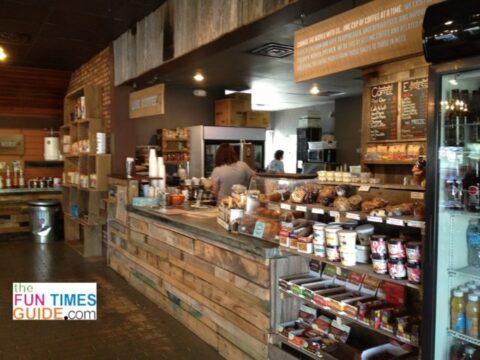 Melissa and I drove (kidless and husbandless, that was worth the trip right there) to The Well early on Saturday morning.

First Impressions Of The Well Coffeehouse
It was busy, but not crowded, and the vibe was pure Nashville: earthy and trendy.
Big comfy couches greeted us in one area and burlap cushioned chairs with odds & ends tables beckoned to us. The walls were purposefully covered in worn, discolored wood.  It was super cool.
We hadn't even tasted the coffee yet and we were hooked!
I ordered my usual mocha latte and munched on half a bagel with cream cheese. My friend ordered a cappuccino (she had the other half of the bagel).
We sipped the yumminess and chatted away — admiring the working folk with their laptops and iPads (enjoying the free WiFi).
More Than Just Good Coffee In Nashville
Don't like coffee?
The Well offers a large variety of teas, juices, soda, water and other delectable looking goodies.
So what makes this coffee house different from all the others?
As wonderful and delicious as their coffee is, they love something even more than coffee. They love people — especially people in need.
They intentionally support a variety of different causes both locally and globally, and they are very hands on in that support. The Well Coffeehouse exists to give back, giving the entire profit from their sales to those in need.
One thing caught my attention on their website:
Customers can know that, as they consume, they are helping to feed, to clothe, to provide, and to facilitate the process of getting 'living water' into the hands of those in the world who are holding an empty cup. — The Well Coffeehouse
This sure did strike a chord with me. It put a new perspective on the full cup of coffee (or any beverage for that matter) that I rarely think twice about.
Everything at The Well points to giving back:
One of the areas in the coffeehouse has an actual well that is used in third world countries to provide clean water. There are pictures of those wells being installed and happy children lapping up the clean water.
Another area features other organizations within the Nashville community that support The Well Coffeehouse and their efforts.
Another area features a variety of items for sale — from t-shirts to soap to jewelry.
One of my favorite areas is a wall called "The Wishing Well". If you find yourself in need, you are invited to write that need on a card (or simple piece of paper) and put it on The Wishing Well wall. I read cards from job requests to housing needs to simple prayer requests. What is interesting about this concept is that people who are in a position to help others are encouraged to take a card from The Wishing Well and "change a life". That ties in really well to one of the signs you'll see in the coffeehouse: Coffee + Community = A Better World.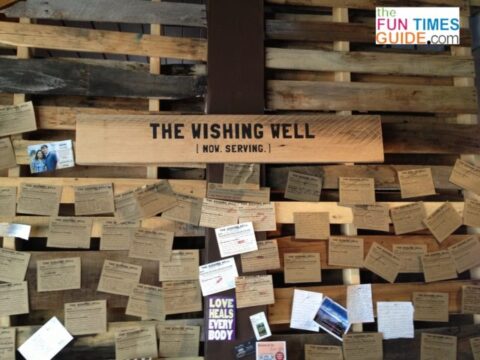 I love coffee and I love to see people helping people.
I left The Well with a full belly, a skip in my step, and a song in my heart.
Will I be back?  YES – again and again. I look forward to my return visits and catching up with all that The Well  is doing in the name of love.
The Well Coffeehouse currently has only one location:
2035 Richard Jones Road
Nashville, TN 37215
Good news… There is plenty of FREE parking!
I'm a happily married mom to 3 wonderful children: Taylor (13), Gavin (10) and Garrett (8). We recently relocated to the Nashville area from Florida and we're enjoying exploring Middle Tennessee and all it has to offer. My hobbies are: writing, photography, digital scrapbooking, cooking, and all things parenting.