This post may contain affiliate links. If you buy thru these links, we may earn a commission at no additional cost to you.
---
Before we moved to Nashville on April 25, 2001, Jim and I took 2 trips there.
The first one was just a regular vacation to Chattanooga and to Nashville a few months before we were even married.
The next one was a trip to Nashville several months after we were married to make sure it was a place that we would enjoy living.
Nashville definitely made a good first impression on us, and we ended up moving there 5 months after our 2nd visit.
These photos show some of the things we did when we visited Nashville twice during the time that we lived in Pensacola, Florida…
Music City USA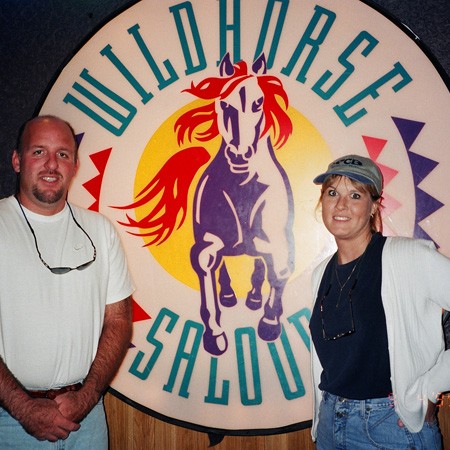 After spending a few days in Chattanooga and doing all the touristy things there, we went to visit some of Jim's old haunts in Nashville. (He previously lived in Spring Hill, TN for a short time with his brother.) We did all of the touristy things in Nashville: ate at Jack's Bar-B-Que on Broadway, bar-hopped through all the honky tonks in downtown Nashville, and we even stopped at the Wildhorse Saloon where they do a lot of line-dancing and two-stepping. You get pure country round the clock here.
T-T-Tootsie's Honky Tonk Bar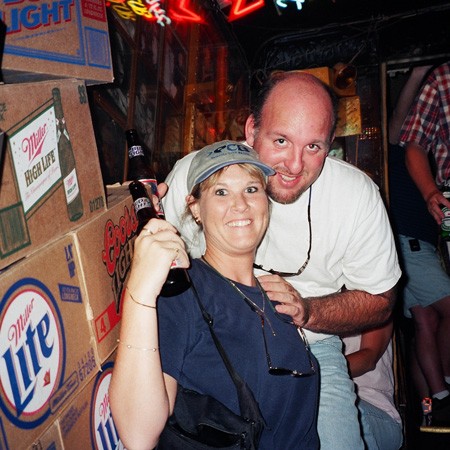 We made the rounds at all the bars and honky tonks on Broadway, including some of the most legendary:
Tootsie's – where the Opry greats walked up the 31 steps from Ryman Auditorium's side door to this bar's back door after the show.
Legends Corner – recognized for their impressive collection of old records and album covers which line every square inch of the place.
Robert's Western World – where shelves of Country & Western boots decorate the walls. They also have the best "pub grub" — including the cheapest and the tastiest BLTs in town!
We Got The Blues

It seems like anywhere you go in Nashville you find live entertainment, and there's a lot of great musical talent around here! Whether you like Country music or not, there's definitely something for everyone in and around Nashville. By the end of our first night in Nashville, we got the blues: we went to see Stacy Mitchhart & All The Blues U Can Use at a back-alley bar called the Bourbon Street Blues & Boogie Bar. It's located in Printer's Alley, a legendary pass-thru on the streets of Nashville. The best part: there's not a bad seat in the house. We sat up on the balcony, directly over the band members. Add to that, a mirrored wall behind the band, and you get the most awesome perspective! This band plays regularly here. They're a little raunchy, a little rock 'n rolly, and a whole lotta bluesy. Their motto: "A shot 'o blues for yo' ass!"
Defying Authority… Again


Here I am pushing the limits and defying authority for a change.  This sign was found on a hiking trail along the Natchez Trace Parkway — just south of Nashville.
Being One With Nature


Colorful flowers and waterfalls are 2 things that we're always trying to incorporate into our photos. Here, we spotted some colorful yellow springs along the Natchez Trace Parkway.
A Race To The Finish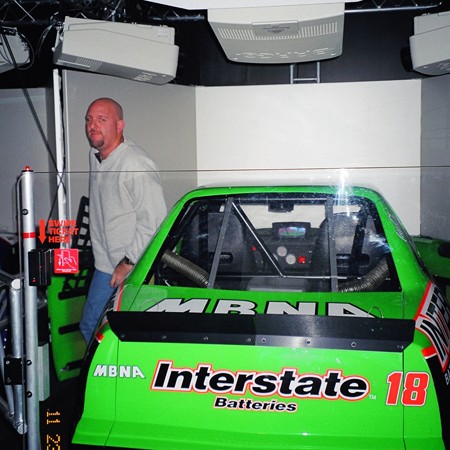 On our second visit to nashville, Jim and I drove from Pensacola on a spontaneous trip over Thanksgiving weekend. One of the things we did was go to the Opry Mills Mall, which we've affectionately renamed "The Guy Mall" because it's loaded with guy-friendly features! There are big-screen TVs in every nook & cranny, along with comfy chairs to sit and rest. There are also massage chairs, for longer relaxation sessions). Jim's favorite feature at the Guy Mall: the Nascar Speedway Simulator Cars. Their motto: "Racing so fast, you can feel it!"
So You Wanna Be A Race Car Driver?


Jim likes the Nascar Speedway Simulator Cars so much that after we moved to Nashville (5 months later), he started taking everyone who visited us to the Guy Mall and the Nascar Speedway to experience it for themselves. This is Jim's friend, Strom, who spent a weekend with us in Nashville. He and his family were living in Colorado at the time, and they were considering a move to the Nashville area. Here, Jim is trying to convince Strom that this NASCAR racing simular is the coolest thing since sliced bread!
Go, Strom, Go!


Strom liked the race car simulator — but not quite as much as Jim does.
Night Out With Strom


While Strom was in town, we all enjoyed a night out on the town. We stopped in a lot of different Nashville bars downtown — just to give him a feel for that aspect of the Nashville experience.
Georgia Boot Factory


Perhaps Jim's most favorite thing we did on our first visit to Nashville was going to the Georgia Boot Factory and picking out a pair of Ropers. He wanted a "real" pair of cowboy boots, because his old ones were quite worn. But he didn't buy any on this day.
Cowboy Boots On A Shelf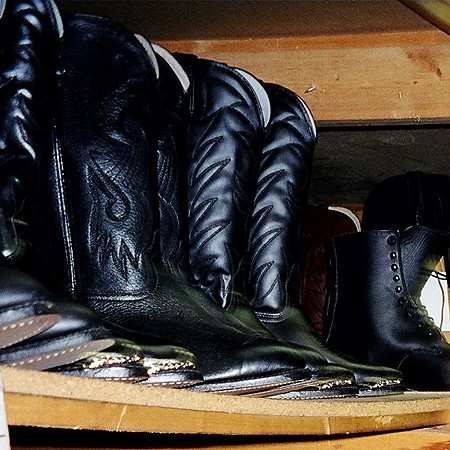 This is a closeup shot of the store shelf lined with cowboy boots inside the Georgia Boot Factory Outlet in Nashville. It was one of Jim's favorite stores — back from the days when he lived in Spring Hill, TN with his brother for a short time.
Let's Hear It For The Band!


The Bunganut Pig in Franklin, TN has been a longtime favorite hangout of Jim and his brother Steve. When they lived in Spring Hill, they were 'regulars' at The Pig and they knew the owner (Marty) well. So it was only natural that Jim and I would end up there at some point — so I could experience all of the unique things that the Bunganut Pig has to offer. Word is, they always have great entertainment here, but we really lucked out on this particular night. Kenneth Wright and the Witness provided a rockin' good time!
A Hot Time In the Old Town Tonight


Jim's brother (on the right) who lived in Jacksonville, Florida at the time happened to be working in Franklin, Tennessee this weekend. He and his brother-in-law, Adam (on the left) were installing an ATM at the Bank of America in downtown Franklin. So we made plans to meet up at the Bunganut Pig.
Wide-Eyed And Bushy-Tailed


This is my deer-in-the-headlights look. We partied into the wee hours of the morning at the Bunganut Pig and ended up with a $100 bar & food tab — for just the 2 of us!
Carving Our Place In History


To seal the deal that we someday planned to move here, Jim carved our initials in a very large tree in Pinkerton Park in Franklin. It was near the spot where we spelled NASHVILLE in the leaves.
We Left Our Mark On Franklin Tennessee


Coincidentally, the park (Pinkerton Park) where we stopped to spell out 'Nashville' in the leaves and carve our initials the tree was in Franklin Tennessee — just down the road from where we eventually built our house 2 short years later! First, we moved into a rental home in Brentwood, Tennessee to determine exactly where we wanted to buy a home and start a family.
Following are photos we took soon after moving to Nashville on April 25, 2001 . Most memorable are the photos surrounding September 11th and the days immediately following when our parents met each other for the very first time — at the home we were renting in Nashville.
Welcome Home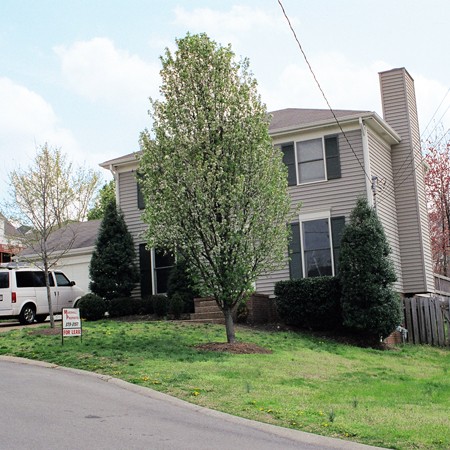 We rented this house in Brentwood, Tennessee. It was really close to I-65, so Jim's commute time to and from work at Ambrose Printing was barely 20 minutes. The only bad part: the landlord wasn't ready for us to move in on our prearranged move-in day, and the inside was a wreck! The kitchen floor was tore up, the doors were off the hinges, and the cleaners and painters were inside hard at work. Our new house wasn't "just ours" until about a month after we moved in! The repairmen were in and out during our entire first month there.
Bringin' It Home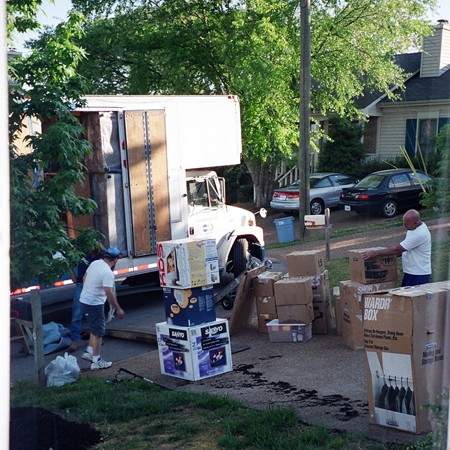 Despite the fact that the house wasn't quite ready for us to move in, we had no choice but to let the movers unload everything. We worked with the landlord the best we could, but it was quite an inconvenience working around his repairs all month.
Backyard Bark-a-Lounger


A house is not a home without…a big backyard and a nice deck!
Boy Meets Grill


Since we had a new deck and would certainly be entertaining a lot (yeah right!), we figured we needed a new grill. Here, Jim's cooking hamburgers on our new grill on our new deck.
Happy Trails To You


Another of our new favorite things to do after moving to Nashville: hiking! We're not into serious backpacking and multi-mile treks by any means, but we like to spend a nice afternoon walking along the hiking trails in and around Nashville. Here, we took Jersey with us to hike the trails in Percy Warner Park.
It 'Leaves' You Breathless


One of the drawbacks to having so many great trees in our backyard was having to rake up all the leaves. By far, raking leaves is my least favorite household chore… ever! So Jim usually gets stuck doing the raking.
Let Me Entertain You


Once we arrived in Nashville, we decided to check out some of the bars. On this particular weekend, Jim's friend Tim and my friend Suzie went with us. We ended up at Denim & Diamonds where Jim and Tim played pool while Suzie and I entertained ourselves. Later that same night, we all went to the Karaoke bar.
Something To Cheer About


While the guys were playing pool, Suzie and I found other ways to entertain ourselves. It was ladies night and beer was 10-cents apiece for us, so we made the most of it!
Build-A-Bear


The next day, Suzie decided that she wanted to build herself a custom-made teddy bear for her Birthday. The Build-A-Bear shop was in the Opry Mills Mall in Nashville — the mall we've affectionately termed "The Guy Mall" for all their guy-friendly features. We also drove around Nashville and Franklin. I wanted to show her some of the houses that Jim and I were contemplating buying.
The Finished Product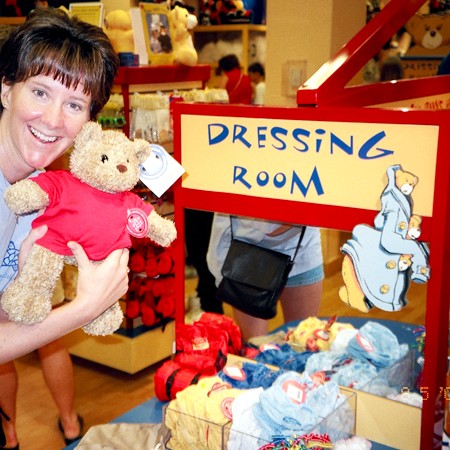 Suzie's little Birthday buddy… Ted E. Bear
Weekend In North Carolina


Before Suzie came to Nashville on this visit (above), we first spent a couple days before her birthday in Cullowhee, North Carolina where she lived. Here, we're at a small-town pub in Cullowhee. The highlight of the night was mine & the waitress's lack of communication about the definition of "grilled."
Puddle Jumping From Waterfall To Waterfall


The next day Suzie and I took a day trip to Asheville, North Carolina where we toured all of the roadside waterfalls (there are more than 10!) and visiting some antique malls and gift shops. That night, we drove in my car back to Nashville to spend the weekend.
This Land Is Your Land


Here's Jim enjoying the beautiful scenery along the Natchez Trace Parkway in Nashville again. We go there a lot — it's a like a getaway vacation, even though it's just a few miles from Nashville.
Visiting Waterfalls On The Natchez Trace


We spent the day driving along the Natchez Trace Parkway, stopping at all the waterfalls along the way.
Happy Trails To You


There are about a half-dozen waterfalls along the Natchez Trace Parkway in Nashville, but you have to hike a short way off the beaten path to get to each one. Here, Jim's enjoying the cool, refreshing water from the falls after the hike.
She Thinks My Tractor's Sexy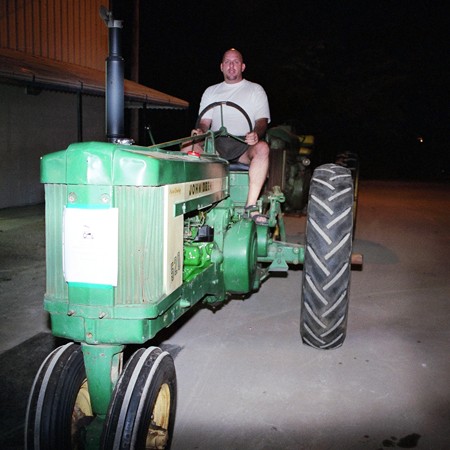 This was about the time Kenny Chesney had his hit song, "She Thinks My Tractor's Sexy." We were at the State Fair in Nashville and this tractor was just sitting there, so we turned it into a Kodak moment.
We Will Never Forget


Unfortunately, on 9-11-01 the United States was faced with a horrific set of circumstances. All who were aboard 4 different planes perished when terrorists used U.S. airplanes as vessels of destruction to demolish the World Trade Center's Twin Towers in New York City and dissenegrate a portion of the Pentagon in Washington, DC. And all who were watching television that morning witnessed their horrible actions. I was watching morning TV, flipping between Good Morning America, The Today Show, and the Early Show. CBS was the first to interrupt regular programming of the morning news with information and photos of the first plane as it crashed into the World Trade Center and set the building on fire. From that moment on, virtually all TV channels were airing something about this tragic day — even MTV, CMT, and HGTV. It was obviously history in the making, so it seemed anti-patriotic to even think about watching anything else anyway. "Normal" TV programming didn't resume until 2 weeks later!
The Mamas And The Papas


Our parents didn't actually meet one another until a year and a half after we were married! Here, everyone gathered for our own mini-reunion at the home we were renting in Nashville.
In-Laws Meeting For The Very First Time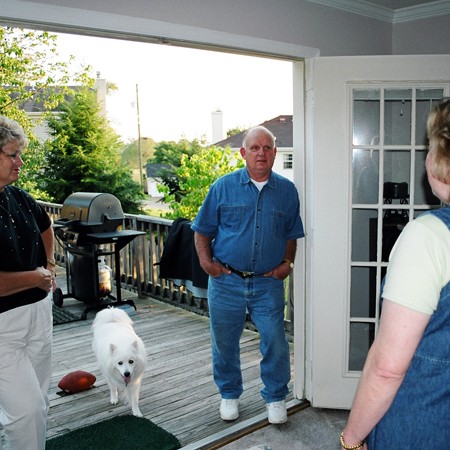 My dad passed away 3 months after Jim and I were married. He never met Jim's parents. This was the first time that his parents met my mom. This was in the living room of our Nashville house that opened up into the backyard/deck area.
Tree Huggers?


One small happy family enjoying the visit with our parents in Nashville.
Mom and Pops


This was the first time Jim's parents visited us in Nashville, Tennessee.
Like Mother, Like Daughter


This was my mom's first time visiting us in Nashville.
A Night On The Town


We thought we'd show our parents what Nashville's all about, so we took them downtown. We went in all the classic Honky Tonks on Broadway. They had fun!
How Does Jim Measure Up?


Jim's seeing how he measures up to Billy Ray Cyrus with this life-size poster inside Legends Bar in downtown Nashville.
She's A Little Bit Rock & Roll


This was one of my first times visiting the honky tonk bars in Nasvhille, but Jim had lived here before, so he knew all the popular pubs and nightclubs in the area. I never listened to Country music before moving to Nashville. I've always been a fan of Classic Rock. But I must admit, now, I'm a little bit Country…
Piece By Piece… It All Came Together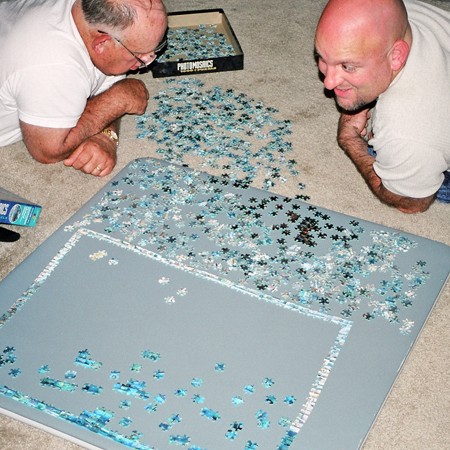 We sometimes start a puzzle when people visit, and everyone just adds to it whenever there's some down time. Here, Jim and Pops are contributing to the community puzzle this weekend.
When Is It Appropriate To Use The 'F' Word?


Two weeks after September 11th, Jim and I took a trip to New York City. This was a sign we saw on the road somewhere between Nashville and Philadelphia. As you can tell, with the tragic events so fresh in everyone's mind, the U.S. had waged war against terrorism and local citizens were behind it all the way! In America, "F" now stood for freedom!
My Birthday At The Bluebird


After dinner at the Green Hills Grille (a very froo froo restaurant — compared to our usual hangouts), we went to the Bluebird Cafe in Nashville. Special guests included: Amy Grant, Vince Gill, Ashley Cleveland, Lari White, Leslie Satcher, and our close friends Mark and Erin.
Mark & Erin: Nashville Friends


We went to the Bluebird Cafe together and enjoyed some great food at Green Hills Grille before the show.  It just so happened to be my birthday — what a way to celebrate!
Habitat For Humanity In Nashville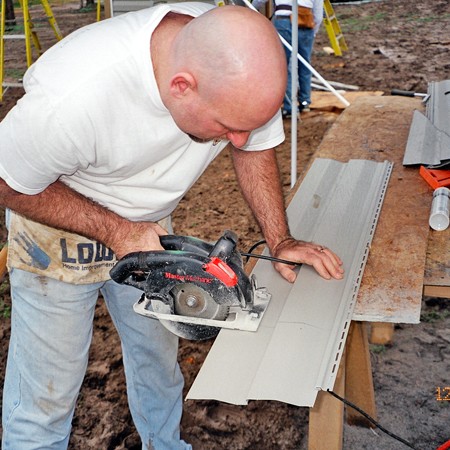 Some of the employees at Jim's office were helping out with a Habitat For Humanity house, so we decided to go too. Here, Jim is cutting sheets of vinyl siding.
Hanging With Habitat


My job was to hang the siding. It was pretty interesting to learn how it's all done, and quite surprising to see just how easy it is to hang siding. Plus, it was fun building something out of nothing.
Handy Man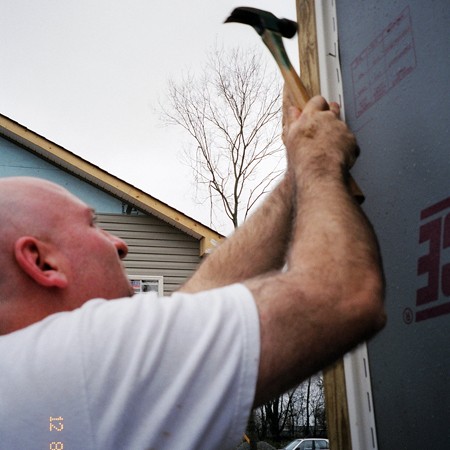 Look out Bob Villa… Jim's here now! Here, he's hanging the brackets to hold the siding in place.
After living in a rental house for a year, we finally moved into a home that we built in Franklin, Tennessee on April 21, 2002. Nashville has always felt like home to us, and we haven't left yet. The following photos highlight some of the things we did soon after moving to Franklin…
Porch Sitter


Jim's just hanging out on the porch keeping an eye on our dog Destin as he learns to "stay on the porch" without a leash.
We've Got A Pool Again!


This is the one and only time we went swimming in the pool (that our homeowner association dues help to pay for). It's the time that Jim's parents came for a visit. We spent, oh, an hour… there.  I guess we're more into private pools (like the one that came with our rental home in Pensacola, Florida) than community pools.
Our First UT Football Game


Jim's former employer (Sterling, from Ambrose Printing) invited us to go to a UT football game with him. It was a big one too: Florida vs Tennessee. Unfortunately, it rained on our parade a bit, cutting our UT tailgating experience short.
Rainy Day Fun At The UT Football Game


Fortunately, we sat up in the box seats, so we stayed pretty dry on this rainy day at the UT football game. From our vantage point, everywhere you looked, it was a sea of Orange… very cool!
Mr. Computer Repair Guy


I managed to find myself in the midst of my first legit computer "crash". In my haste to fix my new (albeit malfunctioning) wireless mouse, I messed up some drivers, and ultimately got the computer to such a place as it wouldn't even boot up. Did I mention that this happened in the wee hours of the night?… But Jim still got out of bed right away to remedy the problem. (It actually took a couple of days and some one-on-one consulting with fellow computer geeks, but in the end all was right in our computer world again.)
It's Been Over A Year… Still Not Pregnant


After trying for over a year to get pregnant, we got a little "special delivery" package — not from the stork, but from the mailman. It's a fertility monitor to assist in our attempts to become pregnant. On November 2, 2001 I took my last birth control pill. Pictured here, it's February 3,2003 and we still hadn't become pregnant, so we decided to give this reliable fertility monitor a try.
Clear Plan Fertility Monitor To The Rescue?


We bought the Clear Plan Fertility Monitor on eBay for $199. (Used once by another couple — they got pregnant.) It was a brand that was highly regarded by the press, as well as fellow couples who had used it to track ovulation and fertility. On 5/25/03 we sold the Clear Plan Fertility Monitor on eBay for $199 — after we still had not become pregnant. (Luckily we got our money back!) To date, still not pregnant.
Jim Napping In The Backyard


I caught Jim napping in the backyard — when he was supposed to be watching the dogs. Side Note: This was the very last photo we ever shot with a FILM camera, since we bought our very first digital camera on 5/4/03.  Besides the hassles of dealing with film and changing rolls, we've never been happy with the grainy quality of the photos from our film camera. See if you can notice a difference in the digital photos which follow.
Under Construction


One Saturday, we hopped in the car and drove out to Center Hill Lake with Mike — just to enjoy the countryside. Along the way, we looked at a number of houses that were under construction in the area. These were very big houses with very wealthy owners. Ever since Jim and I started dating, we've always been in 'house hunting mode' — not for an immediate move, but rather for a place to build our dream home some day. On this day, we were just getting ideas of some places worth considering: the lakes around Middle Tennessee. This is Center Hill Lake.
Mike Is One Wild And Crazy Guy!


Mike's acting crazy out in the woods where we were excited to find this piece of land for sale.
Taking In The View


This beautiful house was built directly on Center Hill Lake…what a view!
Center Hill Lake, Tennessee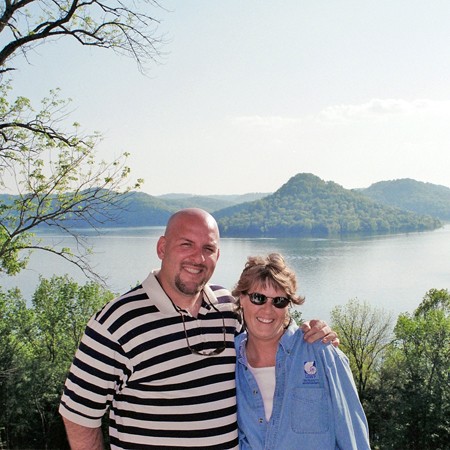 We found a prime spot for photographs! This is one of the few places in the Nashville area where there's water you can swim in.
Butt Seriously…


I had to throw in the obligatory butt shot… Here, Jim and Mike are admiring the view at Center Hill Lake. Or (more than likely) discussing some new wild business venture they've just thought up… like Pitpass souvenir programs for the IHRA!
Fun Times At Jillians


We went to Jillian's in the Opry Mills Mall with our friends Neil and Abby one Saturday night. Here, Jim and Abby try their hand at target shooting, while Neil walks by. The only game I place at arcades like this is Skeeball.
Jim Playing Skeeball At Jillians


We racked up a bunch of tickets (for prizes) playing Skeeball at Jillians, but there wasn't anything worthwhile to buy with all of our tickets! The detail-oriented, Type-A multi-tasker in me can't help but wish they'd let you cash in your prize tickets for 'practical' stuff like office supplies (post-it's, markers, refrigerator magnets, memo cubes, etc) instead of winning all of those tickets only to  cash them in for an ugly stuffed animal or childish doodad.
We're Headin' To Tennessee!
After Jim and I visited with my family over the holidays, Suzie met us at my mom's house. She was following us in her SUV back to Tennessee and going to spend a few days at our house over the New Year before heading back to her apartment in Cincinnati.  We both grew up in the same small town in Indiana, so no matter where we live, we always happen to meet up in Indiana over Christmas when we're visiting our families.
Suzie Crosstitching

Suzie brought her current cross-stitch project with her. I used to cross stitch — before computers and the Internet entered my life. I ended up giving all my cross stitch supplies to Suzie when I finally came to grips with the fact that I simply don't have time for too many hobbies anymore. This computer job takes most of time time these days. (Good thing I truly enjoy writing and editing and being on the computer round the clock!)
Got A Hangover?


The few sips that remained from our 'liquid fun' last night: Wild Turkey & Diet Coke. Let this picture set the tone for how we felt this morning. NOTE: This next series of photos was shot in one day (Sunday, May 1, 2005) as part of a Day In The Life photo meme on Flicker. (It was the first of 2 DILO memes I've ever done. Fun… but time-consuming.)
C'mon, Get Out Of Bed!


It's Sunday morning. We need to leave for church in 20 minutes. And Jim's not even ready to get out of bed yet.
Lynnette In The Morning…


Here I am getting ready in the morning — blow drying my hair. Were it not for our participation in the Day In The Life photo meme at Flickr, trust me, such a photo would not have been taken. But the idea was to document in photos how you spent the entire day, and this is how we started our day on Sunday, May 1, 2005.
Jim In The Morning…


This is Jim in the morning. He's getting dressed in our way-too-small master bathroom / walk-in closet. While small, the closet is actually bigger than it appears here — it hugs the wall to the left (where all my stuff is) and then goes back around to the door.
We Live Near The Natchez Trace Parkway


Just down the road from our house in Franklin, Tennessee is the Natchez Trace Parkway. We have a ton of photos of this sign and this bridge over Highway 96… during sunrise… sunset… rainy days… snowy days. It makes for a really cool photo.
A House That We've Had Our Eye On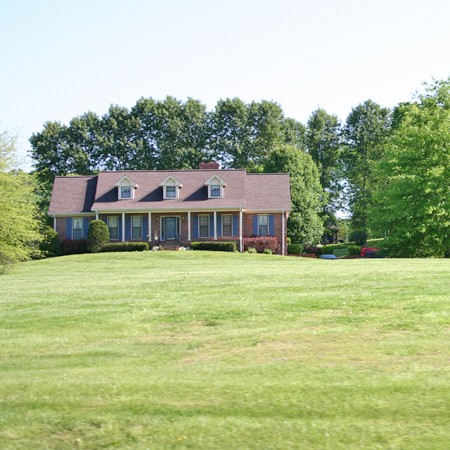 Today's "house hunting" started on our way to church and we continued looking at houses for sale until about 4pm on this day. The house pictured here is one that we've had our eye on for awhile. We like the large amount of land and the location, but the house is a bit older than we'd like. Ideally, we'd like to find a large piece of property in Williamson County and build our own home on it. The problem is… Williamson County (Franklin, Tennessee) is pricing itself right out of our league! Property in this area is in such high demand that our odds of finding something we can afford are diminishing each and every day. Since we probably won't be ready to buy our "dream home" until Jan 2007, we're just gathering ideas right now. And that includes already-built homes on larger lots than what we've currently got. We're still crossing our fingers that we'll eventually find something in Williamson County at this point. Yes, we built and moved into a brand new home in 2002, but we're just thinking & planning for the future, that's all. We've always known that this was a starter home for us. We hoped to use the next 5 years to hone in on the area we'd most like to live in.
The BCC Campus


I always thought it was weird to refer to the property that a church is on as the "campus". But I guess it is… there are lots of different parts to it — all intertwined — and at the core is the main building (the church's auditorium). Anyway, this is Bellevue Community Church's campus. Notice the cars going in, and the cars coming out? At BCC, they have this system of ingress and egress so perfected, it's amazing. In fact, the 3 Sunday services are timed in such a way that as the people from one are leaving and the 2 parking lots that they were using empty out, a third parking lot is filled first, and then the other 2. There is so much traffic on this campus on Sundays. I always refer to it as being just like Disney World!
After Church We Went To Newsoms Mill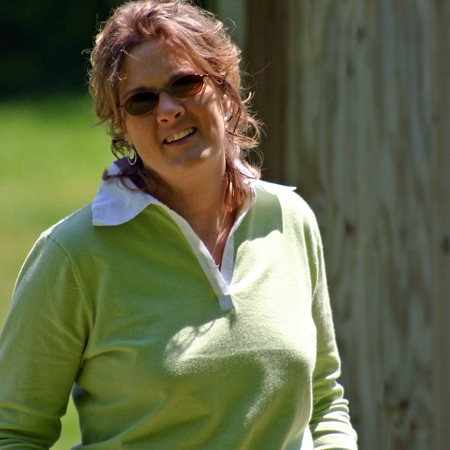 We spent a short time just enjoying the beautiful day at this roadside park in Newsoms Station. It was located next to the one-lane bridge in the photos below and right along the Harpeth River — where the old Newsoms Mill used to be. There are actually some remaining pieces from the old mill still here. Pretty cool.
Narrow Bridge & Train Tracks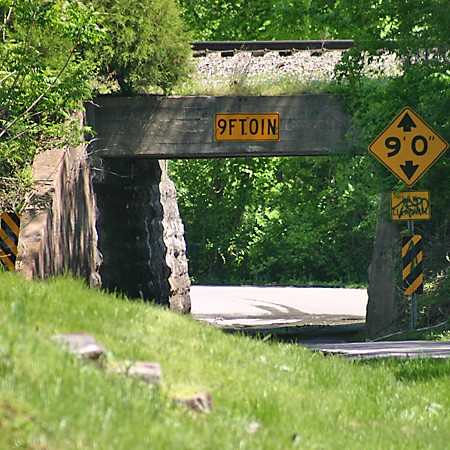 Surprisingly, around Middle Tennessee there are a bunch of these one-lane, narrow bridges where only one car can pass through at a time. This narrow bridge passes under train tracks.
A Tight Squeeze…


Oddly enough, there was a lot of traffic passing through this one-lane bridge as we drove through after church today. At some of these narrow bridges, there's a concave mirror on either side so you can see if there's a car approaching or not. On this one, there was no such mirror:  proceed with caution!
Driving Miss Lynnette


We did some road-tripping in the Nashville area all day today. We took the Jeep Grand Cherokee for the morning portion of our venture. After lunch, we switched vehicles and took the Jeep Wrangler because it was a sunny day (though somewhat chilly still), and we haven't gotten enough topless Jeep days in yet this year.
Plotting Our Course For Adventure


Jim's mapping out our itinerary for the afternoon — which neighborhoods we're going to explore as potential places to buy or build our dream home in the future. This was before smartphones and even before the popularity of GPS units. We bought that map of Williamson County Tennessee that he's looking at, and we used it to explore new areas of town and new back roads.
Take One, Jim


We drove around the northeast side of Franklin all day looking at houses for sale. We saw quite a few, but really liked only two. We had a lot of fun, but we're still too early in the process. We won't be ready to buy for 2 more years at the earliest. UPDATE: We're currently in the process of building a log home in Williamson County!
A Franklin, Tennessee Farm At Sunset


A farm in the beautiful Williamson County countryside as seen under the colorful night sky at sunset.
Colorful Night Sky At The Farm


The same Franklin farm surrounded by a white picket fence. This photo was taken on a clear night with a colorful sunset in Middle Tennessee.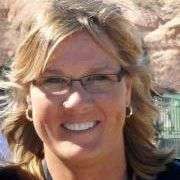 We moved from Florida to Tennessee in 2001. All signs point to the fact that we will probably retire here — by choice. We L O V E Nashville! Our favorite places to live are just south of the City — we've had houses in Brentwood, Franklin, and Spring Hill. And we have properties in Leipers Fork, Cookeville, and Lewisburg. This site is where I share my best tips for moving your family to Nashville and/or visiting Nashville for the first time — with the ultimate goal of helping you find fun things to do in Williamson County and Davidson County. When I'm not out & about enjoying the Nashville area, you'll find me at the corner of Good News & Fun Times as publisher of The Fun Times Guide (32 fun & helpful websites). To date, I've written over 500 articles on this site! Many of them have upwards of 100K shares.