This post may contain affiliate links. If you buy thru these links, we may earn a commission at no additional cost to you.
---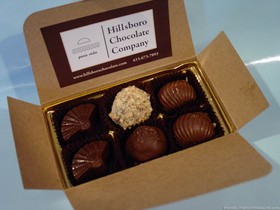 Every Valentine's Day, my Daddy was in charge of buying his 4 little girls heart-shaped boxes of chocolates. Every year, I'd methodically push the bottom of each chocolate to reveal its hidden secret, and, without ceremony, immediately throw out the all-chocolate ones and savor only the ones with pink, sticky-sweet centers.
While Hershey bars still rank pretty high on my personal hierarchy of needs, I've developed a love of really good artisan chocolate too. I've been known to drive across town for a chocolate fix.
So, it was with joy that I discovered the Hillsboro Chocolate Company located in the Grassland area and open 10 a.m. to 4 p.m. Monday through Friday.
From chocolate fixes to kids' holiday gifts, corporate gifts and wedding favors, they have something for every occasion.
When you drive up to the place it looks like a little house.
There isn't much of a sign on the door and you'll probably wonder if you should open it.
Let me encourage you to open the door! Inside you'll find people who are passionate about fine artisan chocolate.
They Have The Best Chocolates

I have loved every chocolate I have tried from Hillsboro Chocolate, but my personal favorites, were the Caramel Crème Praline, and the Peanut Butter Praline. Just so you know, their pralines are not traditional pralines (though they are working on a traditional Southern praline) and are simply excellent molded chocolates with to die-for centers.
The Caramel Crème Praline has a pleasant smokiness to the caramel inside that catches you off guard, and the Peanut Butter Praline is filled with peanut butter made in the store that is just delightfully grainy and delicious.
Featuring ganaches and filled centers made with things like fresh cream, real butter, hand-caramelized sugar, touches of Mexican chili pepper, and lavender, their truffles and pralines are covered in San Francisco's high quality E. Guittard milk (38% cocoa) and dark (61% cocoa) chocolate.
Dr. Gary Strickland, a neurologist who loves cooking and fine chocolate too, opened the Hillsboro Chocolate Company in 2007. Last year, Lisa Thoni joined the company and is continuing to build a line of artisan chocolates that include pralines, truffles and such amazing taste combinations as coconut and ground almond stacks infused with coffee, and topped with sea salt.
If it sounds weird to think of salt on your chocolate, think about chocolate covered pretzels (they have those too!) and you'll get the idea. On a recent visit there, Lisa let me try one of the stacks and I was surprised to find the sea salt enhanced the chocolate taste in a way I couldn't have expected.
Lisa wanted me to know they don't use preservatives or additives, so their chocolates should be consumed within 2 weeks. I love the fact that she didn't let on that she knew I was going to wolf those puppies down in a day!
Kid Tested
The Peanut Butter Praline and the Dos Mundos (a dark milk chocolate with cinnamon, Mexican chili pepper, vanilla and almonds that is dipped in milk chocolate and rolled in toasted almonds) are the favorites of one cute kid (about 8 or 10 years old) I met in the store.
They have also developed a kid-friendly line called the Artisanal Pastiche Collection which includes Chocolate Bark, Popcorn Balls, and Pretzel Rods and Twists.
Holiday Specialties
For Valentine's Day, Lisa has been working on a delicious raspberry heart molded praline painted in iridescent luster dusts. Molded chocolate ducks and rabbits and bunnies will fill the store at Easter. And, of course, they offer Christmas chocolates for retail and corporate customers.
Corporate Sales and Weddings

Hillsboro Chocolate Company specialize in corporate sales for the holidays and incentives and, I was also happy to learn, they offer a volume discount!
They also do wedding favors, and the team there is willing to customize their offerings to help you come up with something that will wow either corporate clients or wedding guests.
Location
Hillsboro Chocolate Company is located just off Hillsboro Road on Old Hillsboro Road in the Grassland area of Franklin.
It is just before Barbara's Homecookin' on Old Hillsboro Road.
1210 Old Hillsboro Road
Franklin, TN 37069
(615) 673-7893
I'm a native Nashvillian, and I've lived in Franklin for over 10 years. I have lived many other places and find that Franklin is the place that I truly love. It's like living in Mayberry! I'm excited to have this new opportunity to share my experiences in this town with you.