This post may contain affiliate links. If you buy thru these links, we may earn a commission at no additional cost to you.
---
What was once a good food truck in Nashville is now a great restaurant in Nashville!
Setting up shop in "grungy" garage-style digs, this Wedgewood-Houston sequel to a wing-wielding food truck turns out "tantalizing" smoked-then-grilled chicken, "indulgent" mac 'n cheese and "inventive" moonshine cocktails (classic Kool-Aid is a selling point, too). Multiple screens ensure "you can catch the game" while "helpful" servers bring on the birds. Source
Jim and I have been there twice in the past 5 days.
We like it because it's different — more than just another restaurant that serves chicken. The chicken is served in a way that we've never had at any other restaurant. Nothing is fried. Everything is smoked.
I think it's funny that their motto is: "Skip The Breasts, Go Straight To Thighs!"
They've definitely given me (someone who always chooses the white meat / breast meat when eating from a whole chicken or turkey) a reason to love the dark meat / thigh meat from a bird.
I never thought I'd enjoy a meal that was comprised solely of dark meat. But I've been to Smokin Thighs twice since discovering it last week, and I can't wait to go back again… soon.
A no-nonsense eatery with a hyper-focused menu that revolves around smoked chicken in many permutations. There's no fryer in the kitchen, so don't even look for fries on the menu. What you will find is the Smokin Thighs truck roster of thighs, wings and legs offered with a wide selection of sauces, rubs and toppings, plus a list of sides that features gourmet mac-and-cheese in various forms. Source
Location, Location, Location
Smokin Thighs is located south of downtown Nashville on Wedgewood.
It's easy to get to — just a couple of blocks off I-65.
But if you go there at lunchtime, parking could be an issue. Our experience is this place is always packed during the lunch hours (even times when we've just driven by). And while their parking lot is fairly large, it's filled to capacity during lunchtime.
I'd say the same about the inside, too. It would be nice if it was bigger  — but it works. Fortunately, there is an outdoor patio.
It has 80 seats (with maybe a few more on the patio), a big row of TVs on one wall — perfect for the upcoming football season — and a cool little beer bar in the back. Source
The 2 times we went during lunchtime, it was crowded but we always got a seat — even though once we had to sit at the bar. (That actually turned out to be a bonus, because Frank the bartender/cashier/server is a fun guy to talk with! He's been with the company since their food truck days.)
Psst… I'm told there could be another Smokin Thighs location in the Nashville area soon!
What To Order
Smokin Thighs has a handful of entrees on the menu featuring chicken wings, thighs, and legs. All of the chicken is applewood smoked.
They also have a number of toppings you can add to any entree — like pineapple, onions, mushrooms, jalapenos, diced tomatoes, cheese of many types, sweet bell peppers, and salsa.
I've noticed that pineapple seems to be a fan favorite at Smokin Thighs. It's recommended as a tasty option that you probably wouldn't think of on many of their entrees. (Jim tried it and loved it.)
Cajun-style coleslaw is included in (or on) many of the entrees. You can also get it as a side.
I can attest to the fact that the coleslaw is good as a side dish, but it's even better when included in your entree. And it's not like me to say that. I"m one of those who doesn't want the foods on my plate touching each other. However, I gave in and tried one of their dishes that included coleslaw, and I can't wait to order that again! (It looks like I'm not alone.)
Frank says the most popular menu items at Smokin Thighs are:
Thighs In A Pile – a generous helping of boneless chopped thigh meat that's flavored to your liking
Chicken Tacos – 2 soft flour tacos filled with chunks of smoked chicken, topped with roasted pepper corn slaw and ranch dressing
Chicken Burger – made from ground smoked chicken and shaped into a patty, as opposed to serving the traditional breast filet
…and we've tried all 3 of 'em!
The general idea at Smokin Thighs is to build-your-own chicken dinner.
First, flavor the meat anyway you like by choosing one of their many rubs — everything from sweet… to spicy… to Nashville hot.
Then pick your sides. Most entrees come with 2 sides. Our favorites:
Loaded potato salad
Bacon-topped macaroni & cheese
Kickin Cajun coleslaw
When they bring your meal to your table, the sides themselves seem like rather small portions at first. But I'm the first to admit that I'm always full after eating my entree and 2 sides. (Because I like the loaded potato salad so much, I might just get 2 sides of it next time.)
The Smokin Thighs restaurant still offers the same build-your-own chicken options and choice of barbecue-based sauces made with a Cajun Creole seasoning and a Georgia low country-sourced boil seasoning. Source
Photos Of What We Ordered
These are the meals that we've had at Smokin Thighs in Nashville… so far.
#1 – Chicken tacos + Loaded potato salad + Bacon-topped macaroni & cheese:
#2 – Flying Hawaiian chicken burger + Bacon-topped macaroni & cheese + Loaded potato salad
#3 – Thighs in a Pile + Bacon-topped macaroni & cheese + Kickin Coleslaw
#4 – Two orders of Thighs in a Pile (one on Texas Toast w/ diced tomatoes & mozzarella cheese) + Loaded potato salad + Bacon-topped macaroni & cheese + Kickin Coleslaw

Our bill for 2 entrees, 4 sides, and 2 sodas came in at $25 or less both times we ate there.
It was well worth it to us — especially since the food was so incredibly good.
The Bar Scene
For what it's worth, the bar scene at Smokin Thighs seems like a good time, too.
They have a slew of different beers and spirits, but their specialty is moonshine!
They have just about every brand and flavor you could possibly want — it's definitely the largest selection of moonshine in Nashville.
But there is more. Straight-up, old school Kool-Aid. I always liked Kool-Aid. Still like it, so I serve it. Customers love it and we're proud of it. — Matthew Carney, owner
Just For Laughs…
The time we sat at the bar, it was funny watching people's reactions when they approached the restroom.
There are 2 separate restrooms inside the restaurant, and both doors look like this — with the exact same sign on the door:
Almost every person that went to use the restroom was obviously confused by the sign. (I admit, I was too.)
Some would just stand and stare, trying hard to make sense of the sign.
Some would wait until they saw someone exit one door before they'd enter the same door — or the other door (thinking there must be some difference).
One guy decided not to enter either door. He just went back to the table and "dared" his friend to go have a look — to see if he could figure it out first.
Other Reviews Of Smokin Thighs In Nashville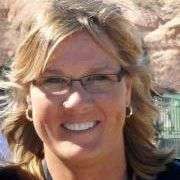 We moved from Florida to Tennessee in 2001. All signs point to the fact that we will probably retire here — by choice. We L O V E Nashville! Our favorite places to live are just south of the City — we've had houses in Brentwood, Franklin, and Spring Hill. And we have properties in Leipers Fork, Cookeville, and Lewisburg. This site is where I share my best tips for moving your family to Nashville and/or visiting Nashville for the first time — with the ultimate goal of helping you find fun things to do in Williamson County and Davidson County. When I'm not out & about enjoying the Nashville area, you'll find me at the corner of Good News & Fun Times as publisher of The Fun Times Guide (32 fun & helpful websites). To date, I've written over 500 articles on this site! Many of them have upwards of 100K shares.