This post may contain affiliate links. If you buy thru these links, we may earn a commission at no additional cost to you.
---
A long-time favorite singer & songwriter of ours is Shawn Mullins.
Most know him for his songs "Lullaby" (many thought it was called "Rockabye") and "Shimmer", both of which were on the Soul's Core album.
My Appreciation For Shawn Mullins
It's funny how certain songs take you back to key moments in your life…
Several of Shawn's songs from that album take me back to some truly WONDERFUL memories from the days that I was living (single) in Orlando, Florida. I was doing a lot of long-distance biking at the time, and Shawn's music kept me company in the car on my way to and from virtually every ride start location that I ventured to the summer of '98.
A couple of the tunes on Soul's Core take me directly to the oceanfront lane that I would travel between Orlando and Clearwater Beach, FL (S.R. 60) — where I did much of my "training" on the bike. In fact, I was able to find a unique "water connection" in virtually every one of Shawn's songs on the Soul's Core CD. (I've always had this uncanny fascination with water and the ocean.)
Shawn Mullins In Nashville
Fast-forward to present day, and Jim and I feel like we are Shawn Mullins' biggest fans. (Of course we don't compare to these guys!) Still, every time Shawn Mullins makes an appearance at 3rd & Lindsley here in Nashville… we're there!
This is the set list that Shawn wrote for his August, 2001 show at 3rd & Lindsley… along with a couple of his guitar picks that I got that night:
Bummer for us (and his multitude of other fans)… Shawn's been really hard to track down & follow the past couple of years.
He's an independent artist, got caught up in that Music Industry game for awhile, and he's also been focusing more on producing than touring there for awhile.
But… GOOD NEWS. Shawn Mullins is BACK!
He's got a new CD called 9th Ward Pickin' Parlor.
It's a familiar story: Gifted, plucky independent-minded artist self-releases subtle, superbly crafted CDs in relative obscurity; gifted artist pushes towards a more mainstream sound; gifted artist is nabbed and swallowed whole by the music industry machine; gifted artist wanders in the wilderness of semi-fame for several years before finding his/her way back to the reasons he/she was making music in the first place. But hey, if the cliche fits, you might as well wear it, and it fits Shawn Mullins like a custom-tailored suit. Source
What's Shawn's Music Like?
Shawn's strength is really in his versatility. His voice is unique, and strong. His guitar playing is smooth, yet intense (…not to mention all the other instruments he can play). And then the words… ahhhh… truly deep, introspective, and honest.
I think part of the reason we really dig Shawn Mullins is because he's one of those rare singers who also writes ALL of his own stuff.
Shawn's personality really shines through in his songs, and in his performances. He is such a humble guy. And very low-key.
He's one of the few who can get me to slow down and focus on the moment whenever I'm listening to his songs. Usually, regardless of the artist, I'm still thinking about all the details in my world and multi-tasking in some way. But not when I'm listening to Shawn. (James Otto has the same effect on me.)
Up Close & Personal With Shawn Mullins
Word is, he's back to playing over 200 gigs per year. And most of them are small venues where the audience can get up close and personal with Shawn, including chatting with him between songs. That's what it's like at 3rd & Lindsley each time we see him. (And we always make sure we get there early so we're front & center at that first table at the stage.)
A night with Shawn Mullins in such an intimate setting is just too, too cool.
The dog-lover in me can't let me finish this post without sharing this intimate look at Roadie, Shawn's dog. …Awwww!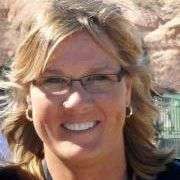 We moved from Florida to Tennessee in 2001. All signs point to the fact that we will probably retire here — by choice. We L O V E Nashville! Our favorite places to live are just south of the City — we've had houses in Brentwood, Franklin, and Spring Hill. And we have properties in Leipers Fork, Cookeville, and Lewisburg. This site is where I share my best tips for moving your family to Nashville and/or visiting Nashville for the first time — with the ultimate goal of helping you find fun things to do in Williamson County and Davidson County. When I'm not out & about enjoying the Nashville area, you'll find me at the corner of Good News & Fun Times as publisher of The Fun Times Guide (32 fun & helpful websites). To date, I've written over 500 articles on this site! Many of them have upwards of 100K shares.