This post may contain affiliate links. If you buy thru these links, we may earn a commission at no additional cost to you.
---
The Farm is a cage-less facility with no concrete runs — just 18 acres of private farmland, complete with a creek and a well-maintained nature trail.
Aside from play time inside the fenced-in yard, all dogs are kept on leashes during their walks.
There is 24-hour care on-site, even on weekends and holidays. A night manager is always on duty (not just "on the premises"). Also, the Director lives on the property. All FT and permanent PT staff is ABKA-certified.
A veterinarian is on-call 24 hours a day.
What Are The Rates & Fees?
The overnight boarding rate seems kind of high. But after seeing firsthand the lengths they go to make sure your dog is happy, healthy, and well-exercised 24 hours a day… we think it's worth every penny.
Briefly…
Dogs are $52/night and you get a 20% discount if you bring 2 dogs ($41.60 each).
Cats are $38/night and you get a 35% discount is you bring 2 ore more cats.
Here's a breakdown of overnight rates & fees for "special" extras.
For example, there is a small fee ($1.50 per meal) if you want them to feed your pet the food that you provide (either a "special diet" or simply your dog's favorite food). While we normally feed our dog Nutro Lamb & Rice dog food, Tenor did fine eating the food provided by The Farm (Eukanuba Lamb & Rice).
We have a big (80-pound) dog. So he's used to eating and drinking from raised dog food bowls. We were delighted to find that they use raised dog feeders with large dogs at The Farm — at no extra charge.
You can take as many of your dog's "favorite things" as you like. We took Tenor's favorite dog pillow (a really big one!) and two of his favorite toys. They told us (during the tour) that they like to wash the dogs' things before they place them in the room sometimes. They also label each item with your dog's name. I don't know if they washed Tenor's stuff or not), but they did use a Sharpie to write his name neatly on each item — even his bed! But they wrote small, so it's no big deal.
We didn't pay for the fun Kong Toys ($1.50 each, with treats inside), but I'm told that you can bring your own (pre-stuffed, I guess) and they probably won't charge you for giving them to your dog. Along these lines, we took a new bag of our dog's favorite treats. We asked that he be given one as the staffer left at the end of each visit. They abided by our wishes.
What The Dog Rooms Are Like
Each dog gets a private room — their own personal space — complete with a door and a window. The window gives your dog the opportunity to watch other dogs and staffers in the yard, while getting lots of natural light throughout the day.
The dogs' room sizes are 6'x8′ and 8'x8′. They also have two 12'x12′ suites that are available for 3 or more dogs from the same family. (If you are boarding 2 dogs, they can stay in the same room together, or in separate rooms. The choice is yours and the price is the same.)
If your dog is really social or used to a more conventional "kennel" arrangement, then they might prefer the Community Suites instead. Mostly because they can actually see the other dogs in the room, and they have direct access to the play yard. This is great for puppies and active dogs.

We also like how each dog gets his or her own raised pet bed. It's good-sized, too. They put Tenor's own dog pillow on top of the raised bed. And that's exactly where we found him when we went to his "private suite" the day we picked him up — he was lying comfortably on top of his own bed.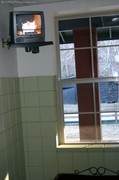 In fact, each and every room at The Farm has a color TV.
I'm told they broadcast the Animal Planet channel during the day and movies (with dog themes) at night.
Notice the closed captioning on the TV in this picture? Must've been one heckuva smart dog staying in that room!
More about the the individual pet suites at The Farm.
Have It Your Way…
Without a doubt, "special orders" don't upset the staff in the least.
Whether your dog has bad hips, is afraid of other dogs, doesn't like people, takes meds 3 times a day (you get the idea), they work hard to make your dog's stay as comfortable and as enjoyable as possible.
And for the extreme cases, they have an entire "special needs" section inside the facility. The West Wing is designated for those with medical conditions, geriatric concerns, behavioral issues, etc.
The best part: They keep very detailed notes of your personal instructions for them, as well as their own observations during your dog's stay at The Farm.
Are Reservations Necessary?
Yes and no. When we went on our last-minute trip, we didn't have reservations. We just called them that morning, and they said they had room so to bring him on in.
However, it is incredibly wise to make advanced reservations at The Farm. In fact, for any holiday, you pretty much have to reserve early because space is at a premium (…especially since they like to keep their ratio at 8:1.)
This is the reservation form you have to complete and turn in when you drop off your dog the first time. (Don't miss all the interesting tidbits on this form!)
We actually faxed the reservation form to them a couple of hours before our arrival. That way, they had a chance to look it over and prepare some questions for us about Tenor's personal history & unique behaviors, and our special requests during his stay at The Farm.
And finally, take a moment to review (or print out!) directions to The Farm because it can be tricky to find if you're rushed or not familiar with Highway 96 in Franklin. Yep, it's right on the highway, but coming from Franklin, it just looks like another house, so it's easy to pass right by and not even realize it.
Without a doubt, The Farm at Natchez Trace gets a "4 paws" rating!!! Just ask Tenor…
UPDATE 2/25/09: Thanks to their new Frequent Overnight Rewards Program each overnight visit automatically earns financial credits toward extra activities on future visits. The next time you pick-up your pet after an overnight stay, you will receive a Rewards card with your dollar value credit on it! That's a nice touch.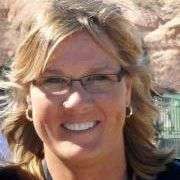 We moved from Florida to Tennessee in 2001. All signs point to the fact that we will probably retire here — by choice. We L O V E Nashville! Our favorite places to live are just south of the City — we've had houses in Brentwood, Franklin, and Spring Hill. And we have properties in Leipers Fork, Cookeville, and Lewisburg. This site is where I share my best tips for moving your family to Nashville and/or visiting Nashville for the first time — with the ultimate goal of helping you find fun things to do in Williamson County and Davidson County. When I'm not out & about enjoying the Nashville area, you'll find me at the corner of Good News & Fun Times as publisher of The Fun Times Guide (32 fun & helpful websites). To date, I've written over 500 articles on this site! Many of them have upwards of 100K shares.