This post may contain affiliate links. If you buy thru these links, we may earn a commission at no additional cost to you.
---
Soon after our beloved pet sitter (our next door neighbor) moved away, we began our search to find someone we could trust to watch our dog whenever we went out of town.
This was hard for us. In all my years of having dogs, I have only left my dogs in a pet boarding facility twice. They were well cared for, but it just wasn't the same as leaving our dog in the comfort of his own home when we were away. Everywhere that we've lived, we've always been fortunate to have a responsible teenager living next door to us.
One of the first places we researched here in Franklin was The Farm at Natchez Trace.
The Farm is Middle Tennessee's only pet boarding facility to earn full accreditation by the American Boarding Kennels Association.
Still, it was hard to get past my first impressions:
#1 That this was probably just some expensive "doggie hotel" for the well-to-do people in Franklin and Williamson county.
#2 That the experience for our dog would probably be nothing like the 4-5 times a day that our next door neighbor typically visited our dog in our home.
Boy, was I wrong!…
Our Dog's First Visit To The Farm
Two months ago, Jim and I packed our bags and prepared for a spur of the moment 2-week trip to Canada.
It was a unique opportunity to go with Jim to the IHRA races, then for us to enjoy a "vacation" in Canada. Actually, the mission at hand was to transport an RV from Indiana to Canada… but we turned it into a really fun vacation.
Anyhoo…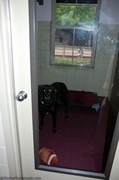 Our dog, Tenor, is a year and a half and he's never stayed anywhere outside of our home — with or without us.
Luckily, Jim and I had done a walk-thru at The Farm several months earlier, so this was the first place that came to mind when we had to find someone (within a matter of hours) to watch our dog.
In the end, it was the best thing we've ever done for our dog …in terms of pet sitting.
I have to say… many thanks to the staff at The Farm for agreeing to give us that personal behind-the-scenes tour months ago! It ultimately made our decision to leave our dog there so much easier. And we never worried about his care or the amount of daily interaction he was receiving.
They say tours are welcome any time.
How Staff Members Went Above & Beyond
The morning we dropped Tenor off at The Farm, the two workers at the front desk were incredibly calm, cool & collected… and most of all helpful.
Jim and I were frantically trying to get our things in order for this last-minute trip, and they made sure nothing fell through the cracks with regard to our dog. (*applause*)
We wanted to make sure the entire staff was fully aware of Tenor's "unique traits":
He is usually very timid around strangers. Up to this point, he simply hadn't been around a lot of people — outside of friends & relatives visiting our own house.

He hadn't been around any dogs — other than his big brother Destin (…long story). And we weren't sure if Tenor would be fearful of other dogs or not.

He'd never stayed in a kennel before — better yet, he had never stayed anywhere besides his own home when we were away.

He doesn't eat much — and he'll probably eat even less in these surroundings.
These things didn't even phase the staff. They gave us their full attention from the get-go, took notes of what we were saying, and agreed that they would cater to our dog's ultimate needs, wants, and unique behaviors — no matter what it took.
That's what makes The Farm at Natchez Trace different!
The best part in this whole story is the incredible level of personal attention that each and every staff member gave our dog during his 2-week stay there. Ours obviously isn't the only dog they do this for, either.
We'll See You Next Time!
On the morning that we picked Tenor up, I can assure you that you've never seen two happier people and one happier dog. Jim and I were glowing because our dog had survived what we thought would be an uncomfortable 2 weeks away from us. And Tenor was wagging his tail in every direction — out of his excitement to see us and his eagerness to see his favorite staffers.
What's more… the staff members who had spent the most time with our dog made a point to introduce themselves and tell us how much they loved Tenor, and all the cute little things he had done, and all of the meaningful and helpful things that they had done to help him come out of his shell. I was in tears when I realized that it was 2 weeks of pure joy for all involved!
And I was delighted to learn that they actually keep very detailed notes of each visit that the staff members had with our dog. They showed us their notes which revealed the times he was walked. The hours he was most likely to eat. The staff members he liked best. The other dogs he liked best. And more.
Another example of how they went above and beyond for our dog…
Each dog is technically scheduled to have "4 daily outdoor experiences" and "one 20-minute nature walk" each day. But, in an attempt to help socialize our very shy dog, they asked if it was okay that they involve him in "group play" with other dogs who are known to be sociable. We said, "Heck yeah!"
And to our delight, he wasn't afraid of the other dogs — not in the least. In fact, he was actually quite playful and got along well with all the other dogs. Thank goodness!
We are soooo thankful to everyone at The Farm for spending this extra time with our dog. He's so much more outgoing and social because of it.
NOTE: When I called The Farm a few months later to make reservations for the Christmas holiday, even the girl who answered the phone (who I don't recall meeting) remembered Tenor and asked how he was doing and said that a few of them really miss him. Yeah, that could be part of their sales technique. But I happen to believe that the people who work there really want to be there because they like the animals they care for so much. They seem to truly get attached to the pets there.
More fun facts about The Farm at Natchez Trace!
Check out this amazing video which features behind the scenes footage at "The Farm".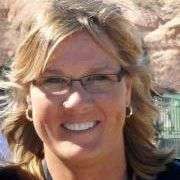 We moved from Florida to Tennessee in 2001. All signs point to the fact that we will probably retire here — by choice. We L O V E Nashville! Our favorite places to live are just south of the City — we've had houses in Brentwood, Franklin, and Spring Hill. And we have properties in Leipers Fork, Cookeville, and Lewisburg. This site is where I share my best tips for moving your family to Nashville and/or visiting Nashville for the first time — with the ultimate goal of helping you find fun things to do in Williamson County and Davidson County. When I'm not out & about enjoying the Nashville area, you'll find me at the corner of Good News & Fun Times as publisher of The Fun Times Guide (32 fun & helpful websites). To date, I've written over 500 articles on this site! Many of them have upwards of 100K shares.