This post may contain affiliate links. If you buy thru these links, we may earn a commission at no additional cost to you.
---
FREE Biscuits… details below!
It is widely known that the Loveless Cafe is one of Nashville's hottest attractions.
What is NOT so widely known is the fact that the Loveless Cafe is actually in Franklin Bellevue, Tennessee. (…see comments below)
It's located about 15 miles south of Nashville on Highway 100 — near the Natchez Trace Parkway bridge in Franklin Bellevue.
And I bet the majority of the locals (like us) often forget about this little gem.
World-Famous Biscuits
The Loveless Cafe is best known for their made-from-scratch biscuits and down-home country charm.
They serve:
Hot biscuits
Steak biscuits
Biscuits 'n gravy
Biscuits with preserves
Country ham 'n biscuits
Sausage biscuits
Biscuits, biscuits, and more biscuits!
The Loveless Cafe serves southern style cooking, and is most famous for its biscuits, country ham, and red-eye gravy. The biscuit recipe was created by Anne Loveless and is still closely guarded today. Many of the ingredients are farmed and produced in Tennessee, and all menu items are made from scratch. Loveless serves a full breakfast all day, every day and the supper menu is served from 11:00am-closing daily. Source
The Biscuit Lady
Almost as famous as the biscuits themselves are the hands responsible for mixin' the ingredients & rollin' the dough for all those biscuits.
Those hands belong to none other than Carol Fay Ellison, aka The Biscuit Lady.
Check out this video of The Biscuit Lady on Ellen:
As you can see, it appears that gin is the "secret ingredient" in those Loveless Cafe biscuits! (hee hee)
This next video provides a touching tribute to The Biscuit Lady who passed away in April 0f 2010…
Ncompass Magazine - Tribute to Carol Fay Ellison "The Biscuit Lady"
Here's the recipe for the Loveless Cafe's famous biscuits and gravy, as prepared by Carol Fay Ellison The Biscuit Lady on The CBS Early Show in this video.

 

 
Of course, biscuits & gravy aren't the only items on the menu that are world-famous. The barbecue is well-known too!
In this video, Senior Pitmaster George Harvell shares his tips & tricks to Loveless Cafe's Hickory-Smoked Pulled Pork BBQ:
A Lesson on Loveless Cafe's Pork BBQ
The Loveless Cafe's Rich History
There's a lot of history to this place…
from their famous fried chicken and biscuits served on opening day in 1951
to the Loveless Motel and Cafe's "Hams & Jams" mail-order business and catalog in the early '80s (which was started by the 12-year-old son of the Cafe's owners)
to motel operations which ceased in 1985 when the 14 units were converted into rooms for mail orders, storage and a special dining room
to the Loveless Cafe's major renovations which took place in 2004 — the 2 buildings containing the old motel rooms were converted to Hams & Jams Country Market and the Loveless Motel Shops
Today the world-famous Loveless Cafe is bigger and better than ever, and the items on the menu are one-of-a-kind.
Yes, the renovations were significant, giving the place a much-needed face-lift. Still, the unique charm, personality, and historic value of the Loveless Cafe have been preserved — inside and out.
Thankfully, it's the same 'ol place that it once was… and it's the same 'ol biscuit recipe that keeps the people comin' back.
Fun Stuff About Loveless Cafe
Now About Those Free Biscuits…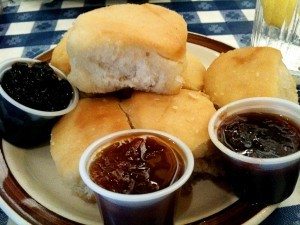 National Buttermilk Biscuit Day is celebrated on May 14th in the U.S. each year.
The Loveless Cafe traditionally gives away free biscuits on that day, as well as a few other days throughout the year like:
They will announce it on their website, their Facebook page, their Twitter page, and on the local Nashville news.
A few interesting facts about buttermilk biscuits:
In the United Kingdom, the word "biscuit" is used to refer to what we in the United States would call a "cookie".

White flour, commonly used to bake biscuits, is almost instantly metabolized into sugar. Biscuits will quickly spike your blood-sugar level.

Mustard is a common condiment to use on biscuits in the south, especially to accompany ham.

Most biscuit recipes call for a healthy dose of butter in the baking process. Despite this, many people butter their biscuits after they are served as well.

The main difference between biscuits and rolls is the leavening agent. Biscuits use baking soda. Rolls use yeast.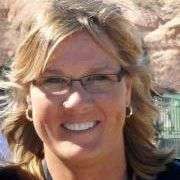 We moved from Florida to Tennessee in 2001. All signs point to the fact that we will probably retire here — by choice. We L O V E Nashville! Our favorite places to live are just south of the City — we've had houses in Brentwood, Franklin, and Spring Hill. And we have properties in Leipers Fork, Cookeville, and Lewisburg. This site is where I share my best tips for moving your family to Nashville and/or visiting Nashville for the first time — with the ultimate goal of helping you find fun things to do in Williamson County and Davidson County. When I'm not out & about enjoying the Nashville area, you'll find me at the corner of Good News & Fun Times as publisher of The Fun Times Guide (32 fun & helpful websites). To date, I've written over 500 articles on this site! Many of them have upwards of 100K shares.