This post may contain affiliate links. If you buy thru these links, we may earn a commission at no additional cost to you.
---
Here's a long-overdue photo summary of the first "Songwriter Night" we went to at the *new* Puckett's in Franklin, TN.
The date was October 22, 2005…
It was a relatively tame night filled with mellow songs and a few up-beat catchy tunes sung by Marshall Chapman, Don Henry and Jon Ims.
Each of these songwriters has enjoyed a highly successful music career filled with their own personal albums and awards too numerous to count.
Any hits they've had from songs they've penned for other artists were simply icing on the cake.
Rarely can you say that about a songwriter.
Here are highlights from this night's "In The Round" at Puckett's in Franklin…

Popular songs Don Henry wrote:
Where've You Been – Kathy Mattea
Don't Let's Talk About Lisa – Lonestar
Class Reunion – Oak Ridge Boys
Those Eyes – T.G. Sheppard
B.F.D. – Kathy Mattea
The Show – B.J. Thomas
Popular songs Marshall Chapman wrote:
Just To Keep From Drowning – Joe Cocker
Last Mango in Paris – Jimmy Buffett
Betty's Bein' Bad – Sawyer Brown
Beyond the End – Jimmy Buffett
Can't Run From Yourself – Tanya Tucker,
Christmas in the Caribbean – Jimmy Buffett
Have a Little Faith – Karen Taylor-Good
It Was Love – Russ Taff
Lose Me in You – Crystal Gayle
Old Habits – Ronnie Milsap
Smart Woman (in a Real Short Skirt) – Jimmy Buffett
A Womans' Heart (Is a Handy Place To Be) – Jessi Colter
Popular songs Jon Ims wrote:
Fallin' Out Of Love – Reba McEntire
She's In Love With The Boy- Trisha Yearwood
On October 25, 2005 we went to Puckett's Grocery & Restaurant in Franklin, TN for their "songwriter night". We had been to the songwriter nights at their Leipers Fork location several times before this, so we were delighted to be able to enjoy live music from our own little town for a change.

Marshall Chapman and Jon Ims making the crowd laugh… again!

This guy's a classic singer-songwriter that everyone would enjoy! Check out these reviews and opinions about Don Henry and his music.

Marshall Chapman singing backup while Jon Ims sings one of his songs.

Marshall was a trip! I'd say the odds are good that she's got ADHD — or something like it. You can "see" her mind working in overdrive every second that her eyes are open. And it's nearly impossible for her to sit still, even when she's thoroughly engrossed in the music — sung by herself or one of her colleagues. Here, she's reading a paragraph or two from her newly released book, "Goodbye, Little Rock and Roller"…which she followed with a related song that she wrote.

Craig Carothers (a FUN singer-songwriter to see!) was supposed to be here on this night, but Jon Ims filled in for Craig. I'd never heard of Jon Ims before this night. But he was a pleasant surprise! His songs are witty, deep, storyteller kinds of tunes. Very interesting.

Don Henry was one of the headliners at Puckett's on this night in Franklin, TN.

Pictured here are: Don Henry, Marshall Chapman and Jon Ims.
And Cool Souvenirs, Too!
Call me a cheese-ball, but one of my favorite parts about the evening was being one of the first to purchase an "official" Puckett's denim koozie. (You can see one over Don's right shoulder in the above picture, as well).
It has Puckett's Grocery "Real food. Real people. Real fun." branded into the leather patch.
It's really "Country" and really Cool!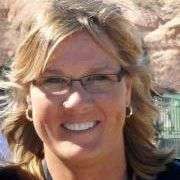 We moved from Florida to Tennessee in 2001. All signs point to the fact that we will probably retire here — by choice. We L O V E Nashville! Our favorite places to live are just south of the City — we've had houses in Brentwood, Franklin, and Spring Hill. And we have properties in Leipers Fork, Cookeville, and Lewisburg. This site is where I share my best tips for moving your family to Nashville and/or visiting Nashville for the first time — with the ultimate goal of helping you find fun things to do in Williamson County and Davidson County. When I'm not out & about enjoying the Nashville area, you'll find me at the corner of Good News & Fun Times as publisher of The Fun Times Guide (32 fun & helpful websites). To date, I've written over 500 articles on this site! Many of them have upwards of 100K shares.