This post may contain affiliate links. If you buy thru these links, we may earn a commission at no additional cost to you.
---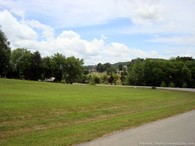 Who would have thought that living on a street named Henpeck Lane would be such a good thing? 
As you drive down the country road, passing fields and farms along the way, you might be surprised by the housing developments that pop up here and there. 
Henpeck Lane stretches from Highway 31/Columbia Highway (just a few miles south of where Mack Hatcher Parkway intersects it) over to Highway 431/Lewisburg Pike (just north of Peytonsville Road). 
Lined with homes of varying sizes and ages, a few new (or newer) developments are mixed in among them.  Coming from Highway 31, Oakleaf Estates and Oakwood Estates – both established communities with homes on 1-acre lots – are first in sight. 
Just past those, you'll come across open pastures with cows or horses, larger homes on 5-acre or larger tracts, apple trees and lots of wooden farm fencing.  Once again, sights such as these are why I love living in Franklin!
Durham Manor
The first newer development you come to is Durham Manor, which contains about 30 custom built homes on 1-acre lots.  
Unfortunately, a huge utility easement is visible along the left side of the development as you drive down its main road.  Otherwise, you'll find beautiful brick and stone homes with 3- and 4-car garages in a variety of styles. 
Floor plans contain between 4,000 and 5,400 SF and available homes range in price from the low $700s to nearly $900,000. 
There are plenty of mature trees and open spaces throughout the neighborhood, which really adds to its overall appeal, but no community pool or clubhouse — you'll have to go to the YMCA or Rec Center for that.  
Belle Vista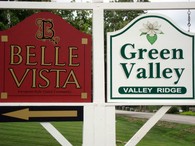 Just down from Durham Manor are 2 signs attached to each other: Green Valley and Belle Vista. 
Green Valley is a very nice, older established neighborhood with homes on 1-acre sites built in the 70s and 80s. 
Belle Vista is brand new.  The issue I personally have with Belle Vista's location is that you have to drive into Green Valley to get to it; there's no entrance from Henpeck Lane.  Follow the signs and you end up in front of a prestigious gated community.  This just seems a bit odd to me. 
Once inside the gates however, there are beautiful European-style homes ranging from $600,000 to the low $700s, with floor plans ranging from 3,000 to 4,500 SF. 
Again, I didn't spot any amenities, and homes are close together (most lots are around .4 acre).  There is a walking trail planned which will lead to an observatory deck, but it doesn't appear to be completed at this time.  They have just opened Phase 2 of what looks to be a 3-phase development. 
Another disappointment is that most of the lots (with the exception of a few near the front of the community) are sloped, so you either have a steep driveway up to the house, or a steep slope in the backyard.  The up-side to the sloped lot is the possibility for a walkout basement on several of the home sites, if that's important to you when selecting a new construction community. 
The builder for Belle Vista (Deer Creek Construction) is offering some 1-level plans, which will appeal to those who are looking for a home with minimal steps. 
Fifty-percent of the 94 homes built on this 130-acre development will back up to open space and wooded areas, which will be a very attractive feature for many of the homes there.
Summer Hill
Leaving Belle Vista (and Green Valley), just a short drive down Henpeck Lane is the entrance to Summer Hill, a small development built from 2003-2007 with more traditional style homes. 
These homes are situated on 1-acre lots, and a walking trail meanders through the common spaces. 
There's plenty of wooden farm fencing and even apple trees scattered throughout to make you feel as if you're on your own farm. 
Summer Hill is located almost directly across Henpeck Lane from Oakview Elementary School which, consequently, all of these neighborhoods funnel into for grades K through 5.  Page Middle School and either Independence High School or Centennial High School are the zoned schools for all neighborhoods along Henpeck Lane. 
Nearby Conveniences
Henpeck Lane is located approximately 3 miles north of I-65 from the Goose Creek Exit, and approximately 6 miles north of I-840. 
Just up the road (about 2.5 miles north on Highway 31), you'll find a Target, Kroger, Panera Bread, Chili's, wine shop and a few other retail/commercial operations. 
Less than 5 miles
from Historic Downtown Franklin and about 20 minutes from Cool Springs, Henpeck Lane just might be worth a gander if you're looking for a luxury home with a little space in the country, yet close to modern conveniences.
By day, I'm a full time residential real estate consultant in Franklin, Tennessee. When I'm not working, I enjoy exploring Franklin with my son, doing yardwork and home improvement projects.