This post may contain affiliate links. If you buy thru these links, we may earn a commission at no additional cost to you.
---
I took at walk down to The Brownstones at First and Church in historic downtown Franklin recently, and was inspired to take photographs and write about my experience. 
Located at the corner of 1st Avenue and Church Street, The Brownstones are perfectly suited to the style and era of downtown Franklin. 
They fit in with the architecture and design of the late 1800s and early 1900s, as most of the area was built during that period.
Developed by D9 Development, The Brownstones neighborhood consist of 26 luxury homes built by Forte Building Group and Highmark Construction. 
Most units are already sold, with the exception of 4 homes, starting at $1.35 million and going up to $2.4 million, ranging between 3,900 and 6,000 square feet. 
Here's the site plan (.pdf)
A Look Inside
Each Brownstone is 3 stories with a basement, a private elevator, attached 2-car garage and private patio / courtyard / rooftop deck. 
Inside, incredible detail work and luxury amenities such as gourmet kitchens with commercial-grade Viking appliances and temperature sensors on each floor are just the beginning. 
Early on in the construction process of The Brownstones, I walked through and viewed a few of the homes.  The detail work on both the exterior and interior of these units is awe-inspiring.  Each unit is unique and jam-packed full of character and beauty. 
The front doors and entryways of each are amazing in and of themselves, but beyond the foyer is an eye-full of interesting details and craftsmanship:
the millwork

curved walls

spiral staircases

dome ceilings

extra-high ceilings

cedar plank ceilings on covered balconies

wood inlays

tile detail

angled rooms
Each turn brings a new and exciting element of surprise!
Plus, each unit has beautiful views of the interior courtyard — which is a lushly landscaped area with a large fountain and benches for relaxing and visiting with neighbors.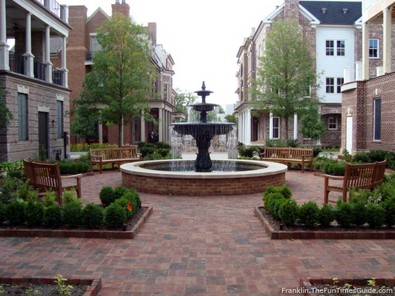 Exterior Details
The community association fee is currently $250 per month, and includes maintenance of all common areas, landscaping and lighting. 
One of the unique characteristics of the Brownstone community is the alley between each unit, where homeowners can store their trash bins or create attractive outside spaces.  I saw several alleys with iron gates and other decorative wall-mounted iron pieces, as well as plants and flowers.
The patios have beautiful details with ironwork, custom pavers, arbors and beautiful architecture. 
The only disappointment I faced was while walking down the street and looking across at the views from The Brownstones. 
On the 1st Avenue side, owners view an old industrial building (tower). 

On Church Street, the other side of the street has homes and business sites that aren't the best kept in the neighborhood.   
Things To See And Do In The Area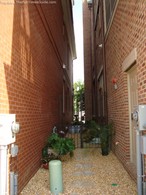 Although the homes are large and the location is amazing, a family with small children may not find The Brownstones a very kid-friendly place since there are no green spaces or play areas.  However, Pinkerton Park is a very short walk away (and contains a 1-mile walking & fitness trail, plus a large playground as well as wide open spaces for other sports and recreational activities). 
Additionally, from The Brownstones, you can walk the other direction just a block away and find the Downtown Square, which contains a variety of dining establishments and numerous boutique shopping choices.
 
Having lived in Franklin for nearly 5 years now, I can tell you that I spend as much free time as possible around the downtown area.  I absolutely love it, and it just never gets old.  If you're a sucker for a quaint downtown square and historic buildings and homes, then The Brownstones might just fit the bill (assuming your budget fits).  If for no other reason, take a walk around First and Church and you'll find some tremendous photo opportunities.