This post may contain affiliate links. If you buy thru these links, we may earn a commission at no additional cost to you.
---
A few people have asked for my opinion regarding the winner of the "Gone Country" show on CMT.
As a reminder, the 6-episode series of Gone Country doesn't even begin airing until January, 2008.
I have no way of knowing who the winner actually will be. (Only John Rich knows for sure.)
But following are my predictions…
Keep in mind, I've only seen each artist perform one (in some cases 2) songs — only one of which was a Country song that they wrote or co-wrote.
So it's really difficult to say from this one instance alone which of the 7 celebrities should be awarded the Country Music record deal.
But curious minds want to know, so here are my thoughts…
The Most Fun To Watch
If the contest were judged on hair alone, then Dee Snider would win hands-down.
If you want to know who turned things up a notch, who fully engaged the audience the most, and who put forth the most energy at the taping for the season finale of "Gone Country"… these 3 ranked the highest:
#1 Dee Snider
#2 Bobby Brown
#3 Sisqo
Obviously, a high-energy show is not the only determining factor in this case.
Who's Got What The Judges Are Looking For?
From the sound of things, John Rich is looking for the most well-rounded artist — the one who would seem to be the most capable of crossing over into Country music, and therefore appealing to Country music fans for years to come (…or at least for one album's worth).
That would mean, on this night, the following things should have been evident:
at least some semblance of a Country music sound;
a good connection between the audience and the artist;
some sign that the crowd was left wanting to hear more from this artist;
and finally, a well-penned song (written, or co-written by that artist).
With those things in mind — and using this one night alone as a guide — I would say the winner is most likely to be either… (drumroll, please)…
#1 Diana DeGarmo
#2 Bobby Brown
Without a doubt, Diana DeGarmo had best "true" Country sound. That, combined with a great voice, a natural level of comfort with the crowd, great eye contact, honest emotions, wide range of vocal notes, and great stage presence made her a very natural shoe-in for this competition.
Oh, and she certainly had the attention of the big-wigs in the balcony. It was quite obvious that they had been told she was "the one to watch" on this night. And they were overwhelmingly impressed by her performance. She was one of the few who received a standing ovation from the people that mattered most on this night (John Rich and his peeps).
And, while John Rich was not biased in any way on this night (he definitely gave equal praise and props to all of the night's performers), you couldn't help but notice that another of his personal favorites was Bobby Brown. He definitely wanted everyone to give this guy a chance, and it was obvious that he had come to know Bobby Brown on a level that most of us haven't. There were some heartfelt "this guy deserves a second chance" undertones in his introduction of Bobby Brown on this night. And they were probably well-deserved.
Bobby Brown was the surprise underdog to steal the show in more ways than one. Not only did he perform his high-energy song My Prerogative (lyrics here) and the Countryfied song that he wrote about trying to be the best man that he can be… he also put on a great show with Sisqo on stage. And at the end of the show, he stuck around the longest to sign autographs and make new friends.
An Interesting Side-Note…
One of the new friends that Bobby Brown made at the Wildhorse Saloon on this night was the guy in the front row that Bobby Brown gave his "Da Man" guitar to.
However… just a few short moments later, stagehands and security guards swarmed that Country music fan and demanded that he give them the guitar. He refused. Bobby Brown coaxed him to give it up long enough for him to autograph the guitar for him. Which began Round Two with the security guards tugging on the guitar with the fan. In the end, the brutes on stage got the guitar back, but it was a sad ending to an otherwise enjoyable evening.
Bobby Brown had given the guy the guitar. Then, he even autographed the guitar for the fan. Only to have it taken away from him — by force. I'm guessing the guitars that each celeb held at the end of the show were fairly expensive ones owned by John Rich, et al. Who knows, perhaps Bobby Brown never had permission to give one away, but it happened. Unfortunately, it meant that things got kind of ugly on-stage at the end of the show.
As you can see, the cameras were still rolling. I'd love to know if the guy ever got the guitar back later. (I doubt it.) It will be interesting to see if any of this makes it onto the show.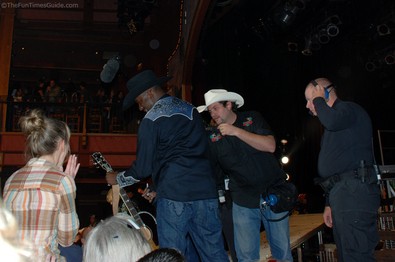 More About John Rich
UPDATE: And The Winner Is…
Well John Rich chose Julio Iglesis, Jr. to win this competition. I'd have to say… I think that threw practically everyone who watched the show for a loop!
While Julio Jr. may have made the young girls swoon on that night… And yes, it's time that Country Music include all cultures… I'm not sure Julio Jr. is the best choice — based on this competition alone. That's just my opinion. But then, I'm not the audience John Rich is after.
He obviously had an ulterior motive, other than merely giving these celebs a chance to break into Country Music. As he said in the very last show, to find a new Country Music star to address the whole Gen X thing was one of the biggest reasons he held this competition.
I still say Bobby Brown's song will be a huge hit if he chooses to release it. Country or not, it's a great song.
Here's why John Rich picked Julio Iglesias, Jr. as the winner in the first season of Gone Country.
In Other News…
Did you hear about the John Rich fur coat thing?… [Click each photo to go to a different story.]
 
Listen to Bud Light's Real Men of Genius "Mr. Male Fur Coat Wearer":
https://franklin.thefuntimesguide.com/files/Bud_Light_Real_Men_of_Genius_Mr_Male_Fur_Coat_Wearer.mp3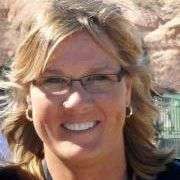 We moved from Florida to Tennessee in 2001. All signs point to the fact that we will probably retire here — by choice. We L O V E Nashville! Our favorite places to live are just south of the City — we've had houses in Brentwood, Franklin, and Spring Hill. And we have properties in Leipers Fork, Cookeville, and Lewisburg. This site is where I share my best tips for moving your family to Nashville and/or visiting Nashville for the first time — with the ultimate goal of helping you find fun things to do in Williamson County and Davidson County. When I'm not out & about enjoying the Nashville area, you'll find me at the corner of Good News & Fun Times as publisher of The Fun Times Guide (32 fun & helpful websites). To date, I've written over 500 articles on this site! Many of them have upwards of 100K shares.