Eric Hutchinson has a hit song on all the music video channels right now ("Rock & Roll").
That song got my attention the first time I heard it, so I was excited to hear that he would be making a stop in Nashville.
Before I bought the tickets for his Nashville gig, I didn't really know much about Eric Hutchinson. I just knew the song and the fact that he writes most of his own songs. (I like that.)
Last night was the big night. He played at 3rd & Lindsley, a place that seats less than 300 (which, if you ask me, is the best way to see musicians: up close & personal).
Usually, we sit in the very front row near the stage at 3rd & Lindsley. This was the first we didn't, because when we got there (an hour and a half before the start time!), the place was already full! About 30 minutes before the show, they had to stop letting people in — there simply was no more room.
Here are my photos and thoughts about Eric Hutchinson's show in Nashville…
For starters, Eric Hutchinson has a great voice. No joke.
His range is amazing, and there wasn't a bad note that came from his voice the entire night.
And talk about a cult following! There were lots of "inside jokes" that only the true Eric Hutchinson fans understood. And soooo many people knew each and every word of each and every song. It was amazing.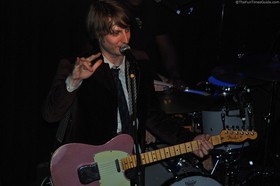 The second notable thing about Eric Hutchinson is his sense of humor. He's a riot! Fairly softspoken, yet very comical in his demeanor and the references he makes.
A couple of drunk folks at the bar were trying to get their "15 minutes of fame" all night by interjecting broken sentences about random things they knew about Eric Hutchinson and his songs.
Eric played right along with them — putting them in the joke without them even realizing it! At one point, he asked, "When did this turn into an episode of Sally Jessie Raphael?"
The funniest part to me… of all the trash TV references he could've picked, he chose that one. It was old & outdated, yet it was really hilarious when he said it.
In general, Eric's isn't the type of music that I tend to listen to. But to be honest, he's much more than just that one catchy pop song (Rock & Roll). He's got a funky sound with blues and soul undertones. Still, a good bit of pop creeps into the mix, but he's got a lot of potential with that voice. It's strong.
Overall, it was a fun show. I didn't buy his CD, but I still sing along to the Rock and Roll song every time I hear it.
More of my photos from Eric Hutchinson's show at 3rd & Lindsley February 23, 2009…
I like to help people find unique ways to do things in order to save time & money — so I write about "outside the box" ideas that most wouldn't think of. As a lifelong dog owner, I often share my best tips for living with and training dogs. I worked in Higher Ed over 10 years before switching gears to pursue activities that I'm truly passionate about. I've worked at a vet, in a photo lab, and at a zoo — to name a few. I enjoy the outdoors via bicycle, motorcycle, Jeep, or RV. You can always find me at the corner of Good News & Fun Times as publisher of The Fun Times Guide (32 fun & helpful websites).
...