This post may contain affiliate links. If you buy thru these links, we may earn a commission at no additional cost to you.
---
Last night, Jim and I got free tickets to see Darius Rucker at the Grand Ole Opry.
I heard about this free "invitation only" event on the local evening news (Channel 2) the night before the show. They mentioned something about it being part of the Jimmy Kimmel show — but I never caught the full report to see what the real connection was.
And to be honest, they never made it clear — before, during, or after the show — what the relationship between this show and the Jimmy Kimmel show was all about. Eventually, they said the first 3 songs were going to be seen on the Jimmy Kimmel show, but they didn't say why or when.
Turns out, the Darius Rucker concert footage from this particular night is going to air this Thursday, August 27th on Jimmy Kimmel Live. (Ha, guess it's not so "live" after all!)
How We Got Tickets
To be "invited" to this free Darius Rucker concert, all you had to do was go to Darius Rucker's website and sign up for your 2 free tickets.
The show was held at the Grand Ole Opry in Nashville, TN.
When Jim and I got there (early like usual), there were already thousands of people standing in line! We were shocked.
The Grand Ole Opry building is situated between the Opryland Hotel & Convention Center and the Opry Mills Mall. There are parking lots everywhere you look, and one long winding sidewalk that connects all 3 facilities. When we arrived, that sidewalk was packed with Darius Rucker fans in line to see this free show! We never even thought we'd get in.
But they did a fabulous job of keeping the line moving and it turned out to be a breeze all around for us to catch this free show.
A Darius Rucker Fan?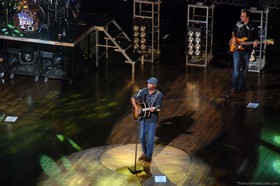 While I'm not a huge Darius Rucker fan, I do like him. I think he's got a great (really strong) voice. And I even bought his first CD Learn To Live 7 months ago. (That had to be right about the time that it had just been released, right?)
I can't say why I bought it. I don't own any Hootie & The Blowfish CDs. And I'm not typically one to buy CDs unless I know for sure that I'll love every song on it. (Which usually means I've listened to the entire CD that someone else owned first.)
For some reason, while I was on Amazon buying Pat Green's What I'm For and Randy Houser's Anything Goes CDs, I just decided to add the new Darius Rucker CD to my cart. I've only listened to it once. But now that we've seen Darius Rucker live, Jim is looking forward to listening to that CD for the first time.
So there, that's the extent of my familiarity with Darius Rucker.
What I Was Expecting

I mostly wanted to see Darius Rucker at the Grand Ole Opry for some sort of nostalgic reason. It seemed cool to be able to see "Hootie" there!
I'll be honest, I had seen him perform "live" on a handful of TV shows (late night ones, CMA Award Show, and The Bonnie Hunt Show), and the sound always seemed to be a bit off in each of those instances. Usually, it seemed like his backup singers were way out of key, but maybe that's just me.
That said, I've also seen him in a couple of interviews (on CMT, GAC, and The Bonnie Hunt Show), and he seems like a really cool guy! I dig him a lot.
So last night's show was my chance to see Darius Rucker live for the first time and to ultimately determine whether I felt the urge to play his Learn To Live CD again or not. (Hint: I stuck it in my car's CD player the very next morning!)
What The Concert Was Like

As it turns out, Darius Rucker ROCKS!
I'm not sure that's what he'd like to hear (because he seems to try so hard to prove that he's really "country"), but he can rock some Country tunes, let me tell ya!
His ballads were good. His funny songs were a riot. His tributes to Country Music classics were fun. And his closing song (after a 3rd encore!), Prince's Purple Rain, tore the house down! What a cool cool way to close. I still get chills hearing it and replaying it in my mind. Awesome!
If I had to classify Darius Rucker's "style", I'd say he's got a lot of Dwight Yokum in him — minus the skin tight jean! His boots never stopped scootin' and shuffling in one spot — just like Dwight Yokum does it! And his fancy footwork
style also reminds me of Dave Matthews. You know how he shuffles his feet and does a lot of fancy foot moves — while standing right in one spot? Darius Rucker's got that move down!
And boy, does he move! While my pictures make it appear that Darius Rucker pretty much stayed in one spot all night — in the center of the Grand Ole Opry floor — that definitely wasn't the case. He worked that stage like it was his own, and he really connected with the fans in the front rows.
He was a lot of fun to watch. And the show, as a whole, was a lot of fun to be at!
Jim and I are so glad we went. He ended up playing for one hour, and like I said, there were 3 encores!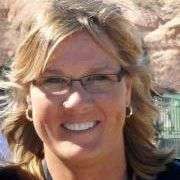 We moved from Florida to Tennessee in 2001. All signs point to the fact that we will probably retire here — by choice. We L O V E Nashville! Our favorite places to live are just south of the City — we've had houses in Brentwood, Franklin, and Spring Hill. And we have properties in Leipers Fork, Cookeville, and Lewisburg. This site is where I share my best tips for moving your family to Nashville and/or visiting Nashville for the first time — with the ultimate goal of helping you find fun things to do in Williamson County and Davidson County. When I'm not out & about enjoying the Nashville area, you'll find me at the corner of Good News & Fun Times as publisher of The Fun Times Guide (32 fun & helpful websites). To date, I've written over 500 articles on this site! Many of them have upwards of 100K shares.