This post may contain affiliate links. If you buy thru these links, we may earn a commission at no additional cost to you.
---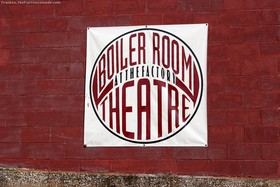 No need to go all the way to New York or Chicago to see live theater.
Just head over to the Factory at Franklin and visit the Boiler Room Theatre (now called the Little Brick Theatre).
It is Williamson County's first professional theatre.
They offer around 7 shows per year with different productions to cater to different tastes.
I have seen great comedies (Anything Goes, Forever Plaid), dramas (The Miracle Worker), and big productions (Chicago, Cabaret) at this Franklin Tennessee theatre.
What It's Like
The name speaks for itself.
The theater is located in the building which housed the boiler of the old stove manufacturing factory.
It's small — with only 120 seats — which gives it an intimate feel.
Besides a small seating area, the stage is also quite small. I always find it interesting how they do so much with so little.
The actors do a fabulous job proving, once again, there is no lack of talent in the greater Nashville area!
The shows are usually between 2 and 3 hours with an intermission included between acts when you can use the restroom or grab a snack and drink at the concession area.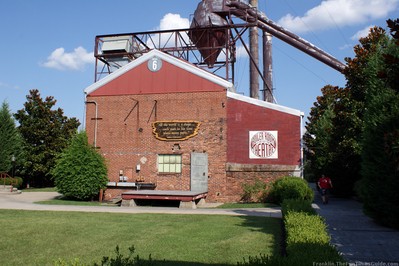 Tickets & Upcoming Shows
Theatre tickets are reasonably priced at $25 apiece for the weekend evening shows and even less for Sunday matinees ($23), Thursday evenings ($15), or Tuesday evenings ($12.50).
The theatre opens 30 minutes before the show and has an open seating policy. Since it's such a small venue, there really are no bad seats.
To give you an idea of the types of shows, these are some that have been performed at the Boiler Room Theater / Little Brick Theatre inside the Franklin Factory:
Jesus Christ Superstar
Clue: The Musical
The Last Night of Ballyhoo
Hard Boiled Christmas
Fiddler on the Roof
The Fantasticks
Brighton Beach Memoirs
Nine
Les Miserables De Deux Recit Du Villes
Rent
Christmas Belles
They also offer 1 or 2 children's shows a year, as a nice alternative to the movies.
You can see a list of current events on the Factory at Franklin's event calendar.
How To Get There
The Factory at Franklin is located on the corner of Franklin Road and Liberty Pike — less than a mile north of downtown Franklin.
If you end up loving the Boiler Room Theatre / Little Brick Theatre, you can get season tickets for the entire year (like I did). It's a good time, and also a sure way to get my husband out on a date night 7 times a year!
Restaurants Nearby
Dinner before the show is an option at any downtown Franklin restaurant (listed below), or at restaurants inside the Franklin Factory (located right next to the theatre).
And don't miss… All The Best Restaurants In Franklin TN.
I live in Franklin with my husband and our toddler son. I enjoy writing about our experiences visiting places in Franklin, Cool Springs, and the Brentwood area.