This post may contain affiliate links. If you buy thru these links, we may earn a commission at no additional cost to you.
---
I finally got my best friend and her family to come to Nashville for a visit. (They had never been to Middle Tennessee before!)  It was an exciting weekend for us. We wanted to show them around downtown Nashville, and have an excellent meal in the process.
If it were my first time in downtown Nashville, I would have wanted to walk Broadway street. It is the epitome of downtown Nashville!
I also wanted a delicious meal that my friends would soon NOT forget. I have eaten at a few places on Broadway, but I wanted to try something new too. I didn't want to walk around aimlessly (blindly picking a restaurant). I wanted an awesome place to eat at.
After conducting a little research on the Internet, I chose Broadway Brewhouse & Mojo Grill.
Parking & Seating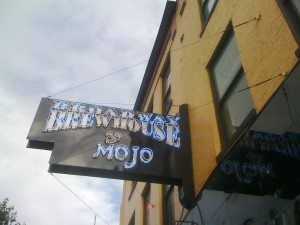 Parking downtown can sometimes be a hassle, so we bit the bullet and used a parking garage on the street behind the restaurant. (It cost $10.) That gave us the peace of mind to be able to take our time eating and exploring Broadway.
We walked into Broadway Brewhouse at 2PM and were immediately seated.
We didn't plan on eating so late, but it worked to our advantage because we beat the lunch rush. We chose to seat the kids at one booth and the adults at  another — which was another perk of beating the lunch crowd. They also offer bar seating, but the booths were a better fit for us that day.
First Impressions
I was under the impression that this was an actual brew-house (a restaurant that has an on-site beer brewery and generally brews their own select beer), but it was not. What they did offer was a full bar with a variety of different beer on draft.
That was a little disappointing, especially given their name, but not enough for us to find another place to eat.
We took our time reading over the lunch menu which offered a variety of sandwiches and burgers.
The adult table ordered steak, po boy, and pulled chicken sandwiches as well as a jalapeno bacon burger.
The kids table ordered pizza. (You can never go wrong with pizza.)
While waiting for our food, we walked around a bit. (Okay, we took the kids to the bathroom.) The place is bigger than it looks. They did have a few arcade-type games to play, but because they were around the corner from our table we didn't let the kids play them.
How Was The Food?
By the time our food came, we were very hungry. (Not their fault. We were just eating later than normal.)
We devoured our food. It was not just good, it was GREAT!
I loved my pulled chicken sandwich — which I normally do not get, because I hate the thought of eating dry chicken. The chicken was super moist and it was in a homemade BBQ sauce on an oversized bun. YUM! My sandwich also came with homemade coleslaw — which was  fresh, crisp and served with the perfect amount of dressing.
Everyone was very happy with their sandwiches — so happy I didn't get a chance to snap a picture. It was gone that quick!
We were also eagerly anticipating the jalapeno bacon burger! We wondered if the different bacon would add a wanted flavor to the burger, or if it would be too spicy and not edible (having to be removed from the burger).
I'm happy to report that it was a hit! The burger was large and had huge pieces of thick-cut jalapeno bacon on top. The jalapeno bacon added flavor and a little zing (not too much though) and remained on the burger! It also came with a homemade jalapeno mayonnaise (on the side). The jalapeno mayo did not make it on the hamburger, but we used it as a dip for the fries.
The kids table ate their pizza, but I would not say they loved it. There was one complaint: too much cheese. I've never heard of kids complaining of too much cheese, but these kids did. Keep in mind, this is a sandwich/burger joint.
I recommend Broadway Brewhouse, and I highly recommend bringing your appetite because they will not disappoint. (Unless you order pizza and don't like it super cheesy!)
When you're done eating, take a nice walk along Broadway. That's exactly what we did.
Broadway Brewhouse
317 Broadway
Nashville, TN 37201
(615) 271-2838
More About Broadway Brewhouse
I'm a happily married mom to 3 wonderful children: Taylor (13), Gavin (10) and Garrett (8). We recently relocated to the Nashville area from Florida and we're enjoying exploring Middle Tennessee and all it has to offer. My hobbies are: writing, photography, digital scrapbooking, cooking, and all things parenting.