This post may contain affiliate links. If you buy thru these links, we may earn a commission at no additional cost to you.
---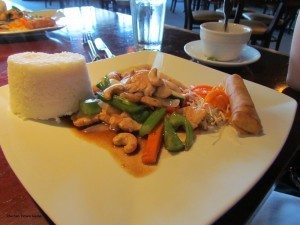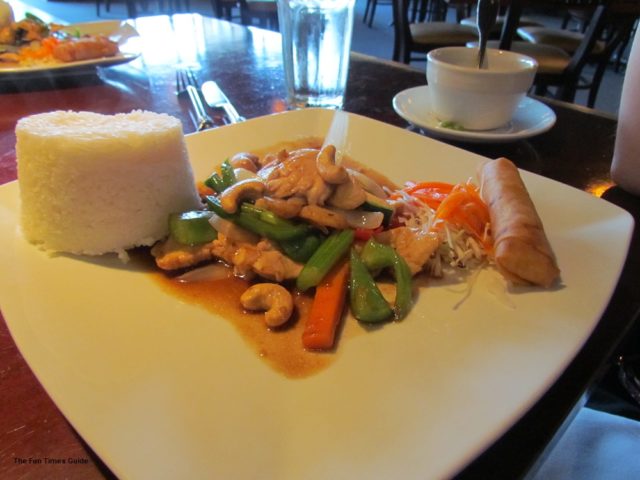 I love Thai food but I refuse to just open up the Yellow Pages and blindly pick a restaurant — since I've never had Thai food in Tennessee before!
I decided to ask some of my friends who have lived in Nashville for quite awhile (and know all the best places to eat) where I could go for awesome Thai food.
Jasmine Thai in Cool Springs (technically, Brentwood) came highly recommended.
I made my plans, picked some dining mates, and headed — rather quickly — to Coolsprings!
First Impressions
It took me a bit longer than I anticipated to get there — because I got lost.
Jasmine Thai is smack dab in the middle of a large plaza. It's easy to spot, but there are no frills on the outside.
On the inside, Jasmine Thai does not disappoint.
There is plenty of seating and we were asked if we wanted a table or a booth. I chose a booth before I knew that this was no ordinary booth. You had to step over the bench to get into this booth (so bad knees beware) and you sit on lounging cushions. It sort of felt like a picnic table with benches on all 4 sides — only these benches did not move. I didn't mind the seating though. It was a unique feature, and I like unique.
The restaurant ambiance was just what you would expect: traditional Thai lighting (dim but not too dark), wallpaper, paintings and tableware.
We took a nice long time examining the menu and after much deliberation (I hadn't had Thai in quite awhile), I settled on Green Curry Chicken. My mother-in-law ordered Garlic Chicken and my daughter ordered Cashew Chicken.
The good news was we had made it there in time to order from the lunch menu (11AM – 3PM daily) which we know is always less expensive and tends to be more inclusive. Each of our dishes was $6.95 and that included a cup of chicken soup, the entree, rice (brown rice is $1.00 extra) and a spring roll.
I always order water at Thai restaurants because I need to cool my mouth off (from the spiciness) but they offer tea, coffee and soda for extra.
How's The Food?
Our soup arrived very quickly. I liked the soup but it was a little salty for my taste so I ate the noodles, chicken & veggies and left the broth in the bowl.
Our entrees came before we were finished with our soup.
I went straight for the spring roll because it is my favorite Thai appetizer. The spring roll was on the thin side. I am accustomed to spring rolls that are the same length but triple the width and absolutely stuffed with cabbage, carrots and meat. I certainly enjoyed eating the spring roll I just wished it was thicker.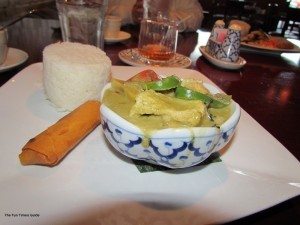 The entree was perfect! I loved my Green Curry Chicken. Green curry is very easy to make super spicy (which many people love super spicy), but Jasmine Thai served it with just the right amount of spice and a hint of sweet. It was laden with chunks of bamboo shoots, green & red peppers, mushrooms and chicken.  I also taste tested the Cashew Chicken and the Garlic Chicken. They both were delicious, but if I had to choose I'd  pick the Garlic Chicken because it had a scrumptious sauce. It was very flavorful!
As a Thai connoisseur (formerly of the South Florida region), I would easily go back to Jasmine Thai in Cool Springs. Soup can be a little salty and spring rolls a little thin as long as you nail the entree!
That's exactly what Jasmine Thai did and that's why I will return.
Jasmine Thai
8105 Moores Lane
Brentwood, TN 37027
(615) 661-0169
Before You Go…
Jasmine Thai offers dine in or take-out.
If you're on a budget, their lunch special is very reasonable but ends at 3PM.
Jasmine Thai is open all week.
The Cool Springs Galleria mall is just a hop, skip and a jump from Jasmine Thai.
Here are some Jasmine Thai reviews. (More here, here and here.)
I'm a happily married mom to 3 wonderful children: Taylor (13), Gavin (10) and Garrett (8). We recently relocated to the Nashville area from Florida and we're enjoying exploring Middle Tennessee and all it has to offer. My hobbies are: writing, photography, digital scrapbooking, cooking, and all things parenting.