This post may contain affiliate links. If you buy thru these links, we may earn a commission at no additional cost to you.
---
Harlo and Georgia, invited us to go to a Nashville Sounds baseball game with them last Sunday.
It was a great deal: 4 "best-available" seats (which happened to be up-close between Home and 3rd base), plus 4 hotdogs and 4 full-sized bottled sodas… for $48.
It Was Hot, Hot, Hot!
What fun! However, it was Hot HOt HOT… So hot, this girl's ice cream practically melted before she had a chance to eat it. The scoreboard said it was 91-degrees when we arrived at the 6 o'clock game.
We had a great time. (Though, naturally I spent more time people-watching and taking pictures than I did watching the game.)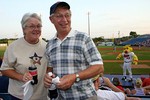 This was their first time watching a ballgame at Greer Stadium. And yes, this one IS a stadium, as opposed to a field!
By the way, if you haven't seen the video of Jeff Gordon "singing" Take Me Out To The Ballgame yet, you've gotta check this out!
For the record, these two are a TRIP!
Georgia and Harlo enjoy many of the same things we do: biking, photography, traveling, and practically anything outdoors. They are game to try just about anything once.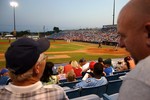 What's Your Sign?
As team manager, Frank Kremblas hung out near us at the 3rd base line most of the night.
Jim suggested I get a shot of Kremblas giving "signs" to the batters… He had it down to a science.
I preferred photographing his highly concentrated manner of eating sunflower seeds!
He was into it:
Name: Frank Kremblas, Nashville Sounds manager
Favorite Food: Sunflower seeds
Favorite Hand Signal: "I need more sunflower seeds"
Fire In The Sky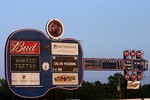 One of the highlights on this day was the Fireworks show immediately following the game. It's no secret that my all-time favorite holiday is the 4th of July. And this year, I get two fireworks shows for the price of one!
And let me just tell you… the Fireworks display put on by the Nashville Sounds is one helluva show!!! Most large cities would have a hard time matching this one.
Jim managed to capture a ton of great fireworks photos with our Canon D300 Digital Rebel:
To The Ballgame… And Beyond!
Harlo and Georgia have only been in Middle Tennessee for a couple years, and they're in Spring Hill (which is 30 minutes FARTHER from Nashville than Franklin is), so they haven't seen much of "the big city" yet.
Since Jim loves to play tour guide whenever we have friends & family in town, he quickly put on his Tour-Guide-In-Training hat and loaded up the bus (Georgia's SUV) and started driving up and down the streets of downtown Nashville.
It was about 10:30 on a Sunday night, but there was still a lot of hustle & bustle on the streets of NashVegas. Jim pointed out all of the key highlights in a matter of minutes.
Then we rode through Music Row, ooohing and ahhhing over the buildings and the sweat equity that has accumulated through the years there.
Then, our tour guide got the bright idea that this tour should be extended into an official "Tour of the Stars' Homes"! "We'll, just swing by Alan Jackson's house," said Jim…
The Best Sports Scoreboard In The World
The guitar-shaped scoreboard at the Nashville Sounds games is super cool.
It's definitely one-of-a-kind!
Here are my favorite photos of the Nashville Sounds guitar scoreboard:
Our Photos From Another Nashville Sounds Baseball Game
Mike Had Some Extra  Tickets To The Nashville Sounds Baseball Game
Beer And Baseball Go Great Together!

Having A Good Time At The Baseball Game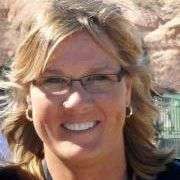 We moved from Florida to Tennessee in 2001. All signs point to the fact that we will probably retire here — by choice. We L O V E Nashville! Our favorite places to live are just south of the City — we've had houses in Brentwood, Franklin, and Spring Hill. And we have properties in Leipers Fork, Cookeville, and Lewisburg. This site is where I share my best tips for moving your family to Nashville and/or visiting Nashville for the first time — with the ultimate goal of helping you find fun things to do in Williamson County and Davidson County. When I'm not out & about enjoying the Nashville area, you'll find me at the corner of Good News & Fun Times as publisher of The Fun Times Guide (32 fun & helpful websites). To date, I've written over 500 articles on this site! Many of them have upwards of 100K shares.