This post may contain affiliate links. If you buy thru these links, we may earn a commission at no additional cost to you.
---
Living where we do, we have the opportunity to take in a lot of unique sights & sounds… especially those which pertain to singers, songwriters, musicians, and other celebs who reside in and around Nashville.
For us though, there's a fine line between wanting to see where these mega-stars live (and thereby photographing such locations), and respecting their privacy.
We're not the type to participate in "star stalking", per se. But we have a hard time passing up an opportunity to satisfy our own curiosities.
For that reason, you aren't likely to see most of the stars' homes that we've photographed (and other shots we've captured out & about in Nashville, Franklin, Brentwood, Leiper's Fork and beyond) here on this website.
AJ's Home: For Public Consumption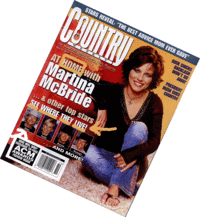 The reason I am including info about our brief tour of Alan Jackson's home without any reservation is because his home has been photographed and written about (with his permission, mind you) several times already in major newspapers, magazines, and other websites.
Add that to that, the fact that the tour buses spend an extraordinary amount of time parked in front of his home on a daily basis… It's no secret where Alan Jackson lives these days.
Alan's wife, Denise, describes the house, which the couple began building in 1993, as "casual elegance." Alan affectionately calls the 26,500-square-foot mansion "Sweetbriar" and says it was inspired by the movie Gone With the Wind. 

~Source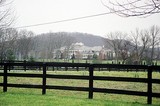 The Royal Treatment
As mentioned previously, Harlo and Georgia had been wanting to see this mansion. And, since it was on the way home, we swung by AJ's humble abode.
Which, at night — all lit up and tucked safely behind a black wrought-iron fence — looks remarkably similar to the White House! That, or the Opry Hotel — miniaturized.
But, don't get the wrong idea… There's nothing "miniature" about this place. It's over 40,000 square feet! Jim did the math, and it turns out that Alan Jackson's house ALONE would barely fit on Georgia & Harlo's entire 3-quarter acre LOT!
And the fence surrounding AJ's property starts about 1 mile before you even GET to his house.

But I must say, at night, it looked even more amazing than the other times we'd seen it in the daytime. This picture (taken without a tripod at night) doesn't do it justice…
More Pictures Of Alan Jackson's House
Here are some pictures inside Alan Jackson's garage — including AJ's incredible car collection. Check out that desk… and all the wall decor! Here's the story.
While Alan Jackson has several different boats (including the Hoochie Coochie), here are some pictures our friends took of Alan Jackson, his wife Denise, and their 3 daughters on their boat "The Lady J" near Ashland City, TN:

Here's a video tour of Alan Jackson's boat — see what it's like aboard the Lady J!
UPDATE: September 2009
Alan Jackson's house is now for sale. He's decided to downsize a bit. Here are photos and video inside Alan Jackson's home.
If you liked this, then you'll love…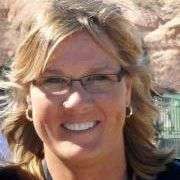 We moved from Florida to Tennessee in 2001. All signs point to the fact that we will probably retire here — by choice. We L O V E Nashville! Our favorite places to live are just south of the City — we've had houses in Brentwood, Franklin, and Spring Hill. And we have properties in Leipers Fork, Cookeville, and Lewisburg. This site is where I share my best tips for moving your family to Nashville and/or visiting Nashville for the first time — with the ultimate goal of helping you find fun things to do in Williamson County and Davidson County. When I'm not out & about enjoying the Nashville area, you'll find me at the corner of Good News & Fun Times as publisher of The Fun Times Guide (32 fun & helpful websites). To date, I've written over 500 articles on this site! Many of them have upwards of 100K shares.