You may have heard that Nashville Star is moving from USA Network to NBC for 2008. Yep, primetime on cable, baby!
This year, the competition is open to singing duos and trios. Auditions are open to anyone 16 and older. Nashville Star casting calls are held rain or shine.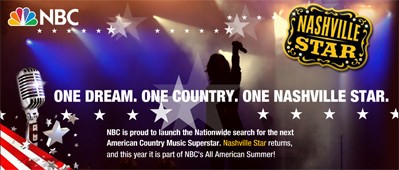 Here's the scoop on the upcoming casting call in Nashville, TN…

Nashville Star Auditions In Nashville, TN:

March 21, 2008 Open Call (10AM – 6PM)

March 22, 2008 Callbacks
Location: Gaylord Opryland Resort & Convention Center
2800 Opryland Dr.
Nashville, TN 37214
Nashville is one of four (4) NATIONAL casting calls for the Nashville Star competition. (Which means the Open Call takes place on the first day and Callbacks occur on the second day.)
In fact, Nashville is the very last of all 12 cities in which the auditions are being held.
All Cities & Dates:
Pittsburgh, PA (February 9)
Milwaukee, WI (February 9)
Charlotte, NC (February 13)
Kansas City, MO (February 13)
Tallahassee, FL (February 17)
Denver, CO (February 17)
New Orleans, LA (February 21)
Portland, OR (February 21)
Los Angeles, CA (March 8 & 9)
Washington, D.C. (March 14 & 15)
Austin, TX (March 18 & 19)
Nashville (March 21 & 22)
You can also apply online. (Simply complete the 2 online forms, and mail them in with your submission video.)
In case you're interested, here is the approved song list (pdf).
Here's how the casting call process goes and what you can expect (doc).
Practically every other question you have will be addressed in the Nashville Star FAQ (doc).
The 6th season of Nashville Star premieres June 9, 2008 and airs Monday's at 8:30PM (Central) on NBC.
UPDATE: Wondering when auditions for 2009 will be announced?…

According to Mistie Warren in a comment left here at The Fun Times Guide to Franklin and on the NBC forums, Nashville Star has been cancelled for 2009.
If it's true, that is unfortunate news, and I will link to the official press release here — if and when it becomes available.
Anyone have any updates?
P.S. Sandra Valentine provided this update on 1/21/09. It references another email from Mr. Naylor at NBC regarding Nashville Star airing on NBC in 2009.
UPDATE: John Rich's take on Nashville Star on NBC…
I wouldn't touch 'Nashville Star' with a 40-foot pole," he told The Tennessean. "NBC completely bastardized what country music is about. I thought this was really going to represent country music, put us on a new level. Now, I will tell you, two artists … you will hear from are Melissa Lawson and Gabe Garcia. Those two acts were the saving graces of that show." Source
Rich says once NBC began airing the singing competition, they insisted on infusing the show with pop music. "We've got a guy named Kenny Chesney who's 40 years old, who's an east Tennessee hillbilly who sells 80,000 tickets a show," Rich said. "We don't need the other people's music to make us cool enough to listen to." Source