This post may contain affiliate links. If you buy thru these links, we may earn a commission at no additional cost to you.
---

Yay… Hockey is back! And I, for one, cannot WAIT to go to some Nashville Predators hockey games this season.
I'm not a diehard hockey fan… but close.
I wasn't crushed that the hockey season was called off last year… more bummed.
However, once the cold winter months arrived in Nashville last year, THAT's when I really felt the impact of "no hockey".
So I'm thrilled that there's gonna be NHL hockey this year, but with a few changes… Here are some of the new rule changes for the 2005/2006 hockey season. Should make for a more interesting game!
2005-06 NHL Hockey Rule Changes
Kinda Makes You Go Hmmmm…
It's always been interesting to me that some of the most brutal, elbow-punching, head-butting, stick-waving, toothless men in sports are also some of the NICEST, most generous, community-oriented, family men in town.
I don't know if it's like this in ALL cities with a pro hockey team or not, but Nashville's Barry Trotz is a coach who sets a great example for his team in terms of going above and beyond for local charities and being there for the kids in this community.

The Nashville Predators players have always been very approachable and well-respected sportsmen around here.
These guys are all a bunch of teddy bears in "real" life (more like "gentle giants" — especially to the kids in the community). Which is probably one of the things I like best about hockey: the interesting dichotomy of a hockey player's vengeful attitude on the ice, compared to his super sweet, well-respected lifestyle off the ice.
So when I sit here thinking of hockey returning to Nashville, I get all warm inside… like it's winter already and Preds hockey is the roaring fire inside that makes everything alright.


Hockey's back… hockey's back… hockey's back… I say, bring it on!
Hockey Goal Sound (horn)
The Price You Pay For Hockey
Unfortunately, we STILL probably won't be buying season tickets though… can't afford it. Ticket prices range from $10 to $85 (per person!), but in the three years we've been trying, we can't ever score a $10 or even an $18 ticket at the GEC.
Believe it or not, our first year in Nashville, Jim "surprised" me with season tickets to the Preds games — at a price of $1,800 for the two of us! (…um, Hello???) And that was only for HALF the season (16 games). Yeah, they were pretty good seats (Sec 103, Row H), but not GREAT seats.
At $55 each per game, whenever we couldn't attend, we were literally throwing away $110 (…and yes, we missed a few). Fortunately, the Preds have a great ticket exchange program: If you miss a game, just trade in your unused ticket for a different game — their choice, not yours, and you're usually up in the nosebleed-section. Plus, sometimes those games didn't fit our schedule either.
It's a good thing that we enjoy watching Preds Hockey on TV just as much as in person. These days, we usually head to a sports bar in town, or simply crank up the volume on our own TV and get our hockey on that way.
Predators Hockey Seating Tips

If you do buy season tickets, consider this: We lucked out by choosing seats 2 and 3 — basically rendering seat #1 useless the entire season, thus we always had a coat rack! The seats in the GEC are CRAMMED close together… and since we both have VERY long legs, this was a huge plus.
Seats on the ice actually aren't that great for viewing the game. They're good for photo ops and close-up opportunities when things happen right in front of you, but for the most part, you can't see much of the game — unless you watch the game on the Jumbo-tron overhead, that is.
Section 303 is the rowdiest section in the place! We've considered joining "the Preds hockey cult"… maybe NEXT year.
Some might consider the Bud Light Party Zone (where a different band plays loud tunes at each game, sections 109-112) the best place to watch a Preds game. Haven't tried it yet, but those seats come at a price: $85! In my humble opinion, the entire ARENA is a party zone at a Preds game, and you can see the band better from a distance.
Predators Fun Stuff

Nashville Predators Wallpaper — check out these high-quality images for use as desktop wallpaper on your computer!
Nashville Predators Screensaver — not just ANY screensaver… this one's an interactive hockey screensaver!
Nashville Predators Goal Horn — click to hear what it sounds like in the arena whenever the Preds score a goal!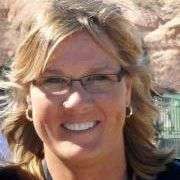 We moved from Florida to Tennessee in 2001. All signs point to the fact that we will probably retire here — by choice. We L O V E Nashville! Our favorite places to live are just south of the City — we've had houses in Brentwood, Franklin, and Spring Hill. And we have properties in Leipers Fork, Cookeville, and Lewisburg. This site is where I share my best tips for moving your family to Nashville and/or visiting Nashville for the first time — with the ultimate goal of helping you find fun things to do in Williamson County and Davidson County. When I'm not out & about enjoying the Nashville area, you'll find me at the corner of Good News & Fun Times as publisher of The Fun Times Guide (32 fun & helpful websites). To date, I've written over 500 articles on this site! Many of them have upwards of 100K shares.