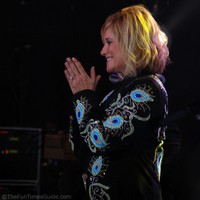 Who knew that Maureen McCormick could sing?! I mean, other than watching her, as Marsha Brady, perform with her Brady Bunch siblings as The Silver Platters… (Remember that episode?)
I guess she's had a lot of private pain that she finds solace singing and writing about.
The only thing I knew about was her weight gain — and loss — that was documented on Celebrity Fit Club recently. (That show was a trip!)
Last week, at the taping of the season finale for CMT's "Gone Country" took place at the Wildhorse Saloon in Nashville. Maureen McCormick competed with 6 other celebrities to see which one will be awarded a country music contract.
Some videos of Maureen McCormick performing
...