This post may contain affiliate links. If you buy thru these links, we may earn a commission at no additional cost to you.
---
Are you a bargain shopper? I am.
Some people bargain shop out of necessity. Other people bargain shop for the sheer thrill of finding an awesome deal.
Regardless of why you bargain shop, did you know there are great places in Franklin to find amazing deals?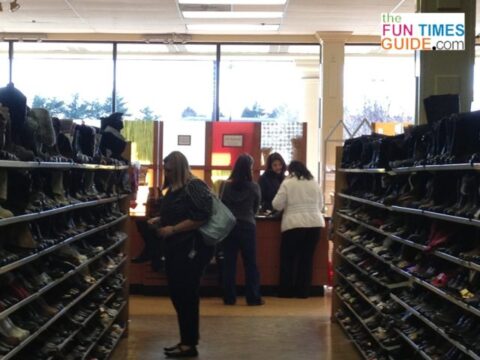 My family and I are huge into saving money.
Bargain shopping is on our list of musts when it comes to managing our finances.
We recently took a family trip into Franklin to find the best places to bargain shop.
Here are our top 4 picks:
104 Southeast Parkway
Franklin, TN 37064
(615) 794-9055
Mon – Sat; 9AM to 4PM
It's almost hard for me to call GraceWorks a thrift store because it's got a boutique feel.


Even though it's located inside a warehouse, once you step inside it's so well decorated that it is easy to forgot you're in a thrift store.
When you enter the warehouse, make a quick left and you will find the women's clothing area.
This room is entirely dedicated to gently used women's clothes, shoes, handbags, and jewelry. The items are organized according to garment type (pants, shirts, jackets, etc) and size. There is an adjoining room for men and children's clothes as well.
They also have a high-end section where you can find brand names at bargain prices.
I didn't see any garment with rips, holes, or missing buttons. Everything was in great condition.
They sell used furniture and household items across the hall (in the same warehouse).
Everything sold at GraceWorks is donated. The profits generated from the thrift store help fund the GraceWorks ministry. This program "helps supply the basics of life" to those in need.
I am excited to report I walked out of GraceWorks with 2 pairs of slacks and a shirt. All of these items are name brand (Jones New York) and I paid $11.50. My youngest son bought a camouflage Gap Kids jacket for $5. We both walked out very happy!
GraceWorks is by far my family's favorite thrift store in Franklin.
Good To Know Before You Go:
2000 Mallory Lane #210
Franklin, TN 37067
(615) 435-8125
Mon – Sat; 9AM to 9PM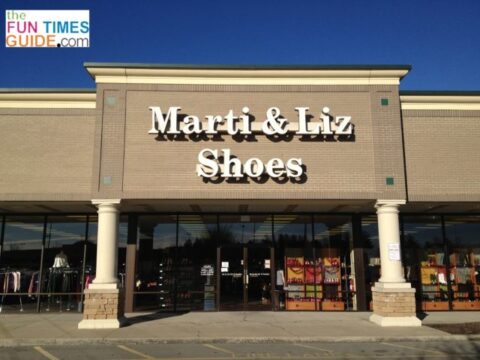 Now this is a shoe store!
Who would have thought that you could find a pair of brand name shoes (Coach, Sperry, Nine West etc.) for about $30? My teenage daughter was in heaven.
Marti & Liz was really busy on the day of our visit, but that didn't stop us from sorting through the huge inventory of shoes.
The shoes are on display shelves and it's a 'help yourself' kind of place. There's no sales associate to hunt down your shoe size in the back for you.
What you see is what you get at this store. Luckily, they have a great selection, especially in women's shoes!
I saw a variety of brand names — from Coach shoes and boots to Sperry boat shoes to popular Ugg boots — all at large discounted prices and in great condition.
They also sell some apparel and handbags in limited quantities.
Since their inventory comes mostly from overstock or overruns, it is subject to change. The shelves are re-stocked daily.
Good To Know Before You Go:
1018 Columbia Avenue
Franklin, TN 37064
(615) 591-9612
Tues – Sat; 10AM to 6PM
Our Thrift Store is a double storefront.
One side is dedicated to used furniture, appliances, and household items. The other side houses clothing and baby items.
This store has a bit of a boutique feel on the clothing side. Once inside, you can walk between the 2 sections without having to exit the store.
There is a good selection of clothing and baby items to choose from.
We spent more time on the furniture side because there were some really nice pieces on the day of our visit. They had a beautiful armoire for sale, and if I could have fit it in my Prius I would have bought it!
There was also a large inventory of appliances on this day.
For me, I enjoyed the furniture/household goods side a bit more than the clothing side, but both are worth browsing.
The store was very busy on the day we visited — which is a good sign, in my opinion.
All items sold in the store are donated. The profits go to the GEAR foundation which helps young adults with disabilities. Not only do they help these folks, but they employ them as well.
Good To Know Before You Go:
1203 Murfreesboro Road
Franklin, TN 37064
(615) 346-1651
Mon – Sat; 9AM to 8PM
Sunday 11AM to 6PM
Most everyone is familiar with Goodwill. They are an organization dedicated to helping people in need find employment.
Goodwill has been around for more than 100 years and has a long history of community outreach.
They completely run on donations of used items which are used to stock their stores.
The main item they sell is clothing. However, they do sell furniture, toys, and other household items as well.
The only issue I have when shopping at Goodwill is patience. Most stores are very large and there is a lot of merchandise displayed. You definitely have to sift through every rack or shelf to find the real bargains.
Once you find something, you then have to examine it thoroughly for damage. Everyone has their preference as to what type of damage is acceptable to them. I for one will not buy any clothes with rips or tears in them. But if there is a button missing or a hemline that needs to be adjusted, I may still buy the item if it's in great condition.
I do the same examination on household items.
My kids do not particularly enjoy Goodwill, but their main excuse is the smell. They say it smells musty. It doesn't bother me though. Goodwill runs a different sale every day and offers Smart Card discounts.
Good To Know Before You Go:
Franklin Tennessee Shopping Tips For Bargain Hunters
I'm a happily married mom to 3 wonderful children: Taylor (13), Gavin (10) and Garrett (8). We recently relocated to the Nashville area from Florida and we're enjoying exploring Middle Tennessee and all it has to offer. My hobbies are: writing, photography, digital scrapbooking, cooking, and all things parenting.