Ask, and you shall receive…
Diana DeGarmo's fans have been the most vocal, requesting to see her photos from the Gone Country taping at Wildhorse Saloon in Nashville.
So here you go…
I have to say, Diana's TV makeup played tricks on the camera a bit.
She looked much better in person than some of these photos depict.
Diana sang a slower song (…I think all of the girls sang ballads). The guys rocked the house, but the girls kept things low-key. Diana kicked it up a bit with some powerful notes and a ton of feeling.
But there was nothing low-key about the audience's roaring applause, and everyone in the balcony gave her a standing ovation at the end of her song.
It was obvious that John Rich sees a lot of promise in Diana DeGarmo. He talked her up big time (not that she needed it), and the big-wigs in the balcony seemed to be overwhelmingly receptive of her as a performer.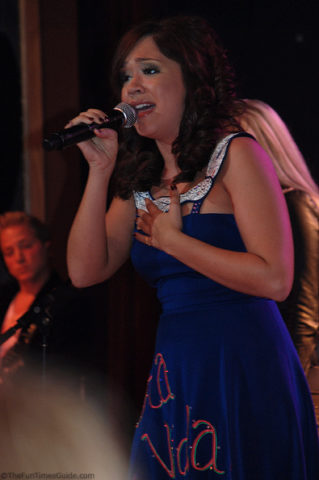 Diana DeGarmo came across as sugar-sweet at the taping for the season finale of "Gone Country" on CMT.
In the end, Diana finished with a bang, as she appeared to have tons of fun on stage after the confetti fell from above, and all 7 celebrities waved guitars with personalized messages on them. (Diana's said "I love ya Momma".)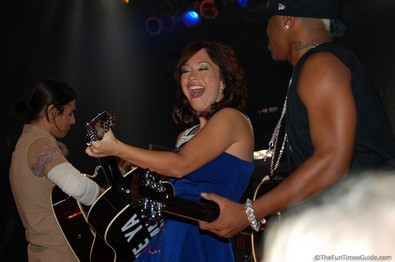 For the record, Diana DeGarmo was the first runner-up on Season 3 of American Idol. It was 2004, and Diana was only 16 years old. The winner that year was Fantasia Barrino.
This video is from the Gone Country taping:
...