This post may contain affiliate links. If you buy thru these links, we may earn a commission at no additional cost to you.
---
Let me just start by saying this: I'm sure the Country Music Hall of Fame is very nice, but I've just never been one who enjoys museums.
I get bored if there's not interactive-type stuff to see and do. Still, in an attempt to "broaden my horizons", I've spent a considerable amount of time in such places. Unfortunately, I'm usually eager to leave long before my friends are. And this weekend at the Country Music Hall of Fame was no exception.
With Jim's parents in town, we thought the Country Music Hall of Fame might be something we'd all enjoy doing together.
Actually, Jim has wanted to go there for some time (partly because he grew up with some of that music, but mostly because he has such an appreciation for all types of music). Me, on the other hand, I'm always up for trying something new, just to be able to say I've done it if nothing else.
Well… I've done it.
The #1 drawback for me: They don't allow you to take any pictures!
I live my life through the lens of a camera, so this was a major boo-hoo for me. I'd rather experience the museum and relive it through my photographs creatively arranged in some manner after-the-fact, than just walk through a facility reading about what others want me to take away from my time spent at this museum.
Now, we did pay extra for the Audio Tour, but I'm overly keen of someone talking in my ear the whole time either. I prefer to make my own experiences and memories than to have someone tell me what's important. This is true no matter where I am and what I'm doing.
So… we spent 4-1/2 hours inching along — at a snail's pace — through the entire 2 floors (each longer than a city block) of the Country Music museum.
Don't get me wrong, I enjoyed and certainly can appreciate looking at all of the musical artifacts and historical summaries of different artists and bands throughout the years. But it doesn't take me that long to see what I want to see, go "Wow!" and move on.
In fact, the ticket man said that most people do the whole thing in about an hour. While, that seems a bit quick (even for me), it sure sounds better than the 4-1/2 hours that it took us!
Check out the "good things" about the Country Music Hall of Fame
What I Learned Today:
Patience is a virtue (…that I haven't got).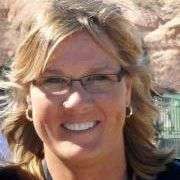 We moved from Florida to Tennessee in 2001. All signs point to the fact that we will probably retire here — by choice. We L O V E Nashville! Our favorite places to live are just south of the City — we've had houses in Brentwood, Franklin, and Spring Hill. And we have properties in Leipers Fork, Cookeville, and Lewisburg. This site is where I share my best tips for moving your family to Nashville and/or visiting Nashville for the first time — with the ultimate goal of helping you find fun things to do in Williamson County and Davidson County. When I'm not out & about enjoying the Nashville area, you'll find me at the corner of Good News & Fun Times as publisher of The Fun Times Guide (32 fun & helpful websites). To date, I've written over 500 articles on this site! Many of them have upwards of 100K shares.