This post may contain affiliate links. If you buy thru these links, we may earn a commission at no additional cost to you.
---
Sopapillas is a New Mexican restaurant in Franklin, Tennessee that somehow slipped past my radar until today.
They've been open for almost 3 years — at the corner of Franklin Road and Moore's Lane. The owner is Steve Dale (the bass guitarist for Little Big Town), who "brings to the south a taste of what he grew up on in New Mexico and Arizona."
Hubby and I have driven past Sopapilla's (and a handful of other restaurants in that shopping center) numerous times saying, "We should stop in there some day and see what those restaurants are like."
Well today was the day. We went to Sopapilla's for lunch. And if I had my way, we'd go back there for dinner tonight. It was that good!
Sopapilla's Franklin: First Impressions
First impressions are everything, and Sopapilla's makes a lot of good impressions:
Fun decor – from the eye-catching tilework inside the front door to the rustic, yet modern decor throughout
Catchy music in the background that is actually upbeat and pleasant to listen to
Friendly staff members who jump to help anyone who happens to be standing near the front door
A restroom with tons of character – Yep, hubby said the men's room had a personality all its own. I forgot to check the ladies room.
Our server was quick, efficient, to the point, happy, and friendly. (Not too chatty, but helpful and knowledgeable about the food, the restaurant, and New Mexican cuisine.)
The food itself even looks great! Words that come to mind as they're delivering simple white plates to tables: fresh, savory, healthy, well-seasoned.
New Mexican cuisine is a fusion of Spanish, Native American and Mexican ingredients and techniques. While familiar items like corn, beans and squash are often used, New Mexican cuisine has its own distinct preparation, ingredients and flavor. The defining ingredient is chile, a spicy chile pepper that is a staple in many New Mexican dishes. Source
Okay, now let's talk about the food at Sopapilla's!…
Food & Drink At Sopapilla's Franklin
Everything had a kick to it — a spicy kick, but not to the point that your lips are burning.
Just the same, everything (except the beef enchilada) was loaded with tons of flavor – super tasty!
We ended up trying 10 different things that were on the Sopapilla's menu.
Here's the order that we would rank them, from top to bottom – and why:
Blue Corn Chicken Taco* – the sweet caramelized onions are what made this so good; plus the texture of the chicken in a hard (blue corn) taco shell.
Grilled Baja Tacos – huge pieces of Mahi Mahi, grilled just right; plus an amazing combination of avocado, corn relish, pico, and baja sauce. Not too "fishy".
Green Corn Tamale* – served on a grilled corn husk, this closely resembled a light & fluffy cornbread… but better!
Chipotle Shrimp Taco* – huge shrimp inside a soft shell taco with some special sauce; it all worked pretty well together.
Chips & Salsa – included FREE as an appetizer, the chips are super light and the salsa is super spicy. It's not a traditional tomato based red salsa like most. It's the best salsa in Nashville!
Black Beans – these are spicy (but not too much) and flavorful; really zesty!
Sopapilla – you get one FREE per person as dessert; sprinkle on some honey and you will be 100% satisfied at the end of your meal!
Shredded Beef Enchilada* – most of the flavor comes from a warm sauce topping (similar to the salsa), but the shredded beef itself lacked any seasoning at all.
Margarita – a little too sweet. I couldn't drink a second one.
Refried Beans – pretty much your basic refried beans.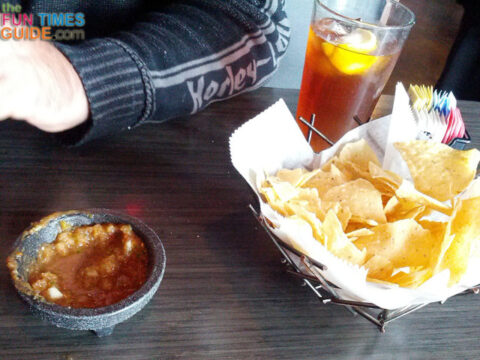 The items with a star (*) made up the Sopapilla Platter — a $17 entre that Jim enjoyed.
I got the Grilled Baja Tacos — a $14 entre that included 2 soft shell tacos with Mahi Mahi in them.
Each of our dishes came with either refried beans or black beans. I chose black beans. Jim got the refried beans.
So, looking at the list above, were the refried beans and beef enchilada really that bad???
NO! Not at all. Every single thing we ate (and drank) at Sopapilla's tasted really good, and we finished every last bite of it. Trust me, our plates were clean! But we had to ask ourselves, "Which of these would be we likely to order again the next time we come? And which ones will we probably skip?" The ones toward the bottom of the list, we'll probably skip.
The beef enchilada and the refried beans weren't all that unique — in flavor or texture. They were closer to what other restaurants serve, whereas the rest of the items we tried were far better than anything we've had at other restaurants.
In the end, hubby and I both left there feeling full and satisfied, but not stuffed like we usually do when we eat Mexican food. It was such an enjoyable dining experience, we cannot wait to go back!
Must read: How to make sopapillas yourself.
Other Great Things About Sopapilla's Franklin
As soon as I told our server that we hadn't been here before and asked for his personal recommendations, he seemed so happy to be able to help in that way. He pointed out the most popular dishes, his personal favorites, and told us a little bit about authentic New Mexican cuisine.
Folks from New Mexico are really picky about their peppers. Hatch, New Mexico is chile central. And not just any chile; Hatch chiles are green and large, similar to an Anaheim. The meaty flesh is usually roasted and the heat runs from mild to hot. You need the right green chiles to make New Mexico cuisine, which is one of the reasons the owners of Sopapilla's have shipped in hundreds of pounds of Hatch chiles for their venture. Is it chile hype or can you taste the difference? Source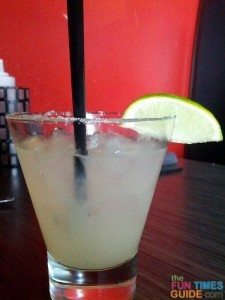 Our server also told us that they use all local ingredients at Sopapilla's, and they make everything fresh in the morning (like the salsa and sauces).
So tell me, who has a better Happy Hour than this?… Monday thru Friday: 11AM to 6PM. And Sunday: all day! So, from dinner til closing is the only time that it's not Happy Hour at Sopapilla's. I don't exactly know what their Happy Hour consists of, but I do know that it includes $5 margaritas (instead of the usual $8 menu price).
They also have a gluten free menu and a pretty good drink menu.
You can make reservations at Sopapilla's, and they also have a VIP room for private parties.
They say the outdoor patio is hoppin' in the summertime, and I can imagine! There's also an indoor bar, and plenty of seating inside.
When we went (during lunchtime on a chilly Wednesday in February), it was a very low-key and comfortable atmosphere inside. There seemed to be a lot of business lunches taking place because several parties of 2 lingered at their tables chatting long after they had finished eating.
In fact, the Franklin, TN Sopapilla's has become so popular that they're opening a second Sopappila's in Hendersonville, TN in a few weeks.
Must read: Others' reviews and favorite food recommendations at Sopapilla's.
A Little Bit Of A Bummer…
There are only 2 downsides to Sopapilla's that I can think of:
Sopapilla's is located in on the end corner of the strip mall, and parking spots are few and far between on that particular end.
Your best bet is to park somewhere near the middle of the strip mall and walk a little bit. It's not a long walk, trust me. It's just misleading when you're passing up good parking spots to get to the last building on the lot (Sopapilla's) only to find, "Whoops, there are no parking spots on this end!"
As for the prices… Personally, I would pay these price for authentic New Mexican cuisine from Sopapilla's every day, but most people probably wouldn't. Still, it's clear that in Franklin Tennessee people will pay good money for good food… anywhere. So I'm sure Sopapilla's will do just fine with their current menu and prices.
Must read: Sit, Sip, and Savor: 101 Minutes At Sopapilla's
Sopapilla's | Tennessee Crossroads | Episode 3147.3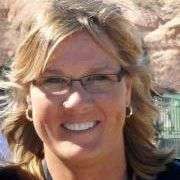 We moved from Florida to Tennessee in 2001. All signs point to the fact that we will probably retire here — by choice. We L O V E Nashville! Our favorite places to live are just south of the City — we've had houses in Brentwood, Franklin, and Spring Hill. And we have properties in Leipers Fork, Cookeville, and Lewisburg. This site is where I share my best tips for moving your family to Nashville and/or visiting Nashville for the first time — with the ultimate goal of helping you find fun things to do in Williamson County and Davidson County. When I'm not out & about enjoying the Nashville area, you'll find me at the corner of Good News & Fun Times as publisher of The Fun Times Guide (32 fun & helpful websites). To date, I've written over 500 articles on this site! Many of them have upwards of 100K shares.