This post may contain affiliate links. If you buy thru these links, we may earn a commission at no additional cost to you.
---
Here's a growing collection of photographs of singers and songwriters that we've crossed paths with in some musical setting — like at the Bluebird Cafe, or the Grand Ole Opry, or even at a Rock Concert!
Some are up-and-comers. Most are already famous for one or more hit songs.
Steve Seskin On Keyboard At The Bluebird


Steve Seskin (who's had megga hits by Tim McGraw, Kenny Chesney, John Michael Montgomery, and Mark Wills) just happened to be in the audience on this night at the Bluebird, so Vince Gill invited him to come up on stage. He played Phil Vassar's keyboards while he sang the song "Grown Men Don't Cry" that Tim McGraw made a big hit.
Matt King And Vince Gill At The Bluebird Cafe


Vince opened up the whole show to other songwriters he knew who were in the audience at the Bluebird on this night. Here, Matt King was invited to sing a song or two.
Michael Peterson At The Bluebird


Michael Peterson was a guest of Vince Gill. He performed his song, "Right About Now" at the Bluebird Cafe in Nashville, Tennessee.
Jimbeau Hinson Puts His Heart & Soul Into It At The Bluebird


Jimbeau Hinson really puts everything he's got into his performances!
Jimbeau Hinson At The Bluebird Cafe In Nashville


Jimbeau Hinson met Loretta Lynn when he was only 14. She introduced him to her manager and publishers the Wilburn Brothers, who signed him on the spot. Since then, he has followed his own path… where he follows the beat of a different drummer! On this night, he was the headliner at the Bluebird Cafe in Nashville.
Marc-Alan Barnette At The Bluebird Cafe


Along with his former backup singers, The Kinley's, Marc-Alan Barnette has opened concerts for the likes of Garth Brooks, Patty Loveless, John Anderson, Tanya Tucker, Charlie Daniels, Confederate Railroad Cheap Trick, Ricochet, and many others.
Jennifer Hicks & Some Nashville Stars At The Bluebird


At the end of the night, after all of Jim Reilley and his friends had sung their songs, told their jokes, and strummed on their guitars, one of the singer/songwriters (Jennifer Hicks) presented Jim with a cake on this, his 40th Birthday. I bet Jennifer could never have guessed that just 3 years later, she'd be one of the Top 5 finalists on the hit singer/songwriter talent show called Nashville Star!
Whisperin' Bill Anderson At The Grand Ol Opry


This guy's a classic… a frequent performer at the Grand Ole Opry in Nashville. Whispering Bill Anderson was one of the "legends" we saw this night.
Eric Heatherly At The Grand Ol Opry


Eric Heatherly in his shiney Manuel jacket at the Grand Ole Opry – Nashville, Tennessee.
Sara Evans At The Grand Ol Opry


Sara Evans ("Born To Fly") also performed at the Grand Ole Opry this night.
BR-549 At The Grand Ol Opry


Believe it or not, the Grand Ole Opry shows which are filled to the brim with 2-1/2 hours of live performances also feature an "opening act" during the summer months. Just outside the Opry auditorium, at the band shell, lesser-known bands perform for the crowd waiting to enter the Opry. We saw a local fave: BR-549 one night. They are "Country's most explosive hillbilly band."
Jamie O'Neal At The Grand Ol Opry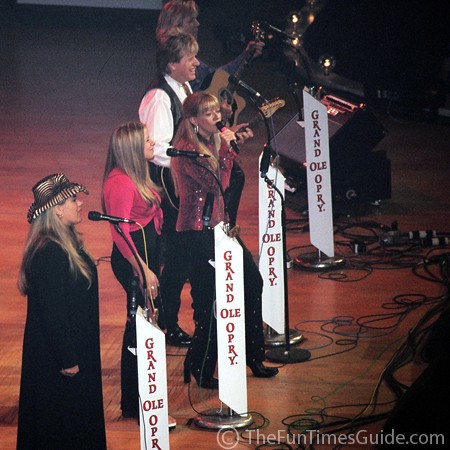 Jamie O'Neal was another up-and comer who was topping the charts with "When I Think About Heaven, I Think About You". This was Jamie's Opry debut.
Charley Pride At The Grand Ol Opry


Charley Pride ("You've got to kiss an angel good morning") was one of the legendary talents at the Grand Ole Opry this night.
Pam Tillis At The Grand Ol Opry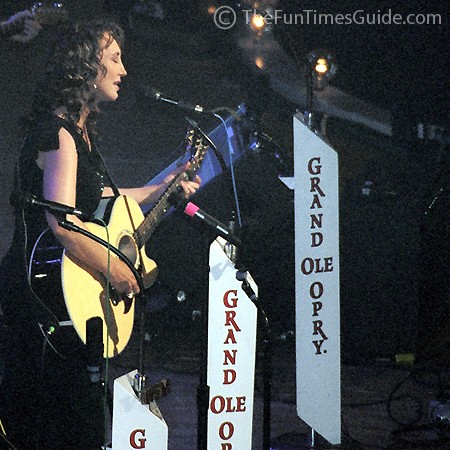 Pam Tillis (daughter of Mel Tillis) performed at the Grand Ole Opry in Nashville, Tennessee.
Mark McGuinn At The Grand Ol Opry


Mark McGuinn ("Mrs. Steven Rudy") made his Grand Ole Opry debut on this night. Pitiful update: We saw him 2 years after this at a free outdoor concert, and there were only a handful of people sitting around the stage listening to him sing. It was so sad. We've also seen him quite a few times out and about – like at the movie theater & restaurants.
Brad Paisley At The Grand Ol Opry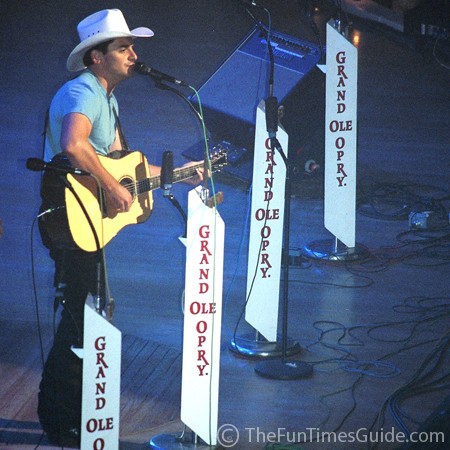 We were surprised to see then up-and-comer, Brad Paisley at the Grand Ole Opry.
Jimmy C. Newman At The Opry


Jimmy C. Newman is also known as "The Ragin' Cajun" and we've seen him a couple of times at the Grand Ole Opry.
Hal Ketchum Wins Award From The Opry


Hal Ketchum has had 15 Top Ten hits, countless songwriting awards, and was inducted into the Grand Ole Opry in 1994.
The Whites At The Grand Ol Opry


If there's one group of singers who's at the Opry even more than Little Jimmie Dickens… it's The Whites!
Mark Wills At The Grand Ol Opry


We were lucky to find so many "big names" all performing at the Grand Ole Opry on the same night! Here, Mark Wills is performing his song "Don't Laugh At Me" at the Opry.
Tammy Cochran At The Opry


Tammy Cochran ("Angels in Waiting") was one of many up-and-comers this night at the Grand Ole Opry.
Bubba's Stand Up Routine At The Grand Ol Opry


T. Bubba Bechtol is a down-to-earth humorist whose quick wit crosses all regional, gender, generational and class lines. Though he comes across as down-home Country.
Mandy Barnett At The Grand Ol Opry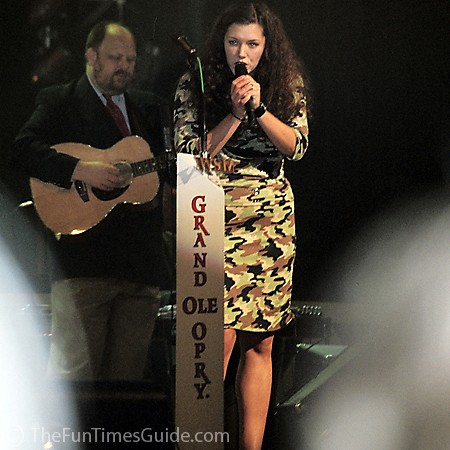 Mandy Barnett was a young girl with a big voice!
Radney Foster At The Grand Ol Opry


They call Radney Foster "a songwriter's songwriter"… He got a very unique style.
Shannon Brown At The Opry


Shannon Brown was a new artist, and this was her Opry debut.
Porter Wagner At The Grand Ole Opry


Porter Wagner and the Grand Ole Opry backup singers. He's a regular at the Opry, frequently hosting the show. And he always wears a lot of glitter and glam. Porter Wagner may be most famous for his glittering rhinestone stage costumes.
Chad Brock Takes Center Stage At The Fair


The other "star of the show" was Chad Brock at the Beulah Sausage Festival near Pensacola, Florida. He's a University of Florida grad who's mostly famous for his hit, "She Said Yes!" Years later, we also saw him at the Bluebird Cafe after we moved to Nashville.
Kenny Wayne Sheppard At A Festival


When we lived in Pensacola, we drove an hour to Mobile, Alabama to attend their annual music bash called Mobile Bayfest. The first person we saw was Kenny Wayne Sheppard. Jim has enjoyed his music for years. He's a reknowned guitar player for his youth.
Lionel Cartwright at Bellevue Community Church


Lionel Cartwright is a remarkable singer, songwriter, musician, and performer.
He is the full-time music leader at Bellevue Community Church, and he frequently writes "hit songs" on the spur of the moment — for the purpose of illustrating a particular point that Pastor Dave might be talking about on a given week. Even more remarkable than that is the fact that he can play virtually ANY instrument, and he's self-taught at them all! (Check out Lionel's bio.) We are privileged to see him play everything from the acoustic guitar to steel guitar, or the mandolin and drums at BCC each week. Our favorite is to watch Lionel work his magic on the keyboards. He plays with such passion, it resembles the incredible fingerwork of master keyboardist, Phil Vassar.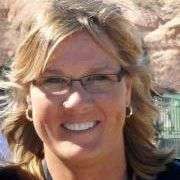 We moved from Florida to Tennessee in 2001. All signs point to the fact that we will probably retire here — by choice. We L O V E Nashville! Our favorite places to live are just south of the City — we've had houses in Brentwood, Franklin, and Spring Hill. And we have properties in Leipers Fork, Cookeville, and Lewisburg. This site is where I share my best tips for moving your family to Nashville and/or visiting Nashville for the first time — with the ultimate goal of helping you find fun things to do in Williamson County and Davidson County. When I'm not out & about enjoying the Nashville area, you'll find me at the corner of Good News & Fun Times as publisher of The Fun Times Guide (32 fun & helpful websites). To date, I've written over 500 articles on this site! Many of them have upwards of 100K shares.