This post may contain affiliate links. If you buy thru these links, we may earn a commission at no additional cost to you.
---
Sixth Avenue Skatepark is located in the heart of downtown Nashville. This park offers indoor and outdoor skating areas, but it is better known for its indoor facility.
If you have skateboard, scooter, or BMX enthusiasts you'll want to check this park out!
I have two boys Gavin (11) and Garrett (9) who love skateboarding and scootering.
We have our favorite outdoor skateparks that we frequent, but the boys really wanted to find an indoor skatepark.
While surfing the Internet, they came across Sixth Avenue Skatepark in Nashville. They were begging and pleading for me to bring them, but they actually got invited to go there for a birthday party. Perfect!
Before You Go…
This being our first visit, we only brought skateboards, helmets, and knee pads. We did not know that Sixth Avenue allows inline skates, scooters, and BMX bikes at all their sessions (otherwise I would have brought their scooters too).
Each session is a 3-hour block.  If you are a regular paying customer (not there for a birthday party), they charge $8 for a session or $5 for a 1-1/2 hour session.
If you are an avid skater, it might be worth it to invest in their monthly plan — which is 30 days of unlimited skating sessions for $40.
There are lockers on-site for storing your personal belongings. (There is a small fee.)
What is required:
Helmets MUST be worn at ALL times while skating. If you don't have a helmet, you can rent one from their on-site pro shop for $2 (no time limit).
A waiver MUST be filled out by a parent or legal guardian in front of an employee OR filled out and notarized prior to visiting the skatepark.
What is optional:
Knee/elbow pads. (HINT: knee pads are highly recommended.)
What 6th Avenue Skatepark Is Like
My boys were in skateboarding heaven and did not know what to ride first. They are not beginners, nor are they anywhere near expert level. They love skating but are cautious about it — which I greatly appreciate. So while they are in awe of the half pipe, they chose to skate the open ramp area the majority of the time.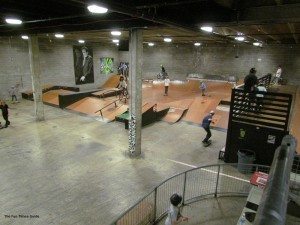 The open ramp area is large and it can get very busy. What I noticed though was that the skaters kept a very good eye on who was getting ready to skate and where  exactly they were skating. Every once in a while it looked like there was about to be a skater collision, but it didn't happen that day. (Collisions and falls do happen, don't get me wrong.) I don't know how they avoided one another, but I was impressed. The open ramp area has several ramps, quarter pipes, grind rails, stairs, a fun box, grass gap, and a lot of areas to hang and watch others skate. My boys had loads of fun skating and observing.
The half pipe is next to the open ramp area, and we watched many skateboarders ride it. My boys — along with the other boys from the party — did not exactly feel comfortable skating the half pipe, even though they really wanted to. A few of them sort of attempted to ride it, but gave up fairly quickly and then used the half pipe as a super slide. They did not slide while others were skating, but it was a funny sight to see the half pipe used that way.
There is also an area upstairs dedicated to hanging out and watching the skaters — which is where I camped out. I enjoyed being able to view both skating areas from one spot. They allow food and drinks in this area and also provide tables and chairs.
Food and beverages can be bought at the cafe located inside Sixth Avenue Skatepark. I only bought drinks that day, but there were several people eating and ordering food. The cafe area also has comfy couches and a pool table; people were hanging out and relaxing.
Even though the kids were exhausted from skating inside, we did venture outside just to see what is out there.  This fenced in and lit area has a unique Gatorade ramp, some quarter pipes, grind rails, and a bench shaped like a skateboard. The kids spent only a few minutes skating outside but still loved it.
A Mom's-Eye View
My two cents: The music is pumping loud a good portion of the time, but this facility is very family friendly and I did not hear anything offensive.
All levels of skaters are welcome and the more experienced seemed to look out for the less experienced.
My boys had a great time and could not stop talking about Sixth Avenue Skatepark. We will definitely come back, and next time we'll bring scooters!
It's a great place for Birthday parties. They also have private skateboarding lessons and private rental opportunities.
Sixth Avenue has a skate team (which is full right now). However, if you do have a demo video, you can post it to the Sixth Avenue Skate Park Facebook Page.
Hours vary but can be found on the Sixth Avenue Skatepark website and Facebook Page.
Here are 2 videos that I took of my boys enjoying Sixth Avenue Skatepark:
Sixth Avenue Skate Park - Nashville
Sixth Avenue Skate Park in Nashville - Half Pipe
Fun Freebies At Sixth Avenue Skate Park
Girls skate FREE (all the time).
Report Card Sessions: get all A's & B's on your report card and get one FREE skate session!
Skate Church: every Tuesday from 7:30 – 9 PM Sixth Avenue holds a 15-20 minute bible study/discussion, then everyone skates together. (This FREE activity is open to everyone.)
Sixth Avenue Skatepark
601 Fourth Avenue South
Nashville 37210
(615) 843-4006
I'm a happily married mom to 3 wonderful children: Taylor (13), Gavin (10) and Garrett (8). We recently relocated to the Nashville area from Florida and we're enjoying exploring Middle Tennessee and all it has to offer. My hobbies are: writing, photography, digital scrapbooking, cooking, and all things parenting.