---
In writing about our personal experiences, we sometimes mention products & services that we use or recommend. This page may contain affiliate links for which we receive a commission.
A few years ago, I made the switch from a commercial, store-bought dog food to a private label natural dog food that's made in the USA and delivered to my home… for FREE!
Why? Convenience. Price. And natural ingredients!
5 ways to cut that doggone pet food tab: Set up a subscription online to get your pet food delivered to your door automatically on a regular basis. Amazon.com, PetFoodDirect.com and Dog.com all offer discounts for that service. Source
I first heard about Nature's Select dog food when a friend of ours found out his dog had food allergies. He switched from Blue Buffalo to Nature's Select and had good results.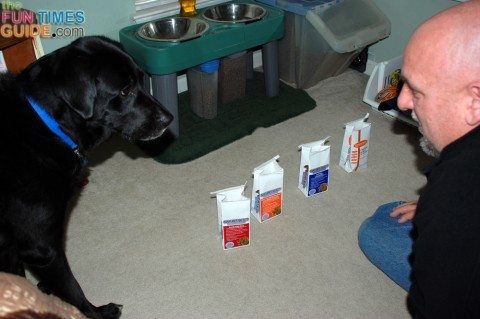 That alone got my attention.
These were a bonus:
Nature's Select Super Premium Pet Food uses the freshest and finest ingredients available. We use whole meats, whole ground rice and natural preservatives like Vitamin C & E and Rosemary extract. We never include any by-products, corn, wheat or chemical preservatives. Our dog food and cat food formulas are highly digestible to provide maximum nutrition for your pet. All our recipes are formulated to exceed the nutritional levels established by AAFCO dog food nutrient profiles for all life stages. Even better, we carry the big bag for you, and the delivery is free! —Nature's Select
My Favorite Dog Food
Before

Was Nutro Natural Choice

Up until now, my dogs have always eaten Nutro Natural Choice dog food.

They would start on the Nutro puppy food and then grow into the Nutro Lamb & Rice and/or Nutro Large Breed Adult. Our oldest dog eventually switched to Nutro Senior dog food.

Long story short: after trying lots of different brands of dog food through the years (and with many different dogs), I was genuinely thrilled with my decision to serve my dogs Nutro dry dog food. This lasted for many years.

I still recommend Nutro as one of the best commercial dog food brands available today.
My Favorite Dog Food
Now

Is Nature's Select

Fast forward to July 2009 when I decided to try Nature's Select for the first time.

I called the company and asked for several small sample bags of their food for my dog to try.

I told them what my dog had been eating (Nutro Natural Choice), along with the minor issues that Nutro had always helped me avoid:
Dry skin – since it moisturizes your dog's skin from the inside out
Brittle coat – since it makes your dog's coat thick and shiny
Excessive pooping – since it's a nutrient dense food
Spending a fortune on dog food – since it's cost-effective
They recommended Nature's Select Salmon & Potato and/or Nature's Select Chicken & Beef w/Salmon Oil & Sunflower Oil.
I tried samples of those, along with a few others.
Then I let my dog do the choosing…
I decided to order both of the foods that the folks at Nature's Select initially recommended.
I keep them in 2 separate food bins, and put 1 scoop from each bin into my dog's food bowl daily.
That's what he's been eating for the past 4 years!
I no longer buy dog food at the store. I no longer carry large bags of dog food from the store to my car, and from my car into the house.
Nature's Select has been a very welcomed change in our household. I highly recommend you try it!
REFERRALS: If you decide to try Nature's Select dog food, tell them you read this review on The Fun Times Guide and I will receive a small discount toward a future order. The same is true for you too! If others try Nature's Select after you've told them about it, then you get a discount on a future order — because personal referrals are the best way to build a business like this.
UPDATE! You can now use coupon code FTG20FN to receive 20% off your very first order of dry food at Nature's Select of Middle Tennessee!
My Dog Loves Nature's Select
Tenor has been on Nature's Select continuously since that time.
He's a 100-pound Great Pyrenees / Black Lab.
We place an order for two different 30-pound bags every 4 to 5 months.
The prices are similar to what I was paying for the same quantities of Nutro dog food every 4-5 months. So I look at it as a win-win for me… and my dog!
Here's a price comparison chart showing of other dog food brands vs Nature's Select dog food. (Notice the size of the bags when comparing prices. Also, my local Nature's Select gives us a small discount when purchasing large quantities — such as the two 30lb bags I order each time.)
Other Reasons I Like Nature's Select
I like that I can call any day, any time and they'll deliver it to my door on the following Thursday.
They'll deliver it in sealed 30lb dog food bags (just like you'd buy it in a pet store), if you like. Or, they'll transfer the exact amount — by weight — directly into your own bins or containers, if you leave them on the porch the morning of the delivery.
And if it looks like rain on the day they deliver your dog food, they will place a separate large plastic bag over the top of the food bag (or bin) to keep it dry.
They guarantee everything about their dog food:
If your dog doesn't like it, you get a full money back refund or exchange, whichever you prefer.
The food is also guaranteed fresh for at least 8 months from the day it's delivered. (If you buy in large quantities like me, then you know this is a good thing!)
According to Jeff, my local Nature's Select distributor…
The shelf life for an unopened bag of Nature's Select food is 1 year from the date of manufacture. The food is typically less than 2 months old when it's delivered so the shelf life would be up to about 10 months. [There's a money-back guarantee of freshness for 8 months from the date you received it.]
Nature's Select Dog Food Ingredients
With this list of the best & worst dog food ingredients in mind, I like how closely Nature's Select dog food matches the ingredients in "the ideal dog food" that I've personally been searching for for a long time.
Nature's Select dog food:
Following are the ingredients in the 2 Nature's Select dog food products that I buy regularly:
Click to view the full ingredients list
CHICKEN & BEEF W/SALMON OIL and SUNFLOWER OIL
20% Protein 8% Fat
Contains cranberries & blueberries
Rice- free for dogs that are allergic
An ideal food for all stages of your dog's life
22% Protein 12% Fat
Formulated for dogs with allergies, poor skin and coat, and sensitive digestion
Wild Alaskan Salmon is a cutting edge natural protein source that promotes healthy skin and coat
Sweet potatoes are excellent carbohydrates and a great source of potassium
UPDATE: I recently switched from the Chicken & Beef with Salmon Oil and Sunflower Oil to Chicken & Rice with Glucosamine because my dog is starting to show signs of joint pain and early arthritis in one leg due to the fact that he had TPLO knee surgery a few years ago. He really likes it! And I really like the extra boost of Glucosamine!
CHICKEN & RICE WITH GLUCOSAMINE
22% Protein 10% Fat
Formulated for dogs that need to manage weight & receive supplemental glucosamine for their joints
Easy to digest chicken meal protein and glucosamine HLC dietary supplement provide a tasty meal with the added benefit of joint rehabilitation and support
A Word About Dog Food Delivery In Nashville…
Their customer service is top-notch!
I've always been super impressed by Jeff and Shani Duncan (the owners of Nature's Select of Middle Tennessee), as well as their office assistants and delivery drivers, who I've spoken to a few times.
They definitely go above and beyond to help you in any way possible — whether it be deciding on a food, changing foods, scheduling deliveries, reminding you of your next delivery, giving discounts, and more.
Because we don't have the overhead of a retail store, we're able to offer free home delivery for the same price or less that you'd pay at a pet supply store. People usually like the food first because it's holistic, and then they get spoiled with the delivery. We also keep up with your order history, so after an order or two, we can tell when you might be running low and we can send you an order reminder. It's one less thing you have to remember. Plus, we don't have any contracts or hidden fees because we know your schedule or your pet's diet may change. —Jeff Duncan
If you live in Middle Tennessee, check these out:
Don't forget… Thanks to Jeff and Shani, you can now use coupon code FTG20FN to receive 20% off your first order of dry food through Nature's Select of Middle Tennessee!
Good News!
Nature's Select dog food delivery isn't just a Tennessee thing.
No matter where you live, you can find Nature's Select distributors in your area.
Plus, Nature's Select of Middle Tennessee will mail dog food to anywhere in the U.S. (shipping charges would apply).
We moved from Florida to Tennessee in 2001. All signs point to the fact that we will probably retire here — by choice. We L O V E Nashville! Our favorite places to live are just south of the City — we've had houses in Brentwood, Franklin, and Spring Hill. And we have properties in Leipers Fork, Cookeville, and Lewisburg. This site is where I share my best tips for moving your family to Nashville and/or visiting Nashville for the first time — with the ultimate goal of helping you find fun things to do in Williamson County and Davidson County. When I'm not out & about enjoying the Nashville area, you'll find me at the corner of Good News & Fun Times as publisher of The Fun Times Guide (32 fun & helpful websites). To date, I've written over 500 articles on this site! Many of them have upwards of 100K shares.