This post may contain affiliate links. If you buy thru these links, we may earn a commission at no additional cost to you.
---
During a recent facial at the spa, I got into a discussion with my skin care specialist regarding my decision to return to school to pursue an Associate Degree. She was surprised to learn that my tuition would be FREE through the Tennessee Reconnect Program.
She was born and raised here in Tennessee and never heard of it, but she was certainly intrigued at the idea of earning a free college degree part-time — to expand on her cosmetology license.
I thought I should write about my recent enrollment for the fall semester to help spread the word about tuition-free college in Tennessee...
My Career
I'm a full-time, stay-at-home, work-from-home mom who decided to return to school as an adult.
Just over 2 years ago, I walked away from my career with Harley-Davidson a few months before my son was born. It was scary to leave my career so late in the game and commit to "being there" full-time to my baby boy, who would enter this world 3 days after my 39th birthday.
Two years later and still fully committed, it is the best decision I ever got the privilege to make. I have even discovered ways to make money — on my own terms and my own schedule.
Now, I'm at the point though that I feel it's time to start thinking about what I will do once my son starts school and I re-enter the workforce. Most importantly, I want the flexibility to pick up and drop off my son at school once he starts. I also want the ability to be there for him and his interests — because I don't want to miss a thing.
Going back to my Harley-Davidson career is not an option because of the long days and weekend hours. I would miss way too much of my son's life as he navigates his way through the school years.
I'm Going Back To School At 40
The idea to go back to school was sparked by a recent conversation with one of my husband's co-workers who was talking about how I would qualify for the TN Reconnect Grant. (See the list of requirements below.)
The light bulbs came on in my head, and I knew that I needed to investigate this idea of learning a new skill set further. With my son being two, I knew I had "a couple of years" to pursue my Associate's Degree before he would be starting school.
I always felt college would be an unrealistic option for me while trying to juggle adulting and our family. But I'm so excited at the prospect of pursuing a formal education — especially when the tuition is free and the time is going to pass either way!
Now that I've enrolled for the fall, here is what I've discovered about the Tennessee Reconnect Program and how to enroll for classes…
TN Reconnect Program Requirements
The requirements (and the enrollment process) are really straightforward.
Basically, any adult over the age of 24 who has established residence in Tennessee for at least 1 year can qualify to get their Associate's Degree (or Technical Certificate) for free — if they don't already have an Associate Degree or Bachelor Degree.
And from what I've been told repeatedly… my only cost will be textbooks, fees, and course supplies.
The TN Reconnect Grant is subsidized by an endowment consisting of excess state lottery funds — so it's not actually costing the State of Tennessee anything.
It's a state initiative to help more Tennessee adults:
Gain new skills
Advance in the workplace
Complete a degree or obtain credentials with higher education
How To Get Free College Tuition In Tennessee
These are the steps I followed to enroll for the fall semester through TN Reconnect:
#1 – First, I visited the Tennessee Reconnect Program website to create a Student Passport online. The TN Reconnect page is also helpful to search for programs that are available to you and find participating colleges near you.
Here's a list of TN Reconnect schools.
#2 – Once I filled out my Student Passport, I was contacted by a TN Reconnect community representative via email instructing me of my next steps. (From this point forward, I became what is known as a "Reconnector" and my personal navigator has reached followed up with me every step of the way.)
#3 – I contacted the community college that I planned to attend for my enrollment instructions.
NOTE: You will want to keep a track of all your login passwords — because there are multiple sites that you will need different log-ins for. My community college login has probably been the most important one — because it contains my Student Dashboard and anything pertaining to "checking boxes".
#4 – Next, I had to complete the FAFSA form (a free application for Federal Student Aid).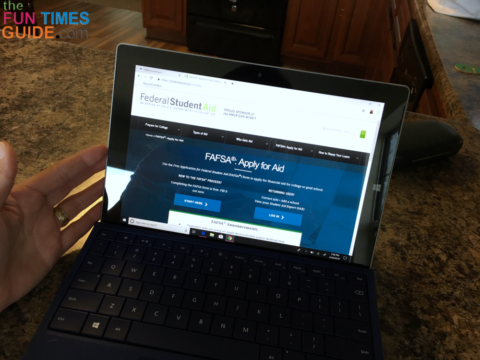 NOTE: All Reconnectors must complete the FAFSA to see what federal aid they qualify for in order to receive the TN Reconnect scholarship funds. The Tennessee Reconnect Program is a "last dollar" grant for adults who want to earn an Associate Degree or Technical Certificate.
#5 – At this point, I had to re-visit and apply for the TN Reconnect Scholarship on a separate website. I went back to the Tennessee Reconnect Program website, and clicked the red bar at the top of the page that says, "Click here to apply for the TN Reconnect Grant." (This is a very important step to actually apply for and receive the funds for a tuition free Associate Degree.)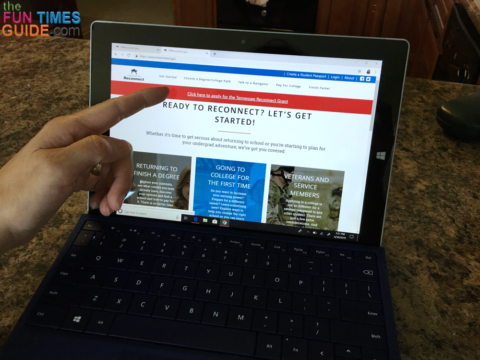 #6 – I gathered all of my contact information from my post-secondary schools and from the high school I attended. I requested all my transcripts to be sent to the community college. I made sure to request all of the transcripts early — since they would be coming from Canada.
NOTE: Any official transcript has to be delivered to your new school in their original sealed envelope in order to be considered "official."
#7 – Apparently, I may also need my immunization information when the time actually comes to go to class. However, since I'll be a part-time student, I may not need to try track them down. Some community colleges only require immunization records for full-time students.
#8 – Once my transcripts were entered by an evaluator, it was easy to see what my next steps were before the April 1st registration date using my Student Dashboard. In my case, 3 of my previous college courses will be applied to my studies and alleviate my course load. Plus, the Accuplacer and Accureader requirements were waived.
NOTE: Some schools ask you to complete an entrance placement test — such as the Accuplacer (especially if you've been out of school for awhile). There are practice tests available online if you need to help refresh your memory.
#9 – Registration for the fall semester became available on April 1st and I met with an Admissions Advisor at a campus closest to my house to sign up for classes. She was able to help me navigate my course load and get me registered for 3 classes for my first semester this fall.
#10 – My next step is to acquire my textbooks. I haven't looked into this just yet, but I plan to purchase used books. I may even research the cost to rent books for college.
The Bottom Line
After 2 full years of being a full-time-mother to my son, I am really excited for this opportunity to learn something that I've always been interested in — not to mention the transition back into an adult world with adult conversations.
I figured 3 courses per semester would be just the right amount of course load while also juggling my household duties.
NOTE: The Tennessee Reconnect Program allows adults to take their time while working on their Associate Degree by only requiring a minimum of 2 courses per sequential semester. (But you can still have the summer semester off.) That number is totally doable if you want to earn your degree part-time while working full time to support other obligations.
I have it set up that I will attend 2 classes in the morning 2 days a week while my son goes to a Parents Day Out program. My third class is an online class (also twice a week) which can be done from home. I have a couple of babysitters lined up to call for backup should I need extra time for homework, errands, etc.
I started my journey back to school in January and classes were open for registration on April 1st — which I was completely prepared for.
If you have ever considered earning an Associate Degree (or a Technical Certificate), I highly recommend you look into the Tennessee Reconnect Program to see if it's a good fit for you. Any day is a good day to start researching, as there will always be another semester on the horizon.
I hope this article helped educate you in your pursuit of a tuition-free college education.
If you don't live In Tennessee, check out this list of tuition free states to see if you qualify for a free college degree in your state.
I'm a first-time mom. I work from home and write — mostly about my outdoor adventures, DIY projects, newly discovered products, and helpful tips as a first-time mom. I also like to share details about the alternative choices I'm exploring, as I enjoy this journey called motherhood. My family includes a toddler, 2 stepchildren, 1 dog, 1 cat, and a wonderful husband. My pre-pregnancy life was full of freedom and adventure, so I have a fresh new perspective when it comes to walking away from a career to become a full time stay at home Mama.