Raise your hand if you're the saddest Country music songwriter in the business.
Yep, the folks at Anheuser-Busch have created a new Bud Light Real Men of Genius commercial.
This one is called Mr Sad Country Song Songwriter, and they've dedicated it to none other than Dierks Bentley — one of Nashville's top singers and songwriters!
[This was a photo I took at the Dierks Bentley Celebrity Motorcycle Ride in Nashville.]
Sad Country Song Humor

You can hear Mr. Sad Country Song Songwriter on Dierks Bentley's myspace page.
And on Dierks Bentley's official website.
Or, have a listen here:
Listen to Bud Light's Real Men of Genius "Dierks Bentley Mr. Sad Country Song Song Writer":
https://franklin.thefuntimesguide.com/files/Bud_Light_Real_Men_of_Genius_Dierks_Bentley_Mr_Sad_Country_Song_Song_Writer.mp3

The words to Mr. Sad Country Song Songwriter:
Today we salute you, Dierks Bentley, Mr. Sad Country Song Songwriter.
(mr. sad country song songwriter)

It takes a brave man to proudly announce your lowest personal moments to the world… in 3-part harmony.
(misery sells records)

Your wife left you, your dog died, and you lost your job… all before the first chorus.
(it never ends with you)

Night after tear-filled night, you share your saddest most private memories with thousands of adoring women in little white tank tops
(things are lookin' up)

So crack open an ice cold Bud Light, Dierks Bentley. Because when you sing about crushed hopes and abandoned dreams, it's music to our ears.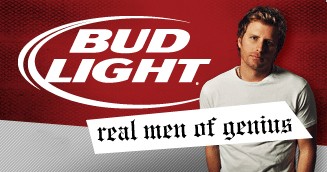 ...