Dierks Bentley
Nashville's Dierks Bentley has a ton of hit songs! He also does a lot of great things in the local community. We've participated in his Miles & Music motorcycle ride and concert event, seen him a few Country Music award shows, and happen to love the Real Men of Genius commercial he did: 'Mr. Sad Country Song Songwriter'. Here are a few of the highlights.
Here are 6 things you should know before you go to the CMA Country Christmas show taping in Nashville.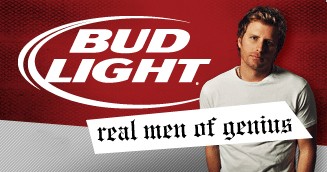 The folks at Anheuser-Busch have created a new Bud Light Real Men of Genius ad. This one's called Mr Sad Country Song Songwriter, and they've dedicated it to Dierks Bentley — one of Nashville's top singers and songwriters! Here is the commercial, along with the words & lyrics.