This post may contain affiliate links. If you buy thru these links, we may earn a commission at no additional cost to you.
---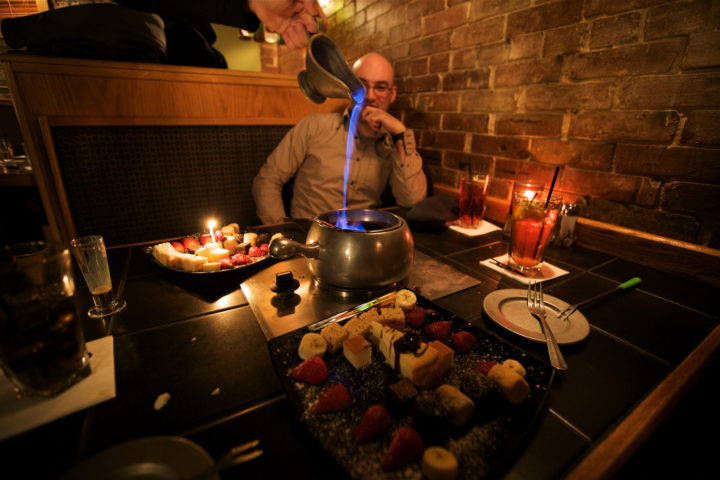 Looking for a romantic evening that includes delicious food (some of which you cook yourself) and a unique atmosphere?
The Melting Pot in Nashville is just that place!
What exactly is fondue and where did it originate, you ask?
Well, the word fondue originated from the French verb fondre, which means "to melt". The act of fondue originated in Switzerland during the 18th century. Peasants took stale cheese and melted it in a communal pot. Then they took hard bread, dipped it into the melted cheese and chowed down. Not only was the cheese much better tasting (once melted), but the hard bread became softer in the hot cheese – it was a win/win.
Fondue today holds those same basic traditions: a communal pot and melted deliciousness; but it has evolved into much more. Fondue is now considered a treat for special occasion rather than a necessity.
Fondue recipes have come a long way too and there is much more than bread & cheese on the menu!
My husband and I were looking for a special place to celebrate our anniversary.
We wanted a quiet restaurant with a romantic atmosphere and great food. He had never tried fondue and it had been years since I'd been to a fondue restaurant, so we both agreed on The Melting Pot in downtown Nashville.
Here's what The Melting Pot is like…
Our First Time At Nashville's Melting Pot
We made our reservations online (very convenient).
It was a Friday night and later in the evening, so traffic was light heading into the city.
I was chivalrously dropped off at the front door as my husband parked in the garage just a few blocks over. (Parking outside the restaurant is limited.)
We walked in together; the lighting was dark yet inviting.  Light music played and we were promptly escorted to our table.
Our table was a booth and we sat across from each other with our fondue cook top between us.
Our waiter arrived and explained fondue (to my husband) then began helping us decide our 4-course meal. There was so much to choose from.
A typical 4-course dinner at The Melting Pot includes:
cheese fondue with veggies and bread for dipping
salad
entrée (which you cook yourself; there are several to choose from)
chocolate fondue dessert with fruits & other goodies for dipping
Big Night Out Themes
The Melting Pot offers a "Big Night Out" which is another way of saying they offer international themes (changing them on a regular basis).
The Big Night Out theme on this night was "Latin America" and the 4-course meal had a Latin flare.
This video from a different Melting Pot restaurant shows the entire process for a "France" theme:
If you go with the theme, then your cheese fondue, salad and chocolate fondue have already been decided. You still get to choose what kind of "cooking style" you want to use for your entrée. If the Big Night Out theme is not what you had in mind, there are traditional options to choose from on the menu.
On our date night, we chose the "Fondue Fusion" which is a 4-course meal. You can go with the Big Night Out theme or choose more traditional flavors; we chose the traditional flavors. For the cheese fondue we originally chose the "Traditional Swiss Cheese Fondue" but the Gruyere cheese was really strong and we ended up switching to the "Cheddar Cheese Fondue" (with no hassle at all). The cheddar cheese was delicious and so were all the fresh veggies and bread we dipped into it!
Next, I had a California salad and my hubby had a Caesar salad. Then came the entrée where you choose the cooking style. We went with "Mojo" because it has a Caribbean flavor and since we really wanted to be in the Caribbean (for our anniversary) but couldn't, this was gonna have to do! The entrée we chose came with lobster tails, filet mignon, shrimp, chicken, pork and ravioli – all of which we cooked ourselves in the "Mojo" bouillon.
Finally the dessert! We chose milk chocolate and had all sorts of wonderful things to dip into the fondue pot: brownies, angel food cake, strawberries, bananas, marshmallows etc.
It was a great evening full of delicious food and conversation.
The Melting Pot is a very relaxed, peaceful and romantic atmosphere. You are not rushed — which is a good thing — because you cannot eat all that delicious food quickly. Plus you'll want to savor it!
The Melting Pot is located at 166 Second Avenue North in Nashville 37201. For reservations, you can go online, or phone (615) 742-4970.
My 2 Cents About Nashville's Melting Pot:
Bring your appetite — especially if you have the 4-course meal. It is a lot of food (and pricey).
You do not have to have the 4-course meal. You can go for just appetizers, dessert, or pick and choose off the menu (which makes it less pricey).
The restaurant caters to late lunches and early to late dinners so they open later than most restaurants do.
They have specials (dinner and a show), club fondue membership, and special events (like Girls Night Out) as well.
If you don't like/care to cook your own entrée (maybe for fear of under-cooking), then skip the entrée and enjoy the cheese, salad and dessert courses.
Vegetarian and gluten-free menu options are available.
While it does have  a romantic date night ambiance, I know my kids would love it too.  There were kids when we went. The act of fondue must have kept them busy because they were awesome.
Why not go for a walk downtown (like we did) after that delicious meal? You will be just a few blocks away from Broadway (where there are lots of honkytonk bars).
Check out The Melting Pot's Facebook page for fun photos and reviews.
I'm a happily married mom to 3 wonderful children: Taylor (13), Gavin (10) and Garrett (8). We recently relocated to the Nashville area from Florida and we're enjoying exploring Middle Tennessee and all it has to offer. My hobbies are: writing, photography, digital scrapbooking, cooking, and all things parenting.