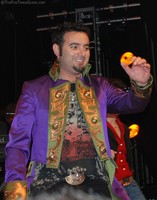 Chris Kirkpatrick was the first celebrity performer to appear on stage at the Wildhorse (after John Rich did his pre-show for Gone Country 2).
Chris was the mysterious Elvis-looking character that everyone was talking about while waiting in line for the "red carpet event" to wrap up.
His purple jacket could be seen from miles away. He wore it well.
Chris Kirkpatrick is probably best known for his time with 'N Sync.
After being the first runner-up for a spot in the Backstreet Boys, a disappointed Kirkpatrick approached Lou Pearlman with an idea to start another group, and thus formed the nucleus for 'N Sync. Source
The song he performed for the season finale of Gone Country 2 was "That Will Get You By". He wrote it with the help of Nashville songwriters, Trevor Rosen and Shane Minor.
Overall, we thought the song itself was a really good one — well written. Could be a hit.
Thus, it would appear that Chris Kirkpatrick has some good songwriting skills up his sleeve, as this song appeared to be from his heart.
His performance of the song though could have been stronger. He seemed a tad off-key at times or like parts were stretch for him vocally.
Maybe he was just nervous, or had an off night… But he's a great entertainer, and he seemed to connect with the crowd well.
I'd say he's got a decent shot at winning this thing.
More About Chris Kirkpatrick: