This post may contain affiliate links. If you buy thru these links, we may earn a commission at no additional cost to you.
---
Located just off I-65, along McEwen Road from Wilson Pike to Cool Springs Blvd., Avalon is one of Franklin's newer residential developments.
Its first home was completed in 2005 and now, in 2008, is nearly built out with only a handful of lots remaining.
I first heard about Avalon in early 2005 when the Tennessean published an interview with The Principals Group, the developer.
I was excited to see how this one turned out because I've always had a fantasy of living in a castle, or at least a castle-like setting.  One of the first signs of the development was the "castle" on top of one of the hills which you can see from Cool Springs.
From what I understand (and I could be completely wrong about this), the castle is actually a water tower built for the development but, instead of the typical design (or lack thereof) for water towers, they fashioned it into something that's actually pretty cool to see from a distance.  Form and function, coming together.
Details About The Subdivision

Avalon's plan includes 446 homes, with a combination of town homes and single family dwellings.
There are 5 distinct neighborhoods within Avalon, each with its own sort of style, as well as price range :
The Village and The Hamlet are both built out, and contain 83 homes ranging from $525,000 to $1 million.
The Meade includes 257 townhomes and single family homes ranging in price from $325,000 to $550,000, and is about 75% complete.
The Vale boasts 51 homes priced from $800,000 to $2 million.
The Tors is the most elite neighborhood of the five, with 55 custom hilltop lots with anywhere from 5 to 15 acres.  There are about 13 lots remaining, with price tags of $1.1 million to $1.6 million — for the lot (WOW!).
First Impressions
I drove through each neighborhood in Avalon, comparing notes and there are a few observations I'll share.
There are 3 entrances to the development: one at Cool Springs Blvd, one at McEwen Road across from Garden Club Estates and another on McEwen near the corner of Wilson Pike.
I initially entered at the Cool Springs Blvd. entrance — where there was a nice, but fairly modest, monument.  There are plenty of stone walls throughout, and bridges built of stone, as well.  The street names are very reminiscent of Medieval times, including Road to the Round Table, King Arthurs Circle, Hamlets End Way, and so on.
Each neighborhood also has a gated entrance.  The Tors has a guard-gated entrance.  There are turrets throughout, miles of walking trails (which I couldn't find), meditation parks (didn't see those either), and over 300 acres which were left alone in their natural state.
More About The Meade Neighborhood
In The Meade, which is the lower-end as far as price range goes, the homes are very close together (about .18 acre lots).  You can just about pass eggs through the window to your neighbor.
The entrance is very attractive, however, with a large pond and fountain, gated entry, and large common area with a clock tower, and monument which all the homes face on that street.
There are no front-facing garages, which is really nice, so you drive down an alley-like road behind the homes to get to your driveway.  The pool is located in the townhome section of The Meade, and is quite small for the size of the development.  Maybe there's another one in the works, but I didn't see any sign of other amenities anywhere.
The townhomes are very attractive and the builder has done a nice job of making each one different looking by changing the brick, stone or hardiplank siding from unit to unit.
The Other Avalon Neighborhoods
The Village and The Hamlet offer similarly priced homes, and a bit more space between them.  Still, a 4,800 SF home sits on a 1/3-acre lot, which means that most of the lot is taken up by house.
The Vale, which has 51 homes sites, allows for ½-acre lots and a bit more space to breathe.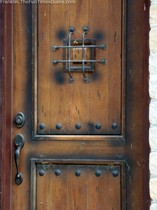 The Tors was, of course, my favorite section. (I have expensive taste.)
The lots range in size from 5 acres to 15 acres and each is surrounded by natural woods, wildlife and views of the beautiful Tennessee hills.
There were several homes either built or under construction, but 13 lots still remain available.  These lots are certainly reserved for those who have a few pennies to spare, but to have a retreat like this would be a fairy tale indeed… and all just minutes from every convenience at the bottom of the hill!
With great school zoning (Kenrose Elementary, Woodland Middle and Ravenwood High), great location and the feeling of stepping back about 1,600 years in time, Avalon would certainly satisfy my craving for the Medieval…at least for now.
What's Next For Avalon? 

Avalon Square, a mixed use village at the corner of McEwen Drive and Cool Springs Blvd.
The plan calls for a shopping village with a food market, pharmacy and boutique shops.
Also in the plan will be luxury townhomes and flats for those who desire upscale, maintenance-free living in the heart of Cool Springs.
By day, I'm a full time residential real estate consultant in Franklin, Tennessee. When I'm not working, I enjoy exploring Franklin with my son, doing yardwork and home improvement projects.