This post may contain affiliate links. If you buy thru these links, we may earn a commission at no additional cost to you.
---
Located across the street from the Factory in Franklin, Jamison Station is well underway in the first of 3 phases of construction.
With a mixture of retail space, townhomes and condominium flats, Jamison Station will offer a unique urban/suburban lifestyle in Franklin, Tennessee.
First Impressions
Several amenities will appeal to homebuyers, such as an on-site concierge, owners lounge, pool, fitness center and spa, gated parking, water features throughout, outdoor commons space, on-site security and maintenance.
These premium amenities will come at a cost:  up to $300 per month, depending on the unit's size and location within the development.
According to the Jamison Station website, condominium flats and townhome units will start in the $200s (although, when I searched the MLS, the lowest price I found was $473,000 for a 2 bedroom 1,786 SF townhome), and will feature all brick construction, state-of-the-art stainless steel appliances in the kitchen, hardwood floors, European-style cabinets, Factory-inspired sliding doors, exposed 10-foot ceilings, private terraces and balconies, and an exterior architecture that mirrors the Franklin Factory.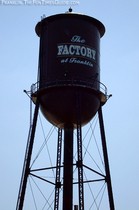 Speaking of the Factory, Jamison Station's name comes from Jamison Bedding Company, which was the last tenant of the Factory at Franklin — a circa 1920 complex originally built for Allen Manufacturing Company and once the home of Dortch Stove Works and Magic Chef.
Jamison Station is doing a good job of using architecture which preserves the Factory's feel while also reflecting the historic character of downtown Franklin.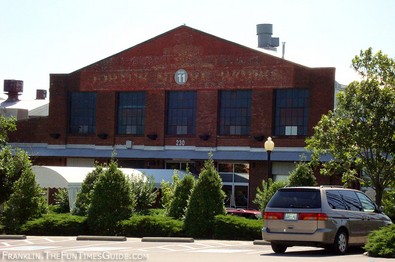 Jamison Station Residents
There is a certain appeal to this housing development, and it will certainly suit those who desire a low-maintenance, urbanesque lifestyle.  I don't see it as a huge attraction for families with children, but singles, young couples or empty-nesters might find that it's exactly what they're looking for.
I'm a bit distracted by its location next to railroad tracks which are used on a regular basis by trains passing through.  (I know this because I live about 1-½ miles away and hear them daily from my house).  Also, Phase 3 is situated adjacent to a self-storage facility, which may not be the most desirable location for some (unless, of course, you need the use of their storage units — which could then be quite convenient).
I like the idea of retail space below condominium flats — just a short walk across the street from the Factory — so you can shop both places and find dining, as well.  The Franklin Trolley passes by there, too.  So, even if you don't own a home in Jamison Station, you can take the trolley from other parts of Franklin and visit the shops.
See what else is located near Jamison Station in Franklin, TN.
A site plan, as well as floor plans of various units, can be seen on the Jamison Station website.
Should schools be important in your decision to purchase there, current zoning in Williamson County places students in either Liberty Elementary School (less than a mile away), Freedom Intermediate, Freedom Middle School, or Centennial High School in Franklin.