This post may contain affiliate links. If you buy thru these links, we may earn a commission at no additional cost to you.
---
Just 3 miles west of historic Franklin's downtown square on Highway 96, Westhaven explodes with a 1,500-acre master-planned community, mixed-use town center and private golf club.
The 15-year project began in 2003 and includes everything from townhomes, flats and single-family dwellings to retail space and an 18-hole golf course.
Westhaven covers 1,543 acres and will house 2,596 residential units and over 500,000 square feet of commercial space. Source
Southern Land Company, the sole developer of Westhaven, was inspired by the architecture and design of places like Charleston, SC and Savannah, GA.
With several hand-picked builders involved in construction:
Langfitt & Associates
Lesley Properties
…there's plenty of variety in the design of each home.
Westhaven has attracted diverse residents including single professionals, young families, and downsizing baby boomers.  It's quickly become one of the largest and most recognized traditional neighborhood developments in the Southeast.

First Impressions

I spent a good amount of time cruising through Westhaven and taking in all the amenities and features that are scattered throughout the community.
Upon entering, you get the feeling that Westhaven is definitely NOT your typical subdivision.  An attractive entrance with a large pond, hanging flower baskets and lush landscaping is just a taste of what's to come.
Throughout the community, you'll find stocked ponds, parks, playgrounds, bike paths, walking trails, and open spaces (called "neighborhood centers") where gatherings are held throughout the year.
There are nearly 750 acres of "forever wild" land with beautiful trees, hills and greenery.  Tree-lined streets, hedge rows, flowering shrubbery and beautiful annuals and perennials allow for year-round color throughout the neighborhood.
The streets are narrower than usual, with sidewalks for pedestrians.  Nearly every house has some form of a front porch, which encourages interaction between neighbors.

A Town Within Itself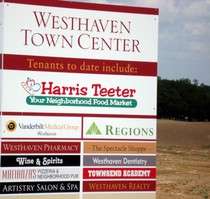 The Westhaven Town Center, or retail area, will be located to the left at the front of the development.  There will be a Harris Teeter, pharmacy, Regions Bank, dentist, eye doctor, Vanderbilt clinic and other office/retail tenants.
Because this is such a long term project, Westhaven has a Discovery Center located in the town center as well.
In addition to business and office space, the second floor will include several luxury condos.  Other townhomes are located just down the street.

What's It Cost?
Prices for homes in Westhaven start in the low $300s for 2 bedroom units and go up to the mid-$400s for 3 bedroom units.
The monthly Home Owners Association (HOA) fee ranges from $321-$349 and includes the resort-style pool and tennis club, fitness center, grounds and exterior maintenance, and insurance on the dwelling.
Speaking of amenities, Westhaven offers a wide array of luxuries, which are all included in your monthly homeowners association dues.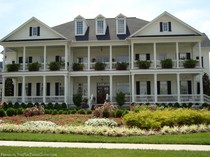 For example, the Residents Club, a 15,000 SF building which looks like a home, houses the fitness center, a game room, art center, 40-seat movie theatre, kid's corner, meeting and event room, children's playground, picnic area and 2 tennis courts.
WOW… These are some luxuries I could certainly get used to!
Schools

Currently, Westhaven is zoned for:
There is a neighborhood school planned for the future.  But, until then, school will be a bit of a drive.
Golf, Anyone?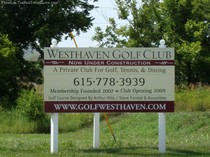 The newest addition to Westhaven will be the Golf Club, an 18-hole, 72 par course designed by Arthur Hills/Forrest & Associates.  The 200-acre golf club will feature its own clubhouse, pro shop,
grille, banquet rooms and tennis courts.
Memberships are currently being accepted, and the course isn't even scheduled for completion until spring of 2009.  I recall reading somewhere that initial membership is $10,000, but I'm sure there are other details I've left out.  There are several levels of membership, including full golf, corporate full golf, senior weekday, tennis and clubhouse.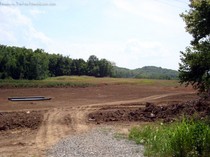 The course itself will not have any home sites so that golfers can focus on their game without distractions.  The 13th hole of the golf course is being designed by Doug Wright, a college student from Lehigh University in Pennsylvania, who won a contest by Links Magazine, where there were over 1,100 entries.

It's The Little Things…
One of the biggest surprises I discovered was that Westhaven actually has its own on-site greenhouse and a 40-person horticulture department.  (No wonder the neighborhood is so pristine! )
There's even the Westhaven Horticultural Society, where residents can participate in the beautification of the development.  Every spring and fall, residents can purchase flowers for their property at the markets in Founders Square.
There are many things about Westhaven that are unique to Franklin and found exclusively in this community.
I could easily make Westhaven my home, and I think many feel that way after a drive through the development.  It's truly a beautiful place.
If you don't mind a small home site and very little yard, close quarters with your neighbors and a strict HOA, it's a great place to put on your list when considering the location for your new home.
Even if you're not looking to purchase a home, take a Sunday drive out west of town and check it out.  Dreaming doesn't cost anything, right?
In the near future, the Mack Hatcher Memorial Parkway will be opened and this will give the residents the choice of using Hwy 96 or jumping on to Mack Hatcher to leave the subdivision. The opening of the Mack Hatcher extension will also greatly reduce the commute time into Nashville. Source
UPDATE 9/16/08: Westhaven Becomes Retirement Home For Music Row's Finest
From Music City TV:
The Crescendo at Westhaven will be a $95 million, 15-acre compound in the upscale Westhaven community of Franklin … The apartments range from $300,000 to the around $600,000.
More about Westhaven's Crescendo development for music industry retirees.